Now Nokia is Introducing their New Brand Nokia 5.1 Plus in India, This Android Mobile phone will be launch in July 2018. Still only some features is Leaked, Also Price and Launch date is not confirm. But here you can read all about Nokia 5.1 Smartphone features , Specifications , Price , Launch date , Leaked First look images etc which we Collected over Internet from Top news sites and blogs.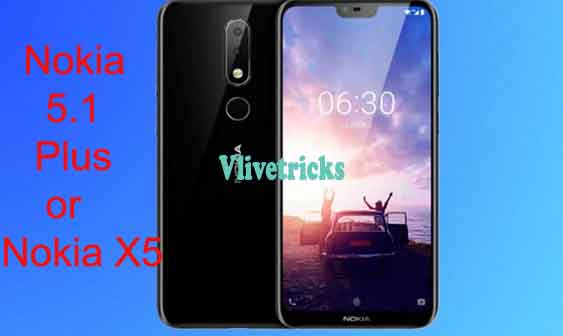 These Smartphone has Bunch of Features and Model Number is TA-1109. This Mobile Phone Also Called Nokia X5. We all know that Microsoft and nokia tie up was Ended in 2016 so After this Nokia owned Launched this Smartphone to recover their reputation back. Because of android operating system , Windows is not liked by peoples due to lack of apps , Interface is also difficult. So Nokia will Also Come in the world of android and will launch this amazing Nokia 5.1 Mobile phone with Latest android Version P.
Nokia 5.1 Plus Android Mobile phone 2018
If you are thinking this Mobile is come like Previous x6 Smartphone then You are Wrong, They uses only this model name as X. This mobile phone will come with very interesting look and features because Nokia Always Rocks we can see their previous background.
Nokia 5.1 Features
Still some of the features is come which you can see below.
Comes in Different Ram Variants.
Latest Android Version P
2.0 Snapdragon Octacore Processor (MediaTek Helio Octa-Core Processor clocked at 2.0GHz)

Camera – Dual rear camera with 13mp and 8mp Front Camera
Display – 1520 x 720 (5.8 Inches HD+)
Battery – 3000 MAH
8.09MM Thickness
Comes with Circular Fingerprint Scanner in Back Side
Nokia 5.1 Price and Launch date in India
Still price and Launch date is not come but from the sources we got this information they are launching in China on 11th July 2018 and the price of mobile will also reliable.
In some Countries The Phone Will Launch by 5.1 Plus While in Some As X5, In Different Countries they are Launching with Different Name.
In this phone they are Using similar Concept of Nokia x6, Its not Confirmed. If you will Purchase International Version then you will get Stock UI Ram without any Third party App Installation