Free antivirus Software also Saves Our Computer from Unauthorized access but only Limited Features, Here we listed all Best Free antivirus & Internet Security of 2018 for android Mobile & pc.
Antivirus software has become a vital part of a computer as it prevents the dangers of viruses, Trojans and other malicious software that can cause damage. However, it seems that a lot of people are still either unaware or simply choose to ignore the threat of malicious programs. According to Microsoft research, almost 25% of PC worldwide are not protected by up-to-date antivirus. What's more, the same report revealed that an unprotected PC is 5.5 times more likely to be infected with a number of viruses.
Clearly, if you don't want a virus to slow your machine down, modify/delete important files or mess with the way your OS behaves, you need an Paid antivirus or use Free Antivirus. Well, if you are reading this post, it is most likely to you're at least making an effort to avoid these infections. For many people, money seems to be the biggest issue when it comes to protective software, fortunately, there is a ton of free, HQ software solutions built specifically to keep your device safe from malware. And in most cases, these programs can compete with the top ranked antivirus software on the market, and offer similar features and functionality.
Note :- If your Free antivirus is Not Came in Below List then Check our Two More Antivirus Offers Posts – Bitdefender antivirus & kaspersky Antivirus.
1. Avast! Free Antivirus 2018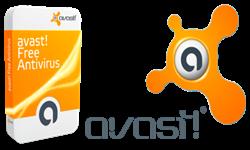 If you're looking for basic protection, you cannot go wrong with Avast, because it has been shown to be one of the best programs on the market for the last few years. For instance, the latest version of the program scored 5.5 out of 6 in an AV Test's protection check, and we have to say, it is an amazing package. In addition to usual malware protection, the program comes with a number of customizable options you can toggle at installation. These include protection for any Android device through Avast mobile. The new edition also offers network and router scans that alert the user of network-related issues, and a vulnerability scan that lets you know just how secure your computer is. Check our Previous Post – How to get Avast Free antivirus 1 Year Key.
2. AVG Free AntiVirus 2018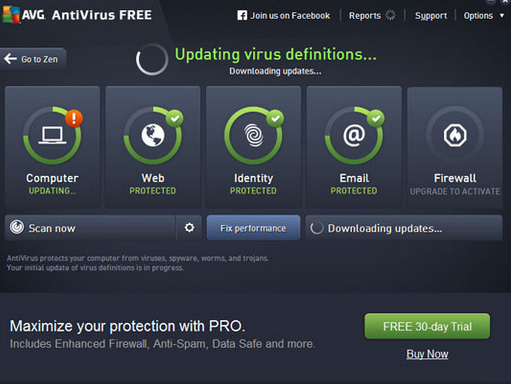 If you ignore the privacy policy issues (you can read about in-depth them in this Wired article, and decide for yourself if they are worth your attention or not), AVG remains on the best option for protecting your device from all manner of security breaches. Independent testing companies such as AV-Comparatives have scored AVG as Advanced+, which if you are wondering, is the highest rating for antimalware efficiency. So if any has any concerns about AVG's security functions, this rating should be encouraging enough. This pack comes with a whole host of different functions and features – including, but not limited to scheduled, root-kit and folder-specific scans. Furthermore, malware blocking is efficient as well, and the program is a great choice for protecting your computer while on the web.
3. Malwarebytes Anti-Malware Free Antivirus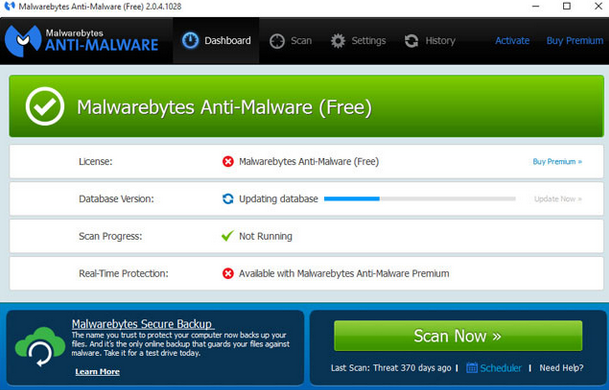 Many things happened since Malwarebytes first introduced it antivirus app more than eight years ago. According to Forbes Magazine, the software provider now boasts more than 500 million downloads worldwide, over $100 million in billings and the company has become a go-to source for tech companies and supports groups alike. The app uses Chameleon technology to run the software on already-infected systems. After it's installed, the app is able to target any process that may have been blocking Malwarebytes from running in the first place. It is also the premiere removal-only software on today's list, but it is exclusively removal only, which means that it doesn't provide real-time protection like the aforementioned AVG or Avast.
4. Panda Cloud – Free Antivirus 2018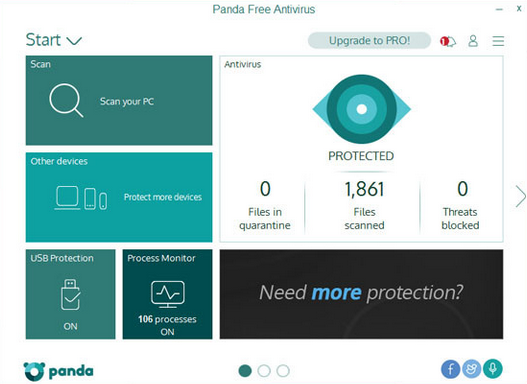 Finally, we come to Panda Cloud, and first, you have to know that there are two specific things that set this antivirus apart from the competition. The first thing is not hard to spot, since the product includes it in the tittle – the cloud. Panda primarily uses cloud computing, which means that remote servers carry the weight of scanning your system and performing various anti-malware functions. This leaves your CPU unharmed, because your computer doesn't have to do the heavy lifting. The second thing that differentiates it from its competitors is the level of security. Because when you stop and compare it to some of the best premium software out there – Panda performs nearly as well.
More Free Best antivirus Software List
Bit finder Antivirus.
Avira antivirus.
Ad- Aware antivirus.
Free Zone alarm & Firewall.
Combo Internet security.
Microsoft defender (No need to install, Pre install with Microsoft windows)
Unthreat antivirus.
Final Thoughts
Finding a paid solution is actually an easy task, but if you're working on a tight budget, selecting the best antivirus for your specific need can be rather problematic. But if you pick any one of these programs from our list, you'll definitely find what you're looking for. We are not saying that you should download all four of these antiviruses at the same time, but it would be a smart idea to try all of them out, and see which one fits you the best. Once you find your solution, you will never have to deal with malware again, and if you update your antivirus on a regular basis, you will surely be able to roam the Internet care-free for years to come. Don't forget to share your opinions in below comment box which one is best for you.
By Adam Ferraresi
Web development has always been something Adam was passionate about, and it is from his passion that he's making his living. Thanks to the vast knowledge of internet trends and its constant changes, Adam often writes popular articles for wefollowtech. He's a born and raised Texan, with his residence in Dallas.
Tags :- Top & Best Free antivirus 2018 , Free antivirus trick , premium license key, Internet security