Hello Guys , I hope you are enjoying Our Free Recharge Tricks in this Very Very Cool Winter Season. In our Website you Seen Lots of Chocolates Deal where you got in Free. Today we Are sharing Something Similar in which you can enjoy Free Munch Nuts with Extra Rs.40 Cashback in Paytm Account.
Munch is Popular product of Nestle, Giving Double Cashback Offer on it. You will get Rs.40 Cashback when you Purchase MUNCH Nuts 35.2g pack worth Rs.20 MRP. Check Similar Paytm Snickers Bar Offer , Amazon Kitkat Offer , Cadbury 5 star Amazon Offer etc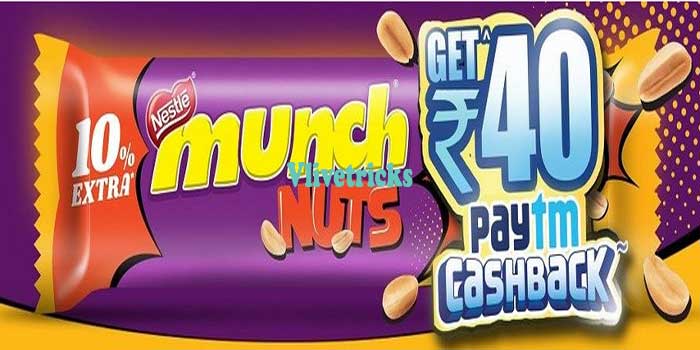 If you Purchased under Paytm Munch Nuts Offer then you Need Redeem Cashback Code page & How to Activate it ? Then in This Article you can Get whole Details About it.
You can Avail the Offer Two Times Per account so Rs.40 X 2 = Rs.80 on purchasing two Munch Packs Worth Rs.20 X 2. Even you will get Extra 10% in this Pack
Offer Details :
Consumers purchasing the MUNCH Nuts 35.2g pack worth MRP Rs. 20/- that carries the communication regarding this offer (hereinafter referred to as "Promotion Product") sponsored by Nestlé India Limited and conducted & managed by Qwikcilver Solutions Private Limited (hereinafter referred to as "Organizer") wherein consumers can avail a Rs. 40/- cash back on www.Paytm.com and/or PayTm Application on Android or iOS (hereinafter referred to as 'Website' and/or PayTM App,
How to Purchase in Paytm Munch Offer ?
1. Visit your Nearest Retailer where you can get updated products.
2. Now purchase the Nestle Munch Nuts Chocolate Worth Rs.20 (35.2GM's) , Make sure "Get ₹40 Paytm Cashback" Is Mentioned on Front Wrapper
3. Enjoy the Chocolate and Don't Throw the Wrapper
4. Find 8 Digit Code Inside The pack by Scratch it. Finally you got the code but you have to activate it and then Redeem to paytm account for cashback
How to Activate paytm Munch Code ?
We Recommends to Do this Steps via Paytm Registered Number Only
Compose New SMS Munchnuts <SPACE> 8 digit unique code
Send it to 8108590859
You will get Paytm Cash Code via sms
How to Redeem ?
Visit Paytm Munch Offer Redeem Code page [ https://paytm.com/paytmwallet ]
Sign up or Login
Enter the Amount as Rs.40
Apply the Unique code which you got via sms in Promo code Field
Proceed, Your Transaction will Complete without any Payment
Your Free Rs.40 paytm Cash will Reflect instantly or within 72 Hours in your account
Terms & Conditions
The consumer needs to find the unique 8 digit alphanumeric code inside the Promotion Product to obtain a unique code (hereinafter referred to as "Code"). The consumer can use this Code to avail a Rs. 40/- cash back from the Website and/or PayTM App.

Consumers participating or seeking to participate in the Promotion shall individually be referred to as "Participant" and collectively as "Participants".

Participation in this Promotion is purely voluntary and optional. This Offer is not valid in conjunction with any other Offer. Products also available without this Offer. By participating in this Offer, each participant is deemed to have accepted these terms and conditions.

This Offer is being conducted by the Organizer and sponsored by Nestle India Limited during the Promotion Period defined hereinafter.

A Consumer who sends the unique code mentioned inside the Promotion Product, between 01.01.2020 to 28.02.2020 (hereinafter referred to as the "Promotion Period"), will get a unique Paytm Cashback Coupon Code to redeem on the Website and/or PayTM App.

The Participant can use the Code, during the Promotion Period to avail a Rs. 40/- PayTM cash back from the Website and/or PayTM App. Cashback will be credited in Paytm wallet of the Participant from which the Code was sent within 72 hours.

This Offer is valid only in India. The Offer is valid for the citizens of India (except the employees and family members of the Organizer and Nestle India Limited, their associate companies, their joint venture partners, its co-packers, their distributors, their agents, their advertising and promotional agencies and their auditors.)

Paytm cashback is the term used to define Paytm cash that Participant gets when he/she applies the code on the Website and/or the PayTM APP. No cash would be given in lieu of Paytm cash.

Each unique code can be used only once to redeem the Cashback.

This Offer can be availed only 2 times by each Participant using a single PayTM Account during the Promotion Period. Any Participant, using a Code more than 2 times from a single PayTM Account, will not be eligible for availing the PayTM Cashback.

The Code cannot be redeemed after the expiry of the Promotion Period and the participant by participating in the Promotion agree to waive off right of redemption post the date of expiry of the Promotion Period.