From our Online Bank Ifsc Code Number Validation Tool You can Can Check Online Unlimited Ifsc Code is Valid or Invalid Instantly without Sign up. Our Algorithm Gives 100% Accurate Results, Entered Number of Ifsc Code is Valid or Not
This Bank Ifsc Code Number Verification Online Tool is Firstly Checks Entered String is 11 Character or Not Before Proceed then First four Character must Be Upper Case Alphabets, Next Fifth Character must Be Zero
Suppose If you Don't Remember Bank account Ifsc Code Number But you Remembered it Not Sure Then Here you Can Validation Bank Ifsc Code online it Valid or Invalid. If its Invalid then its in wrong Format
Below is the Tool, Enter the Number and Click on Check to Start for Free




Bank Ifsc Code Validation Online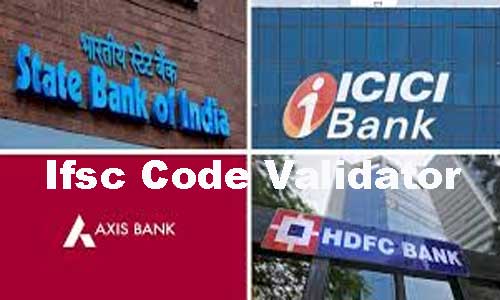 Note : This Tool is not affiliated by Government, Its Only Checks The Format of Bank Ifsc Code Number. No any Government Data is Used and We Never Save this Numbers or Share with Anybody.
What is Bank Ifsc Code Number ?
Ifsc Code is Number which Gives By Bank Branch for Transfer, Deposit, Withdraw Funds using IMPS, NEFT Or RTGS. You can Get it From Your Bank Account Passbook, Cheque book or Login to Net Banking. Every Bank has Different Ifsc Code Which Issued by Reserve Bank Of India. It is 11 Digits Alpha Numeric Code.
How Does Ifsc Code Validation Tool works ?
This Tool is based on Regex as Regular Expression Where you have to Enter 11 Digit Alpha Numeric Code and Submit it. Our Code will Check the Bank Ifsc Code number Online Its is in Right Format or Not. If the Format is Wrong then It will alert you Bank Ifsc Code is Not Valid or If the Entered String Fulfills the Criteria then it will Show its Valid
Bank Ifsc Code Validator Rules :
11 Characters without Space or Hyphen
First Character Must be Uppercase Alphabet
Last Four Character must Be Digits but in Some Cases can be Alphabetic
Fifth number Should be Zero
How to Validate Bank Ifsc Code Number using Tool ?
Enter the 11 Digit Number, If entered in Lowercase then Automatically Converted into UpperCase
Click on Check Button
It will Take 2 – 3 Seconds to Check its Valid or Invalid
You will get Result If its in Right Format then You Will Get "Valid Bank Ifsc Code Number" if Its in Wrong Format you will get "Bank Ifsc Code is Not Valid"
What is Benefits ?
Now a Days Number of websites Connected with Banking, Finance, Insurance Transactions is Mandatory the Field of Ifsc Code like You seen in Our website Wazirx , Chqbook App. If you are Not Sure Your Ifsc Code is Valid or Invalid and you Don't have Passbook/Chequebook then in this Case If you Fill Up the Form then You can Loose your Money Because it May be Transfer to other Bank account so Check First its Valid or not
Another Benefit of Our Bank Ifsc Code Validation Tool is for Database Collectors so they can Entered the Number and Check its Valid or Not instantly.
Our Tool is Absolutely Free, You can Validate Unlimited Bank Ifsc Code Numbers.