Pan card validation tool -How to check pan number is valid or not
Pancard Number Verification Tool for Check Online Number is Valid or Invalid Instantly without Sign up. Our Algorithm Gives 100% Accurate Results, Entered Number of Pancard is Valid or Not. Pan card validation to check valid without otp verification.
This Validation Tool Firstly Checks Entered String is 10 Digit or Not Before Proceed then First Five Characters must Be Upper Case Alphabets, Next Four Must Be Digits and 10th Character Must Be Alphabet.
Suppose If your PanCard Number lost or forgot But you Remembered it Then Here Validate online its Valid or Invalid. If its Invalid then its in wrong Format.
Below is the Tool, Enter the Number and Click on Check to Start for Free




Check Pan Card Number Validation Online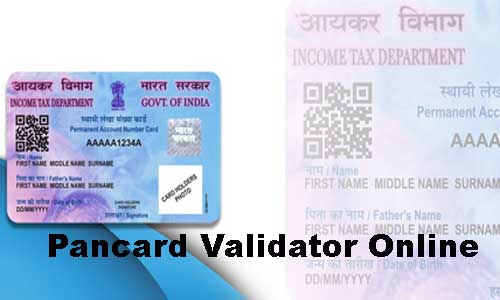 Note : This Tool is not affiliated by Government, Its Only Checks The Format of PanCard Number. No any Government Data is Used and We Never Save this Numbers or Share with Anybody.
Pan card validation check 2022-
Pan card validation for validate pan card numbers online. Enter pan card number and Check valid or not. Verify e pan card and no otp verification.
What is Pan Card Number ?
PAN is Permanent Account Number which Gives By Income Tax Department of India to Any Person Who Applies It which is 10 Alpha Numeric Number. At Lots of Places Its Mandatory to Fill Like at Bank to Make More than Rs.2 Lakh Transactions to Track the Income of Person.
Pan Number is Issued only one time by Department If Forgot or Lost the Card then You can Renew that Same Number. Making More than One PanCard of Same Person is Illegal in that Situation you can send To the Prison.
How Does Pancard validation Tool works ?
This Validator Tool is based on Regex Where Enter 10 Digit Alpha Numeric Code and Submit it. Our Code will Check the in Right Format or Not. If the Format is Wrong then It will alert Pan Number is Not Valid or If the Entered String Fulfills the Criteria then it will Show its Valid
How to check pan card valid or not Online :
10 Characters
First Five Must be Alphabet
Next Four Must be Digits
Last one Should be Alphabet
How to Use Pancard Valid or Invalid Number Checker Tool ?
Enter the 10 Digit Number, If entered in Lowercase then Automatically Converted into UpperCase
Click on Check Button
It will Take 2 – 3 Seconds to Check its Valid or Invalid
You will get Result If its in Right Format then You Will Get "Valid PanCard Number" if Its in Wrong Format you will get "Pan Card Number is Not Valid"
What is Benefits ?
Now a Days Number of websites Connected with Banking, Finance, Insurance Transactions is Mandatory the Field of Pan Card Number like You seen in Our website Wazirx , Chqbook App. Not Sure Your Pan Card Number is Valid or Invalid and Don't have Laminated Card then in this Case Fill Up the Form then You will be Rejected so before Entered at any Online Website First Validate PanCard Online then Enter because Some Websites More Secure They will Blocks you will not access again
Another Benefit of Our Pancard Numbers Validation Online Tool is for Database Collectors so they can Entered the Number and Check its Valid or Not instantly.
Our Tool is Absolutely Free, You can Check Unlimited Pancard Numbers.