After Shopping Amazon India is Increasing their Business in Various Fields, Recently Added and started Electricity Bill Payment of All the Boards. As a Promotion they are running Loot offer on this Option which we Shared Here.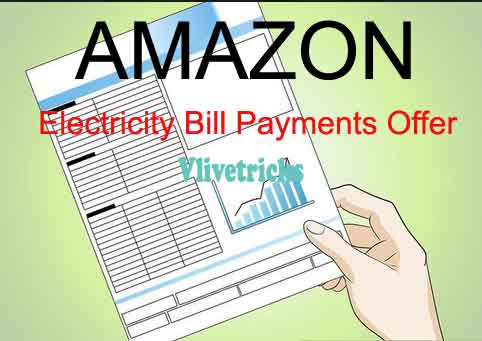 If you are thinking How Much this Will Tough so We tell You don't Need to Do Anything, Amazon Made Quit Simple to Pay the Bills in single click
Under Amazon Electricity bill payment page by applying Promo code ,you will get Rs.50 cashback on just Rs.300 during Offer period Bill Payments transactions.
Currently you can avail this Offer once During the Campaign Period ( 1st April to 1st May 2022 ).
Update : – First of All , Collect the Offer from HERE
How to get Amazon Electricity Bill Payment Offer ?
1) Visit Amazon Electricity Bill Payment Page [ Click Here ]
2) Now Select Your State
3) Select Board Name (Mentioned on Bill)
4) Enter Your Biller Account number
5) Pay the Amount above Rs.300 using any payment method
6) Enjoy ! Instant flat Rs.50 cashback will be credited
Offer Summary
Minimum Bill Amount – Rs 300
Maximum Cashback – Rs 50
Valid only on this Electric Boards
BSES Rajdhani-Delhi
BSES Yamuna-Delhi
Tata Power Mumbai
Tata Power Delhi and Reliance Energy Mumbai
Amazon electricity Bill Terms & Conditions
The Cashback Offer Valid only Between 1st April 2022 to 1st May 2022
Valid once Per Amazon Customer/Biller Number
Minimum Bill amount should be Rs 300
Maximum Rs.50 cashback on Selected Electric Boards (Mentioned Above) and on other Boards 10% upto Rs 50
Cashback Will be Credited in the form of Pay Balance
Bill payments cashback 10% Cashback up to Rs.50 Offer ("Offer") is made available by Amazon Pay (India) Private Limited (formerly known as Amazon Online Distribution Services Private Limited) ("Amazon") on the website www.amazon.in and the mobile site and mobile application thereof (collectively, "Amazon.in").
These Offer terms and conditions ("Offer Terms") are in addition to the Amazon.in Conditions of Use & Sale to which you agree by using the Amazon.in. To the extent the Amazon.in Conditions of Use & Sale are inconsistent with these Offer Terms; these Offer Terms will prevail in respect to this Offer.
 All residents of India having an Amazon.in account, who undertake the steps listed in these Offer Terms are eligible to avail this Offer in respect bill payment for connections issued in India.
Offer Eligibility: This offer is valid from 1st April 2022 to 1st May 2022 ("Offer period"), for Amazon.in customers.
Bill Payment categories include- Electricity, Piped Gas, Landline/ Broadband and Postpaid bill payments in India.
This offer is not applicable for Vodafone Postpaid Bill Payment, Idea Postpaid Bill Payment and Gujarat Gas Bill Payment.
Any Amazon.in customer (who comes under above eligibility) who does a bill payment on Amazon.in during the Offer Period making payment thereof using any payment method except Cash, will be entitled to receive cashback equivalent to 10% of the bill payment value. The maximum cashback that can be availed by a customer during the offer period is INR 50
A customer can avail this offer upto Rs 50 max cashback on multiple transactions across the above categories. E.g 1 If a customer does a Rs 300 transaction on Electricity category, he shall get a Rs 50 cashback. If the customer does a subsequent transaction on postpaid category of Rs 1000, he shall receive a cashback of Rs 75 as the total amount of cashback he can avail is Rs 125 across multiple transactions across the above categories.
A customer who has multiple Amazon.in accounts with different name, addresses, City, State, Pin code, devices or phone number will be eligible for cashback only for one Amazon customer account. Any transactions made through a different Amazon customer account would not be eligible for as per the clause 15 and 16 of the Terms and Conditions of this offer.
The cashback (under this Offer) will be provided to the eligible customer (as Amazon Pay Balance) within 72 hours of the transaction.
The cashback will be provided to the eligible customers in the form of Amazon.in Gift Card, issued by Quikcilver Solutions Private Limited ("Gift Card") which will be credited to their Amazon Pay balance.
The use and redemption of the Gift Card(s) is governed by the Amazon.in Gift Card Terms and Conditions. The use of Amazon Pay Balance is governed by the Amazon Pay Balance Terms & Conditions.
This Offer is available only on Electricity, Postpaid, Landline/Broadband and Gas billers in India. For the avoidance of doubt, it is clarified that this offer is available only on the said categories of billers that are available and listed on Amazon.in portal or App.
The customers will be eligible to receive the relevant cashback amount (computed in accordance with these Offer Terms) on successful bill payments made on Amazon.in during the Offer Period.
This Offer will not be applicable for any bill payment transaction that is cancelled, by the customer, by Amazon Seller Services Private Limited (entity operating the Amazon.in marketplace), or by the seller of the Mobile postpaid bill. Such cancellation may be for any reason whatsoever.
In the event a customer fails to comply with any term under these Offer Terms, he/she will not be eligible to receive the cashback under this Offer.
Amazon reserves the right, at any time, without prior notice and without assigning any reason whatsoever, to add/alter/modify/change or vary all of these terms and conditions of the Offer, or to replace, wholly or in part, this Offer by another offer, whether similar to this Offer or not.
Amazon reserves the right to disqualify any customer from the benefits under the Offer if any fraudulent activity is identified as being carried out for the purpose of availing the Offer.
All disputes between the customers and the seller of the bill payment will be resolved inter se and Amazon or any of its affiliates will not (nor will be liable or obliged to) mediate or resolve any such dispute or disagreement.
By participating in this Offer, every customer expressly agrees that Amazon or any of its affiliates will not (under any circumstances) be liable or responsible for any loss or damage whatsoever that a customer may suffer, directly or indirectly, in connection with this Offer.
Nothing contained herein amounts to a commitment by Amazon to conduct further, similar or other offers.
These Offer Terms are governed by the laws of India and the courts at New Delhi shall have exclusive jurisdiction over any disputes in relation to this Offer.
The customers are not bound in any manner to participate in the Offer. Any such participation is voluntary and the same is being made purely on a "best effort basis".
Any person availing this Offer shall be deemed to have accepted these terms and conditions.