Bookmyshow is come with loot offer by their app. You get Rs. 100 free Wallet by sign up and verify your mobile number , Also You can earn Upto Rs. 2500 by Refer and Earn program . This time they giving Rs. 100 per refer. Also your friends get Rs. 100 for using your code and verify their mobile number. By this refer & earn program you can earn Upto Rs. 2500. Also bookmyshow is giving many offers like 100% Cashback when you pay from paytm or my wallet so get this type of bookmyshow offer.
Before this offer bookmyshow is giving Rs. 150 free for activating their mywallet. But this time you can earn Rs. 100 per refer by entering your code in their account only. so guys loot bookmyshow fast.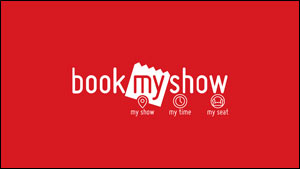 Steps to get Free Rs. 100 Bookmyshow wallet
Firstly Download & Install BookMyShow – Click Here
Open The App & Click to Login
Select Sign Up Option There
Enter Your Name, Email & Mobile Number
Check The Box to Activate My Wallet (Most Important)
Now Verify Your Mobile Number
Now Navigate to "YOU" Tab
Select " MyWallet"
Scroll Down & Enter This Unique Code – 6VJ6840
Done ! Once You Enter Refer Code Instantly You Get Rs 100 In My Wallet.
Bookmyshow Refer and earn
Collect Your Own Referral Code From YOU Tab
You Get Your Referral Code Once You Book First Ticket (Use Our Code First)
Share Your Code With Your Friends
Ask Them to Use Your Code, They Get Rs. 100 Instant
Once They Book Ticket Worth Rs. 200 Or More Then You Get Rs. 100 In Your Wallet
One Can Refer Maximum 25 Friends
Note :- You can also Rs. 100 Winpin to get more discount on bookmyshow
Online Script of bookmyshow loot
Visit Online Script page.
Enter your refer code.
Enter your new mobile number and email.
Then Enter Otp.
You get referral bonus in your main account And Rs. 100 in newly created accounts.
Terms & Conditions :
When you activate BookMyShow (BMS) MyWallet and are eligible to receive credits, you accept to abide by these terms & conditions.
You are eligible to earn referral credits under an ongoing BMS ReferMyFriend promo only when the friends who you've shared the codes with purchase a ticket/tickets on BookMyShow whose cumulative value greater than Rs. 200 (excluding convenience fee &taxes).
In case you are a new user and have never purchased tickets on BookMyShow before or don't have your own referral code yet, you need to login from the YOU tab in app and book tickets on BookMyShow with a cumulative value greater than Rs. 200 (excluding convenience fee & taxes) to generate your own referral code.
Standard amount of BMS referral credit under the ongoing ReferMyFriend promo is Rs 50 for both parties, receivers and senders.
All referral credits can be found in the BMS MyWallet and have an expiry of 60 days from the date of credit into the BMS MyWallet. 1 BMS credit is equivalent to the value of Re. 1 and BMS credits can only be used within the BookMyShow system and is not meant to serve as an alternate currency.
Under the 50, you are eligible to accumulate referral credits from a maximum of 25 referrals and although you may share your code with more than 25 people, you may not receive instant credits.
You can receive the indicated value in BMS credits under the ReferMyFriend promo only till the midnight of 30 june, 2016 on all Indian cinemas booked through the BookMyShow app.
ReferMyFriend feature is app only promo and may not be available on the BookMyShow website or mobile-website.
BMS ReferMyFriend promo is meant to reward our BookMyShow fans for spreading the love amongst their friends and family, and not meant for accumulating credits through broadcasting on a webpage, a blog or any other mass anonymous communication medium or through means similar to affiliate programs or any means for commercial gains.
As a BookMyShow user, you can have one unique login. Creating duplicate emails, signing-in from multiple devices, multiple sign-ins from a device and having more than one MyWallet account per user in order to unduly gain referral credits is not appropriate and we will not honor such codes.
If at any point, BMS verifies the usage of the promo code violates the Terms & Conditions or is abusive to the spirit of the referral program, BMS reserves the sole right to suspend the user from the program and suspension of MyWallet account or reversal of gained BMS credits, as determined by BMS.
For any further questions on BMS ReferMyFriend promos or issues with credits please write into [email protected] or call on 022-6144-5050. To raise an issue from within the BookMyShow app, tap-on the YOU tab and find the MySettings icon on the top-right of this page. On clicking on MySettings, you will be able to find the options of Insta-help, Call us or Email us.
BookMyShow reserves the sole right to modify, terminate or extend the ReferMyFriend promotion and any particulars of the promotion, as the promo duration, referral credit amount, region and cinemas associated with it.
Tags :- Bookmyshow loot , refer and earn Trick , Unlimited , Offer , online script