About the GetMega app
GetMega unites gaming with the excitement of real money to provide a truly different entertainment experience. Play the greatest talent card games for real money. This app allows you to play the most popular card games: Poker and Rummy. Each game has free admission. And the prize money for most games is at least 180% of the entry cost. Using the rummy 51 bonus, you can contest a paid game and save some money. You only need to win the games. To withdraw the funds, you must upload your PAN Card data and image, as well as your driver's license, Aadhar card, or voter ID card details and photographs.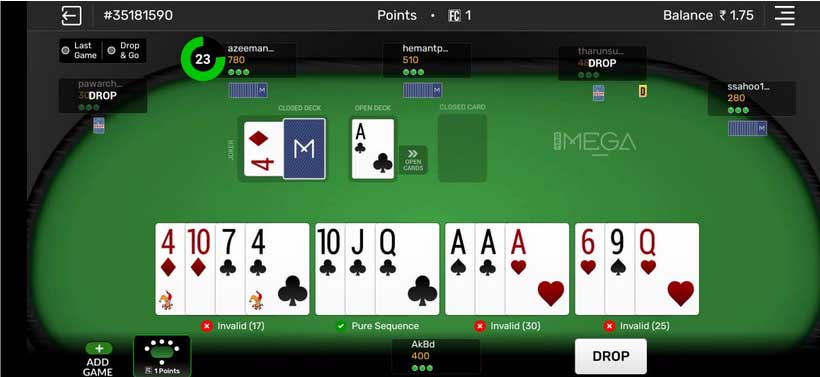 How to download the GetMega App?
GetMega is a 51-bonus rummy app that gives cash bonuses to people for playing a myriad of Rummy games. Here are some things you must know before the download process of GetMega.
First, go to the official website of GetMega (GetMega.com)
Then click on the Download App Now button.
It will take a few seconds to download.
Once the download is completed install an app.
You will get a notification from Install Unknown Apps, click allow to install app.
The app will be installed.
The goal of GetMega is to maximize audience reach and provide them with an outstanding gaming experience. And to grow audience support, the platform offers a rummy bonus of 51 rupees. So, download GetMega and increase your strategic skills by playing Rummy.
How to sign up on the GetMega app and Get a Rs 51 bonus?
To play games you need to sign up on the GetMega app. This usually happens after you have downloaded the app on your mobile device. Below is a step-by-step guide on how to sign up on the GetMega app.
Open the GetMega app to enter your phone number to receive a 6-digit verification code.
Enter a 6-digit OTP to proceed further.
Please allow your mobile location to enter the app.
Then you will get two games on the screen: Poker and Rummy.
To check whether your sign up is successful or not go to the "Wallet" option.
If you will receive bonus cash in your wallet, then your signup process is successful.
How to deposit money in the GetMega app?
The GetMega app is rewarding for players, especially Rummy fanatics. Playing various games on this platform gives gamers a chance to win real cash of up to INR 1,00,000. Furthermore, on this app, there are certain games that require an entry cost and these games generally help you win big money.
Steps
Launch the app of GetMega.
Select the Menu option on the top-left corner of your mobile.
Click on the "Wallet" option from the Menu.
To deposit money in the app, you need to press the "Add Cash" option.
A timer will appear on the right-hand of your phone and you need to enter the amount in the "Enter Amount" box.
The minimum amount that you can deposit in the wallet is Rs.50.
If you have a coupon code, apply that to get an extra bonus amount.
Now to complete the deposit transaction, choose any payment method (PayTM, UPI, Debit Card, etc.)
How to withdraw cash from the GetMega app?
GetMega is offering a welcome prize to first-time users. This bonus will help players participate in the big Rummy tournaments from which they can earn more money. Like the deposit option, GetMega also has a withdrawal system that one can utilize to take out funds. The minimum and maximum amounts that you withdraw are mentioned on the website itself. To know more, visit GetMega's official website.
Now, let's learn the process of withdrawal on the GetMega app.
Launch the GetMega app and select the menu icon on the top left corner of your mobile.
After that, select the "Wallet" option.
Click on the "Start KYC" option, once you are in the GetMega Wallet.
Then to continue with the withdrawings, you will need a Bank Account Verification.
You have to upload the correct bank details.
After the KYC process is finished, enter the amount that you wish to withdraw.
Customer support details of GetMega
GetMega is a gaming platform that allows you to play various licensed games legal in India. It is authorized to host Texas Hold 'Em Poker and Rummy games. Since these games involve money, GetMega offers a rummy 51 bonus as a sign up incentive for beginners. Using this bonus, players can contest different paid Rummy games. Moreover, the app comes with efficient customer support where you can raise your queries regarding any app-related problem. The customer helpline of GetMega has a separate dashboard where you can address your questions regarding anything concerning the app.
FAQs
Is it legal to play online cash games?
If you are participating in games that would develop your skills and would help you earn money then GetMega is one such legal website. This app has a myriad of online games, including the popular ones, Poker and Rummy. 
Where can I get instructions on how to play a game?
The rules for each game are available on the app and are shown before the game begins. GetMega's games are simple to learn, with a fun tutorial for each game available on the app and website. More information and regulations for each game may be found in the Help Section.
I am under the age of 18. Can I continue to play games on GetMega?
No. GetMega does not let players under the age of 18 register on the site. Anyone discovered to have given false information about their age will be barred from the site, and their winnings may be seized.
Can my buddies and I play one-on-one games?
The app understands your desire to play with your friends, and we are working hard to provide this option to you as soon as possible. Currently, all of our games are multiplayer online cash games in which you may compete against many players in real-time.
Is KYC verification required to play games?
According to government regulations, KYC verification is required before you withdraw your winnings. KYC also allows us to verify that the site only has 100% verified players, providing a perfectly safe gaming experience.
How can I get started with real money-earning games?
To play games on GetMega, you need to first download the app. After the app is downloaded and installed you must open it and choose the game you want to play. Of many games, Rummy and Poker are the most notable ones on this platform as they offer a huge money-making opportunity.
Conclusion
If you're seeking a genuine challenge and want to earn real prizes, the Rummy game on GetMega is an excellent alternative. Card games are popular among many people, including older and younger generations. Rummy is a particularly noteworthy type of card game among the many options. It is one of India's most popular card games, and its popularity has spread worldwide. The famous rummy game is now played effortlessly on the mobile platform against genuinely skilled players. In addition, GetMega is added to the 51 bonus rummy list, which makes it a rewarding app for Rummy lovers. Thus, if you want to earn quick cash in a fun way, consider playing different Rummy games or other games on GetMega.