Now you don't Need Credit Card to buy Mobiles on emi From Flipkart, If you are SBI User then you're come on Right Place Because here we Discuss how you can Purchase High Range Smartphones by emi on sbi Debit Card with 12 months Installments at 14% Interest Rate. We already Shared How to buy Flipkart Products on Debit Card Emi but this Post is Specially for Sbi Users using All Mobile Offers Available on EMI.

The Good thing of this Payment Option is You Don't need to Submit any Documents or Wait for Approval. Also in the Whole Process you Will not Be charge of Single Rupees Like Processing Fees etc. There is no any Lengthy Terms and conditions to Purchase Mobiles on Flipkart , Only you have to Make minimum Rs 5,000 Purchase and Maximum you can Make order of Rs 75,000. Currently You can Place only Single Order from one card.
Suppose if you wants to buy Iphone but you don't have Whole Amount in your Sbi Debit Card Account then Using this Emi on Sbi Debit Card Option , You can pay Small Amount and Get your Iphone using Flipkart Delivery. Remaining Money you can pay on Monthly Installments. You can Select 3 Months , 6 Months , 9 months & 12 Months Installments.
Why we Need Emi on Sbi Debit Card ?
If you are Salaried Person of Reputed Company then you Can Easy to Approve your Credit Card Application but If you are Self – employed then your Application will not Approve but State bank of India Provides Debit Card to all account Holders so if you have Sbi Debit Card then you can Get Benefits of Credit Card Emi on your Card Easily.
How Flipkart Debit Card Emi Cancellation Works ?
One More Good thing of this Option is you can Cancel your EMI Within 30 Days and You will not Pay any charges. Let me Explain it, You Ordered Iphone worth Rs 42,000 on 1st of the Month by Selecting 6 Months Installments then you have to Pay Approximately Rs 7,000 First time and Remaining Money from the Next Time but within 30 Days you Collected Whole amount of this Mobile Phone then You can pay Full Amount anytime within 30 Days and Cancel your Emi on Sbi Debit Card Without pay any Single Interest and other Charges.
All the things is Very Good, Only one Drawback of this Option is not available for Every Sbi Users. They selected on your Bank account Transactions. If you have good Number of Transactions then you are Eligible so Come to the Below Steps where you can Check you are Eligible or not for Emi on Sbi Debit Card –
How to Check Sbi Debit Card Emi is Eligible or not (Online)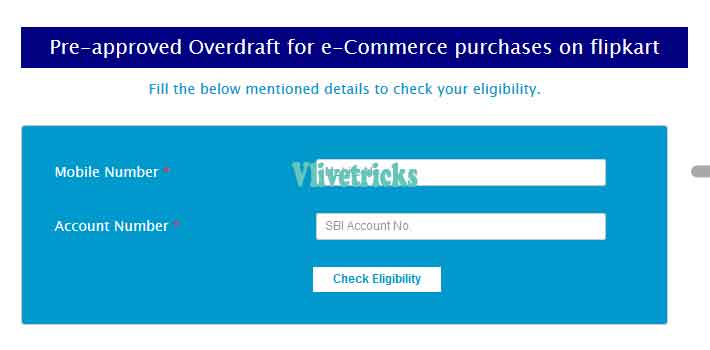 Visit Sbi Debit Card Emi Eligibility page [ Click here ]
Enter your mobile number in first field
Enter your Sbi Bank account Number
Click on Check Eligibility button
Enter otp to check your Status
Above is the SBI online Site Method, you can Also Check using Sms from your Registered Bank number
How to Check Emi on Sbi Debit Card Eligibility using Sms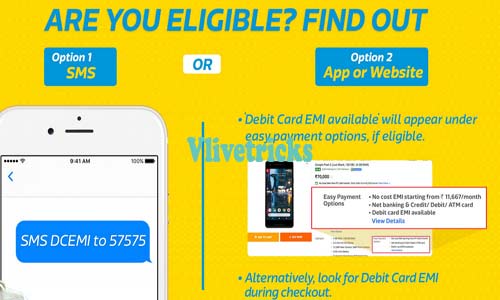 Compose New Sms
Enter this Keyword "DCEMI" "Your Debit card last 4 Digit"
Send to 57575
For example DCEMI 6755 to 57575
You will get Reply , You are Eligible or not for sbi Debit Card emi
We have one more alternate method by which you can Know you're Eligible or not by adding your Card Details on Flipkart account
Login to your Flipkart account
Navigate to Settings page and Add your Debit Card Details in it
Now place any order which you wants to buy on Emi using Sbi debit Card
At payment page , select Emi option
If you will See Pre-Approved Emi Option , Then you are Eligible to Purchase Mobile using emi on Sbi Debit Card
If you are not Eligible then don't be Upset, Make good Transactions from this account and very soon you will also Eligible.
How to Purchase Mobiles on Emi with SBI Debit Card
Visit Flipkart Products Page which are available on Debit Card emi | Master Link for All Smartphones [ Click Here ]
login to your account
Now add your favorite mobile Phone to your cart (Only one)
Checkout it , at payment page Select Easy installments (EMI) Option
Now Select Pre-approved / Debit Card Emi Option >> State bank of India
Select Installments
Enter your Sbi Debit card Details and Complete the Transaction by OTP
Your first emi will be Debited from your account and Remaining will be automatically debited every month
Emi using Sbi Debit Card Terms & Conditions
At a time, You can Buy only one Item using Option
Minimum Purchase Required for this Option is Rs 5,000 and maximum you can Order Rs 75,000 from one Card
Debit card Emi comes with 4 plans : 3 , 6 , 9 & 12 Months
On all plans you will be 14% Interest rate
You can cancel your Emi within 30 Days
No minimum balance Required
No any Processing Fees & Documents Verification required
Conclusion
So guys this is the Journey to get Smartphones from Flipkart by Emi on Sbi Debit Card Option and Get the Product in your hand by Paying first Emi. If you Like Our Post then Please Share it With your friends who still don't know about this Amazing Feature. If you need anytype of help then Free to Comment Below.