Eureka Forbes 7 Liters Water Purifier Deal
(Warm) Eureka Forbes UV+RO+MTDS 7 Liters at ₹8999 Worth ₹16,000
---
Amazon Eureka Forbes 7 Liters Ro Water Purifier Deal – I hope you are Enjoying Our Free Recharge Tricks and Free Paytm Cash Giving Android apps , Recently We Posted Amazon Audible Free Subscription and Loot It.
Today we Found New Deal on Amazon Where You can Buy Eureka Forbes Aquasure from Aquaguard 7 Liters RO Water Purifier in just Rs.8999 which Price is Rs.16000 Including Free Shipping and Installation.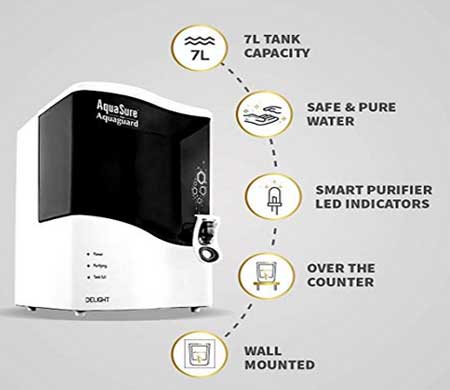 Amazon Already Giving 38% Discount on it so Price is Rs.9999 for Limited time here we Will Combine With Bank Offers So it will Cost only Rs.8999.
That's Why this is Super Great Deal ! Another thing the Price May Be Changed by Amazon this is the Deal of Date 10th Oct 2019
---
Offer Details :
Product Name : Eureka Forbes Aquasure from Aquaguard Delight 7-Liters Table Top/Wall Mountable RO+UV+MTDS White Water Purifier
Price : Rs.16,000
Deal Price : Rs.8,999
Discount : Rs.7000
---
How to Get Huge Discount ?
1. Visit Amazon Offer page or
2. You will See Discount Price of Rs.9999
3. Click on Buy Now Button or add the Product to your cart
4. Register or Login to your account.
5. Click on Cart and then Checkout it
6. Update your Shipping Details and Make the Payments via HDFC Bank debit Card to get 10% Extra Cashback (If you Don't Have then you can use your Friends or anybody)
7. That's it ! Now Wait for Some Days to Product Deliver to your Door.
8. If they Do not call you then call on this Toll Free number : 18602661177 for Installation.
Product technical Details :
White, Capacity: 7 liters tank, Power: 230 watts ; Input Water Temperature: 10 – 40°C and Operating Input Voltage: 150 V – 270 V AC/50 Hz, Material Tank Type- Food Grade Plastic

Installation: Free installation is provided on this product by the Eureka Forbes. For requesting an installation/demo for this product once delivered, please call the customer support contact_us on: [18602661177]. Else please wait for 24 hrs for the brand to contact you post-delivery for metro cities. For others, please wait for 48 hrs for brand to contact you post delivery

Can be used for TDS (200-2000). Please use a TDS meter to find out the correct TDS of your water source before buying a water purifier

Technology: Advanced RO+UV+MTDS purification, Electrical & Storage : Electric purification – suitable for areas with water shortage,The regulator lets adjust the levels of TDS in the water manually to ensure you get healthy, safe and tasty drinking water

Kindly note: For every litre of water purified, 650 ml of water is thrown out by the machine. It is encouraged to save the water in a container and use it for cleaning utensils, washing clothes.

Product Dimensions: 355 cms (Length) X 300 cms (Width) X 450 cms (Height) 1 Year Warranty Includes: Water Purifier, Installation kit and User manual