This time Samsung is Coming With Samsung Foldable Smartphone 2017 Which is Built in New technology & Very soon they will Launch Which Name will Galaxy x1 & x1 Plus. Both the Smartphone will Come with New type Of Display Technology which is Foldable.
Currently No one company Launched Foldable Smartphone, Samsung will the First Company who will launch Foldable Smartphone in world. Samsung is Working on this Project From last Few years, They were Supposed to Launch this Samsung Foldable Smartphone in year 2016 but they postponed the date of launch to year 2017.
We already shared one New tech Mobile Nokia Edge which display on edges also, Similar edges display Mobile is also Launched by Samsung s7 Edge. Samsung First foldable Phone Will Come up with 7 Inch screen when Unfold and 5 inch screen on Folding. Other features of This Samsung Galaxy x1 & X1 Plus is also Very Good Which we discuss below in this article.
Everyone Wants Big Screen Mobile , but We cannot Purchase because we Can not keep in Our pockets because of Big size. If we use then we have to Take in our hands So Samsung will bring two New Mobile Phones in the market which we can fold and easily keep in our pockets Without any fear of Break. We can use this mobile on Folding Screen also where we enjoy 5 inch screen if we wants then we can easily unfold to enjoy 7 Inch Tablet screen.
Samsung Foldable Smartphone 2017
Samsung Will Bring Two Foldable Phones Which Name is Galaxy x1 & Galaxy x1 Plus. Lg , Lenovo & other companies also work on Foldable Mobile Phone Project but Still they does not Reveled. Samsung also Revealed only Some of the points of this this Foldable Android phones. Let's Come to the Samsung Galaxy x1 & X1 Plus Features –
Samsung Foldable Smartphone Key Features
Here is the key features of this Mobile phones or tablet , We got this Features from Popular blogs. Still Official Information is not shared by Samsung Smartphone company.
Operating System :- If we talk about os then one of the model will come with latest android Version Nougat & another will come with Android 6.0.
Display Screen :- Display of this Mobile is 5.5 inch with Super AMOLED QHD display which we can easily Unfold & fold. When it will Unfold it will be 7 inch.
Processor & Ram :- Speed Plays Very Important Role in Mobile Phones , So Both Foldable Smartphones will Come with super fast Qualcomm Snapdragon 821, 2.3ghz octa-core 64bit processor which will run on 6gb Ram & 128gb Storage.
Camera :- We can use camera on Both Folding and Unfolding. It has 16mp Back Camera & 8mp Front Camera Which will capture hd photos & hd Video Chat support.
Other Unique Features :- Quick Charge support ( We can Full charge this Mobile Phone in Just Some Minutes ) , Finger Print Scanner ( We can Set Finger Print lock for highly security & Also enjoy Apps like aadhar payment app ), Slam & Good Looking etc.
Samsung Galaxy x1 & x1 Plus Foldable Phones Colors
Both the Mobile will be available on 3 colors which is Silver , Black & Gold.
Samsung Foldable Smartphone Price in India
Everything depends on Price , Before buy we compares Mobile Features & Price. Samsung will sell this mobile in Approximately Rs. 50k to Rs. 60k in Indian Market.
Samsung Galaxy X Series Launch or Release date
Still they didn't Reveal Confirmed Date but According to Rumors, they will Launch in Q4 of the year 2017. This mobile can come in September to December 2017.
Samsung Foldable Mobile Phone First Look Image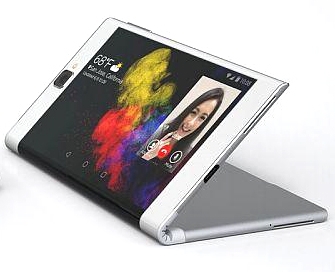 This is the News of Samsung Foldable Smartphone or Galaxy X Series , If you Like This smartphone features then Don't forget to Share Your Opinion in Below Comment box. If you are Thinking to buy this Samsung foldable Phone then we tell You one thing. Firstly they will Launch Only 1 Lac Pieces in Market so Don't think Just buy. We will also Help you to buy by Updating More news of This Foldable Phone online sale on this page.
Tags :- Samsung Foldable Smartphone 2017 , Samsung Galaxy x1 , Galaxy x1 Plus , Price in India , Launch Date , release date , Features & Specifications , First Look Image