Whether you leave your home for a few hours, days or weeks, you may have a feeling of unease, of worry, leaving it unattended like this. IP surveillance cameras are a simple answer to this problem.
They help you keep an eye on your home and above all alert you directly to your smartphone in the event of suspicious movements or noises.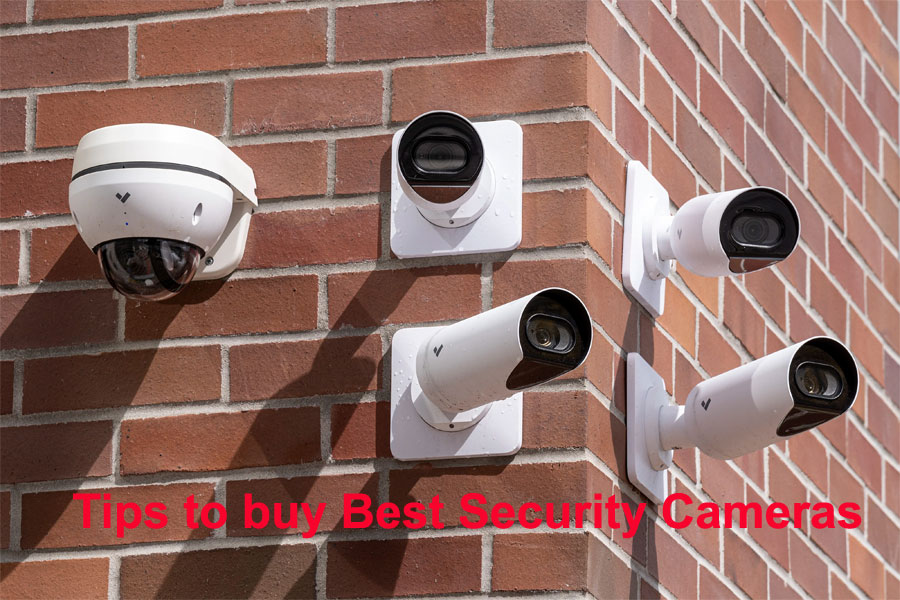 A surveillance camera is like any security object, its presence will not prevent a break-in. At best, it dissuades and at worst it alerts.
With the improvement of fixed and mobile internet speeds, mobile phones are now becoming a veritable nomadic remote monitoring center. Installing a security camera system is easy and affordable.
To avoid acquiring equipment that will not be of much use, it is necessary to examine the characteristics of each model and assess whether they meet your expectations.
In this buying guide for the best surveillance cameras, you will find the criteria to choose when choosing the right equipment.
Before going to buy good security cameras, Remember this points
What are the points to watch for a quality image?
The majority of products today are in Full HD, although there are also some in 2K or even 4K. But resolution alone is not enough. The camera must be able to capture an image with enough detail to offer relevant information, or even identify faces.
It must maintain a constant quality in all light situations. Finally, pay attention to the viewing angle of the camera, the larger the area to be monitored, the larger it should be.
Surveillance camera: where should I store my photos and videos?
The storage can be done on SD card, but it can disappear with the camera during a burglary. This is why the majority of manufacturers of the best security camera for home allow storage in their own Cloud. Some offer to keep your alert videos free of charge for a few days, others require a more or less expensive subscription.
Without a subscription, you will mainly have access to alert notifications and live video feed. Another possibility is storage on an FTP server or a NAS, but not all brands offer it.
Security cameras and private life go hand in hand?
A surveillance camera is not there to spy on the home, but rather to protect it. An LED usually lights up when a camera is activated, and the app informs you of the situation. Some products use facial recognition to ensure privacy and not film members of the household. Transparency must remain the key word so that everyone takes the security tool seriously and makes it their own.
Do you need a microphone and a speaker?
Cameras are often equipped with a microphone, both to allow you to hear what's going on in your home and to serve as a detection device for suspicious noise. He must succeed in capturing ambient sounds with realism, even capturing audible voices.
Some models offer a loudspeaker that allows you to interact with family members for example or to inform, with your voice, a burglar that he is filmed on the spot and that you have contacted the police.
Indoor or outdoor camera?
There are three types of surveillance cameras, for indoor, outdoor, and mixed product use. To monitor a garden or a terrace, an outdoor model, capable of withstanding rain and dust, is preferred. Rotating 360 camera is the best option for outdoor, On just Rs.2K you can Buy Mi Home security Camera 360
Some include a lighting system. Associated with the motion detector, it will activate to illuminate your path at night, for example, or scare off a potential scoundrel passing by. Mixed products save you from having to juggle different references.
Should we focus on design or dimensions?
Aesthetics are not the first priority, but they are important especially if you are dedicating your purchase to indoor use. You might as well avoid investing in a model with a questionable look if it should end up in your living room.
It's less of a problem if you position the camera in a garage or hallway. If you want to hide it in the middle of a bookcase, behind trinkets or in shrubs, opt for a small template to ensure the greatest discretion.
Wired or wireless?
A battery-powered camera offers many advantages, the first being that it is easier to position than a product with a power cable. On the other hand, they must be recharged regularly, and, in this case, an autonomy of 3 months seems to be a minimum.
The second cable that can hinder your freedom of installation, Ethernet. We've focused on Wi-Fi products here. But the more paranoid might want at least a surveillance camera with an Ethernet port, to ward off burglars with a Wi-Fi jammer.
Does night vision really matter?
An infrared device enables a surveillance camera to distinguish objects, animals, or people in the dark. Ideal for night surveillance, this function is mainly used to be alerted to an intrusion.
Only the best performing models can capture a face in enough detail to be usable. Not having it greatly reduces the value of a security product which must be efficient at all times of the day.
Is a complete ecosystem important?
Unless you live in a studio, a single camera is rarely enough. Some manufacturers offer a complete range of products which can range from indoor, outdoor, and mixed cameras to door opening detectors and alarms.
They are controlled via apps that send you notifications in the event of a suspicious incident (noise, door opening, movement in front of the camera), to view live or not what the camera sees.
However, what if for reasons of technical characteristics or cost, you want to mix products of different brands? You just need to learn how to juggle different apps.
Finally, make sure that the products are compatible with Apple Home Kit, Google Assistant or Alexa, it can simplify your daily life.