Hello Friends , I hope you Always use Online apps for Booking Cabs , Taxis , Autos, Bike etc. Today we Found Very Good Offer for you. Yes We are Talking about Jugnoo in which you will get Free Sign up Bonus on just using any Refer code.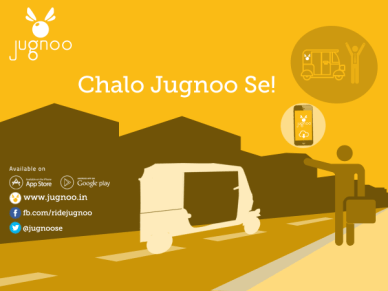 Jugnoo is like ola cab but in jugnoo you can get ride in autos with only 4 rs per km . It is very cheaper than other city local autos . It is Auto/Rickshaw service which is currently promoting their auto service in all over India . Jugnoo Autos allows you to book on-demand, affordable and safe rides, without the hassles of getting overcharged. Simply tap and a certified driver reaches your desired location by your gps location in minutes.
On using Jugnoo Refer and Earn Code you will get Instant 100% Cashback upto Rs.50 X 4 Coupons and Chance to Get Unlimited Cash Network Earning so if you Massive Friends then You will Not Need to pay the Real cash in Future
Update :- Get 100% Cashback up to 50 rs (4 Coupons on sign up using referral code) + Rs.20 on per Refer + Unlimited Network Earning
How to Get Rs.200 Coupons using Jugnoo Referral Code ?
For getting free ride of 50 rs X 4 you must be new user if you are old jugnoo user then don't worry follow below steps to earn by refer and earn program of jugnoo
Firstly Open Jugnoo Website or Download Jugnoo Autos App for android | IOS
Register on it
Enter all details correctly
Enter Promo code as VIJAY749910

( Important to enter this to get free rs 50 ride X 4 Coupons )

Click on Sign up
Navigate to wallet . You Get Coupons in your wallet
Now book autos in your city by this Codes and get 100% Cashback upto Rs.50.
Jugnoo Refer & earn (Unlimited Network Earning)
It is giving free rs 20 free ride cash for referring your friends and relatives just give your referral code to them and as soon as your referral Sign up you will get Rs.20 Instantly. The offer Not Ends here, After referral Completes 5 Rides you will get Rs.1 on their Every Ride. You will also earn Rs.0.50 on every Referrals of Referrals Ride

Open Jugnoo app
Click on left side menu on free rides for life
Now you see your refer code ( Your first name and some random number )
Share this refer code to fb , whatsapp or tell your friends when they sign up to enter your referral code
Your friend get free rs 200 ride and when they take first ride you get rs 20 in your wallet
Jugnoo Unlimited trick by multiple accounts
Yes you can create new accounts and put your code and get 20 rs in your both accounts just follow below steps
Firstly note down your Main account refer code or copy it
Then go to settings > Apps > Jugnoo > Clear data of this app
Done ! Now go to jugnoo and Register new account with new mobile number
And get free rs 200 free ride in new account