Xiaomi the Smartphone Company Presents Time to Time big Deals to attract More Customers Similarly Now they are Running Mi Rs 1 Flash Sale in which you have to refer your friends and When they Will Click on your Special Link, Price will be Dropped. In this Way you can Get the Mi Products Like Air Purifiers, Bands , Earphones , Backpacks and Much More at Just paying only Rs 1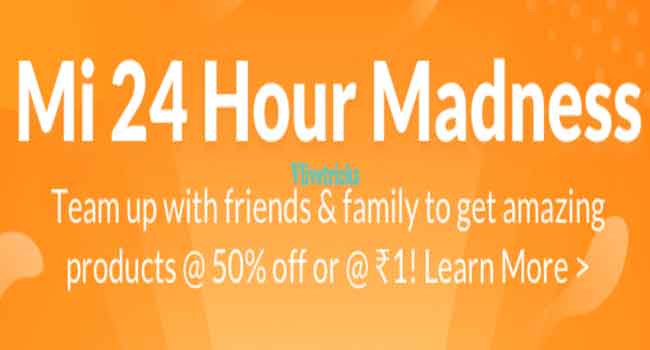 Update :- You can Also Participate with Rs 1 Products in Other Listed Products Where you will get flat 50% Off
Mi 24 Hour Madness Sale Details
If your friend Circle is Big then you can Grab this All the Products in Just Rs 1. Every time When your Friends Clicks on your Mi Refer link then you will see Some Price Cut on your Selected Product. Suppose If you Wants to Buy Mi Earphones Worth Rs 399 then You have to Share it With Peoples to Get Maximum 99% off. You have to Complete this Task in 24 Hours so If you Will Select Lowest Price Product then Your Grab Chance will be More.
How to Get Mi Earphones , Air Purifiers, Backpacks in Rs 1
First of all you have Create your Unique Mi Refer link from Mi 24 Hour Madness contest Page and then Share as much as You can
First of All , Visit the Product Referral Link [ Click Here for Earphone or Click here for Air Purifier ]
Now Click on Drop Price Now
Click on I want it too.
Login in Your Mi Account
You will see Products , Select Your favorite Product
Click on Participate >> Drop the Price >> Share with Friends and Copy your Special Link
Once you Get Enough Clicks on Your mi Refer Link, You will get upto 99% Off and you can buy it at just Rs 1
Terms & Conditions
After initiating the task, invite friends to like the product and drop the price within a specified period of time.
After a successful price drop, you can purchase goods at the specified price within 3 days.
 If you do not pay for the purchase within time, you are deemed to have voluntarily waived your purchase rights.
Each time you like to lower the price, invite more friends who can help you to succeed.
During a task, a single friend can only help once.
Each user can help to drop the price up to 10 times a day, at different tasks.
All tasks have limited stocks and shall be given out on a first-come first-serve basis.
During the task, if the stock of goods is exhausted or the task time runs out, the task will fail.
The conditions for the new user coupon package are: Users register during the event, and participate in the task to help drop the price.
The offer is valid only if you bring the price down by 50% or to ₹ 1.
Some Loot tricks and Tips
First of All , Select Lowest Price Products.
Share as Much as You can
Share your Link in our Comments Section
You can own Click on Your Link , Unlimited Times by Changing Ip address of your System (Change Ip , Open the Link in Incognito Tab and enjoy)
So guys this is Mi 24 Hour Madness Where you can Drop the Mi Products Price upto Rs 1 or 99% by Getting just Clicks on Referral Link. To get More Clicks on your Link, Share it in Below Comments Section and Don't be selfish and Click on other Peoples Link also to get click on your own link.