Okcupid Free Subscription Loot
Free OKCupid 1 Month Subscription by Redeem 250 Flipkart SuperCoins
---
OKCupid Promo Code 2020 , OKCupid Premium List Subscription Free , OKCupid Flipkart SuperCoins redeem – I hope you are Enjoying our Free recharge Tricks. Today we Found a Way to Get OKcupid For Free if you Regular Used Flipkart Like you Got Free Tinder Plus Subscription
It is Dating App Like others but It has Some Features Like It Shows People on your Interests , Quirks & Beliefs and Find Real Dating Partner. You Can Easily Find your Matches if you Have Premium Features Like No any Bogus ads, Before like Check who liked you , More Filter Option for Better Find, No limit of Likes, Sent Message seen etc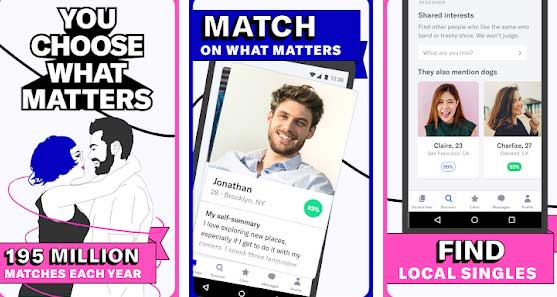 You will get OkCupid 1 Month Coupon Code on Flipkart SuperCoins Redeem. You can Also Use to Purchase other Brands Vouchers but if you Loves to Finds & Meet New Peoples then this is the best deal for you.
On Every Rs.100 Spent on Flipkart you earns Some Coins if you don't have then Here you can Earn Free Flipkart Super Coins by Completing Tasks.
---
Benefits of List Subscription :
No any Ads Between you run App
Unlimited Likes
Better Search Option
See Who Liked you
Sent Messages Seen Option
How to Get OKCupid 1 Month Subscription for Free ?
1. First of All , You Need to login on Flipkart.com
2. Click on My account >> Flipkart Supercoin Zone. Navigate to Last in "Extra Treats For you". Here you will See Okcupid Offer or Visit the Direct Link
3. If you have Enough Coins then you will See Redeem button. Hit On it.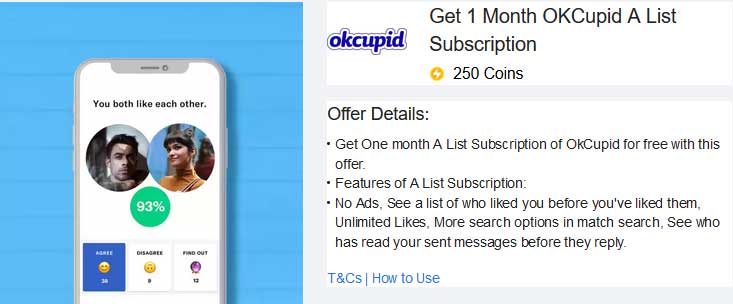 4. You will Get Coupon code in Flipkart Claimed Rewards Section. Use it before 15 Days.
How to Redeem Coupon Code on Okcupid ?
Copy the Code
This coupon code is a link which needs to be pasted in your browser on Desktop or Mobile or Replace Unique Code with yours in this Link : https://www.okcupid.com/redeem?voucher_code=UNIQUE_CODE
Press Submit and input login details as required
Enjoy 1 month of Okcupid List
Terms & Conditions
Once the Code is redeemed, the offer is non-refundable.
Coupon code is valid only for 15 Days once claimed
Offer valid for a limited period only.
The voucher codes can only be applied on the Okcupid website and iOS and Android App
Only one voucher can be used at a time and cannot be combined with other offers.
The voucher is not transferable and should not be resold or redeemed for cash
The Offer will commence on 4th February, 2020 ("Offer Period") & End Till Stocks Last