Now you can Earn by Reading and Sharing Articles on Pivot, It is Very Good App where you have to Collect Power and Coins which is Converted in Free bitcoins so today in article we will explain Earning Tricks and Methods for BTC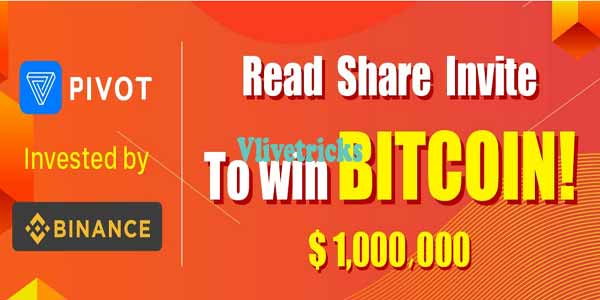 You will get 4000 Power Sign up Bonus using Our Referral Link, On every Successful Referral You can Earn 20,000 Power bonus. Daily they shares 4 BTC to all the Users so if you get 100 Power Bitcoin Bonus then you will get 1% of daily pool which is Currently Around $63USD.
Using Pivot App Bitcoin Earning Tricks and Methods, You can Make Good Money Daily by Reading & sharing Articles Refer Friends by sharing referral code. They are Giving upto 4 Bitcoins Daily to all the users. This Time you have to Share as much as you can and collect Power on this Basis daily you will get Free Bitcoins.
You can Easily withdrawal this Earnings to any Crypto Currency Exchange Portal like Zebpay app , Wazirx. I hope you checked Iost Free coins where we Earned Money in Bank account by Iost Crypto Referral Program. In Short Words, From this Refer and earn You can Loot Lots of Free bitcoins.
Update :- Get Free 1 Lakh Power Offer Added
What is Pivot App Earning ?
Pivot is the world's largest Cryptocurrency Exchange Portal, Mostly Chinese Peoples is Invests in Crypto Market from their guides. They Provides More than 14,000 Cryptocurrency Real time Charts, Markets, Prices and News. There aim to help investors communicate more efficiently with each other and with startups in blockchain industry. Recently They Received Investments from Binance and Other Most Using Crypto Currency Funds. Currently Pivot Crossed More than 100K Investors Accounts Which Daily uses Pivot to Trade in Crypto.
How to Get Free 4000 Power
Visit the Link in your Mobile Browser [ Click here ]
On Next page, You have to Sign in with your google account
And then Download the app, It will Redirect you to play store
Install and Launch it, On Bottom Menu >> Click on My account icon and login from your Google account which you used in Step – 2
Navigate to homepage >> Read any article and Claim Free Power of 200
Read at least 19 More articles to Claim maximum Daily Power of 200 so 200 X 20 = 4000 Power
Pivot app Refer Friends & get Free Power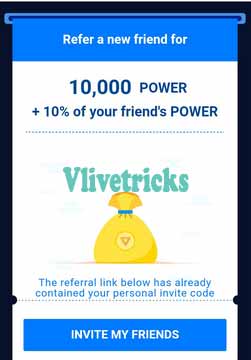 Click on My account icon from bottom menu
Select Invite Friends
Click on Invite Friends Button, Share the Message or Copy the Referral link
On every Successful Referral you will get 20,000 power and 10% of Your friends Earning Power
How to Loot upto Free 4 Bitcoins Daily
Daily 4:00 (GMT+0) Pivot app Earning Department distributes (lucky draw) free BTC to all the users, if you have More power then your Chances to more Bitcoins. You can Redeem this Free BTC Directly to your wallet.
How to Get Free 1 Lakh Power in Pivot App
First of All , Download the Pivot Video From Here
Now Upload it on your Youtube Channel and Don't forget to add your Referral link
Now Enter your Youtube Video Link and Screenshot under app
That's It ! Now you are eligible to get upto 1 Lakh Free Power
Frequently Asked Questions answers
What is Bonus ?
In Order to Encourage users  need to spread the Pivot community, we decided to organize a campaign called "Daily BTC Bonus" for one month, The bonus is one BTC per day.
What is POWER ?
POWER is the certificate of "Daily BTC Bonus",which decides how much BTC Bonus you can get per day. For example, if 10000 POWER is distributed to all users in one day, and user gets 100 POWER, then he will receive 1% of the
BTC in the bonus pool of this day (given the bonus pool is 4),which is 0.04BTC = 260,48USD.
How to get Unlimited Pivot app POWERs ?
1) Invite friends
For every friend that you invite to register Pivot, You will be rewarded with 10000 POWER
2) Read posts
For every post that you read, you will be rewarded with 200 POWER. The maximum reward is 4000 POWER per day!
3) If your shared Post is read
When a post which you shared is read, you will be rewarded with 200 POWER' To receive the reward by this reader, it has to be the 5 earlier posts that the reader read today
4) Invite bonus
We'll give you 10% POWER of the friends that you refer.
Video Steps Here