Hello guys, Once again we Come up with New Diwali offer where Can Win Free Smartphones , Free Realme Coupons & huge Discount Deals on this Festive Days Sale of Realme.
New Users Who Will Register after 12th October 2019 will Get Free Rs.500 Off Coupon & If you are Old User then you can Grab Free Rs.1000 Coupon in your Account Section After Login.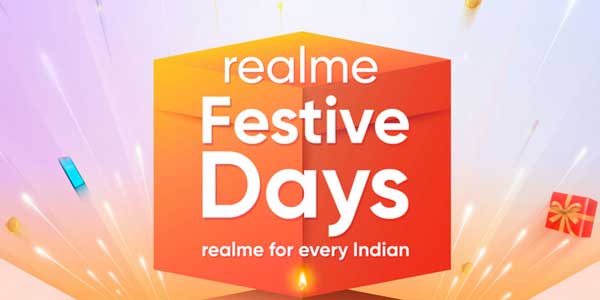 On this 2019, Realme Festive Days you will Get Much More Like Hdfc Card Discount, Extra Rs.500 Off on Exchange, Extended Warranty, Use Mobikwik SuperCash , Coupon etc.
If you already User then Join in Imei Draw 100% Win a Prize and Get Special Diwali Gifts (Free Realme 5 Pro , Rs.500 , Rs.300 & Rs.100 Coupon). I hope you Checked Realme Imei Event Where Spin and Win.
It is similar like Realme Yo Days but in this you will Guarantee Win !
Sale Date and Time : It is Live for 5 Days Between 12th October 2019 to 16th October 2019
Super Diwali Offers and Deals
10% Cashback with Hdfc Debit Cards
2 years Extended Warranty
No Cost Emi by Bajaj Finserv
Extra Rs.500 on Old Phone Exchange
Use 10% Mobikwik Super Cash upto Rs.1500
How to Get free Coupons in Realme Festive Days Loot ?
1. Visit the Realme Festive Days Offer Page [ Click Here ]
2. If you are New User then you will Get Rs.500 Off Coupon , Scroll Below and Click on Register Now/Grab Button. Make new Account and Get Free Realme Coupon
3. If already user then First of login to Your account and Visit the Sale on Exact 12 Noon Everyday because Limited Stocks.
4. Scroll Below, You will See ₹1000 Festive Super Coupon, Grab Button will be unlocked at 12:00pm every day of Sale.
5. Coupon Code will be Added in your account, Redeem it in Sale Days.
Activity
Group Purchase : Purchase the Realme Product will Group Purchase Special Price. Now Share the Invite link with your 3 friends when they Purchase the Same Product then your Order will be Successful. If you Are not Able to Complete Milestone then your Money will be Refund After 17th Oct 2019.
How to Get Special Diwali Gifts for Old Users ?
Visit the Imei draw offer page [ Click Here ]
Scroll Bottom and login to your account.
Get your Imei Number by Dialing *#06#
Spin and Win
Realme Festive Days Suggested Phone Deals
Get Extra Rs.2000 Off on Realme 5 at Rs.8999 + 10% hdfc Cashback
Get Extra Rs.2000 Off on Realme C2 from Rs.5999 + 10% hdfc Cashback
Rs.4000 Off on Realme 3 Pro + 10% hdfc Cashback
Realme  5 Pro from Rs.13999
Terms & Conditions
This activity shall be valid for a period of 5 [FIVE] days, i.e. commencing from [12th Oct 00:00 Hrs – 16th Oct 23:59:59]
To participate in the activity, participants shall note the following points:
1. New User Coupon
Users registered after 12th Oct. 2019 will be able to collect the coupon of ₹ 500 off. The coupon can be applied on all orders more than ₹ 9999. The coupon is valid from 12th Oct 00:00 Hrs to 16th Oct 23:59:59
2. Festive Super Coupon
All the registered users will be able to collect the coupon of Rs. 1000 off, every day at 12:00:00 Noon, from 12th to 16th Oct. We would offer only 500 coupons per day. The coupon can be applied on all the realme phones. The coupon is valid from 12th Oct 00:00 Hrs to 16th Oct 23:59:59
3. IMEI Code Lucky-draw for Previous Users
Every registered customer who has bought a realme phone and activated before 16th Oct 23:59:59 can participate in the event, whatsoever the variant and model. During the event, customers fill in the respective IMEI number of their realme device. Customers who qualify for the event will get a chance to play the 'spin and win gifts'
To find the IMEI code, customers can enter *#06# on their phones call screen and find a 15 digit code. It is 100% safe and confidential to use the IMEI code to spin. If the phone has dual IMEI code, only IMEI 1 is applicable
Every IMEI code can be input which will give one chance to spin. The total number of chances for one account is limited to 5.
The no. of prizes for the spin is shown as follow :
realme 5 Pro *3
Coupon (500 rupees) *50
Coupon (300 rupees) *5000
Coupon (100 rupees) *1,00,000
Free realme 5 Pro winners will receive a coupon. The winners need to use the coupon to place an order before 16th Oct 23:59:59. All the coupons are available before 16th Oct 23:59:59. The coupons are limited to be used on all phones except realme C2, realme U1, and realme 3i.
If the order is not placed during the above mentioned period, realme has the right to forfeit the prize. realme reserves the right to disqualify participants whoever do not abide by the T&C.
In case of any queries about the activity, please send your queries to [email protected]
All the personal information of the participants shall be kept confidential and should not be shared with anybody else.