Shorts tv Subscribe on Tatasky
Get Shorts Tv Channel Free Trial Subscription on TataSky (Miss Call)
Tatasky Shorts Tv Channel Number , How to Activate Shorts Tv Subscription on Tataksky – Entertainment plays main Role in our Life so today we Are Sharing One of the Great News for Tatasky Subscribers, Yes Now they can Watch Shorts tv on their Tv screen that too free.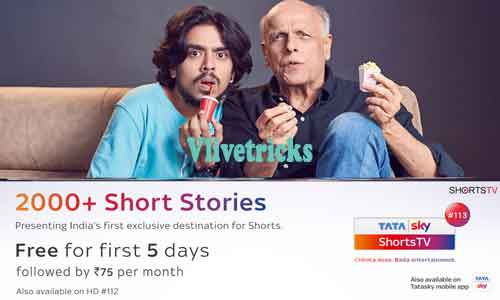 Tatasky Launched Shorts Tv on just Rs 75 monthly Rental Charges where you can Watch Short Stories , Unique Titles 24X7 Hours.  It Will Provide More than 2000+ Premium Titles Over Internet in which Some of them is Oscar Winner , Cannes and Much More. They Covered All types of Categories in it Like Crime , Drama , Romance , Comedy etc.
You will get More than 500+ Indian Short Films , Once you Subscribe it On Tatasky Dth then you can even Enjoy from Mobile App also. If you are Still Confused about this Channel then Get it free for 5 Days.
How to Activate Shorts Tv Channel on Tata Sky ?
To Enjoy Free Trial Subscription you need have to Dial Toll Free Number
Open Dial Pad

Tatasky HD Subscribers – Dial this Number 8904189041 from Registered Mobile Number

Tatasky SD Subscribers – Dial this Number 8904489044 from Registered Number

Your New Service will be Activate Soon which is Free for 5 Days Only, After this you will Charge Rs 75 per Month so If you are not Interested to Continue then Cancel it before trial Period.
Shorts TV Channel Number on TataSky
SD Subscribers – If you are Using SD Connection then You can Watch it on 112
HD Subscribers – If you are Using HD Connection then Switch Channel to 113
If you are not a Tata Subscriber then Visit this Link and Enter your Name , Number then they will Contact you
Conclusion
I hope you Enjoyed Tata Sky Free HD Channels Post , Now they Added Shorts tv Channel in their list which you can Watch Currently Free for 5 Days. If you Like our Post then Please Share with your friends and Don't Forget to Comment Below how your Experienced from this New Service.