Do you Know Anybody can Still Your Information by Aadhar Number So UIDAI Created 16 Digit Aadhar Card Virtual ID Which Links to Our Number so Banks , agency and other Brands Where we Need to Give Aadhar can View Only Some Selected Data so if you haven't Created your Virtual ID then in this Article we Will Guide you to Create.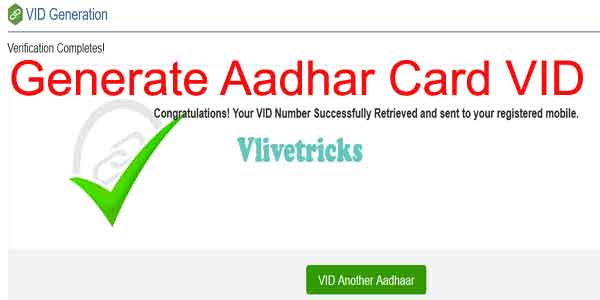 Actually Some of The Agency is Stilling the Peoples Data by the Help of Aadhar Number, Mostly Database company so Government UIDAI Added one More Security Layer on it Which is Virtual ID which Will give your only Selected Information which agency Need. You can Use Anywhere where Aadhar Number accepted.
What is Aadhar Card VID ?
Aadhar card Virtual id is 16 Digit Number which Linked to Our Aadhar Card. Once It Created then you can Provide this Virtual ID to Any Agency Instead of Aadhar Number so they Can Fetch only selected Information and if stores your VID then its no Value because Aadhar Card Holder anytime Deactivate it and Generate New one so in this Way you can Protect Your Personal Information.
How To get Aadhar Card Virtual ID from Official Website
Visit the VID Generate Page [ Click Here ]
Here Enter your 12 Digit Aadhar Number and Security code Shown in Image
Click on Send Otp, You will get 6 Digit Otp Password on your Registered mobile Number via Sms
Now Enter it in Right Hand Side and Select "Generate VID" Option >> Submit
That's It your Aadhar Card Virtual id Will be Generated Successfully and You will get it Via Sms Within 5 Minutes
How to Generate Virtual ID of Aadhar Card by Sending SMS ?
VID can also be retrieved by sending an SMS to the Aadhaar helpline number 1947. Resident will have to type "RVIDLast 4 digits of Aadhaar Number" and send it to 1947 through the registered Mobile Number
How Its Works ?
Some of the Agency , Banks , Societies Required Aadhar Verification to Proceed the Steps. Now You can Use this16 Digit Number instead of aadhar. Now Check Below How the Virtual id Will work.
You given Virtual Id to the Agency, They will Enter it for Verification
Now they Will get Token from UIDAI to Authenticate Your Details but Limited Only
Done ! you Successfully Verified your Documents without Given your Aadhar Number
How to Retrieve Aadhaar Card Virtual ID ?
If your Sms has been Deleted then Don't Worry You can again Retrieve in your Inbox by Below Steps.
Visit the VID Generate page Again
Enter your Aadhar Card Number
Enter Security Captcha Code
Send OTP
Enter OTP and Select Retrieve id
Done ! You will get Via Sms Instantly.
Frequently Asked Question Answers
VID Expiry Date
There is No expiry Date of VID Of Aadhar Card Until You Generate New One, Once you Generate New Virtual ID Your old One will be Expire. It Means Only one VID working at a Time
On Retrieve Old Aadhar Card Virtual ID Will Generate ?
Yes If you Retrieve then you will get your OLD VID While if you Generate then New Aadhar Card VID Will Come and Old will Deactivated
Final Words
So guys We Recommend to Create Your aadhar Card Virtual id Now and Don't Share your Aadhar Number to anyone instead Share your Virtual id so your Personal info will be Safe. So guys If you Successfully Created your VID then Please Comment Here and Don't Forget to Share with your Friends so they can also Create and Keep their Data Safe.