Hello Users, Cricket War Is Going On. In Lots of Games and Offers you have to Give Quiz Answers Where the Chances is Very Low but Here today We Are Sharing About "Airtel Cricket Bonanza" In this Contest you have to Self Play and If your Score is Good then you will Win Rewards.
The Offer is Valid for All Airtel users who Install and Open the Thanks App. You have to Do Batting and Make Good Score in the Game. You will Get 2 Overs Means 12 Balls for Play and you have to Score Good for Win Big.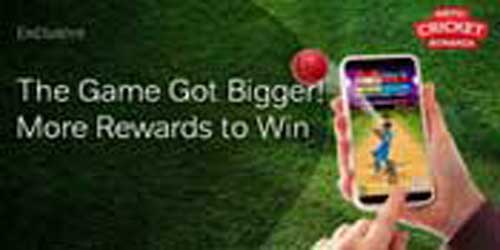 In Airtel Cricket Bonanza Contest of 2019 Winners will get Amazon Vouchers Worth Rs.100 & Rs.500, Smart Led Tv, Smart Band ,HeadPhones and Many more Big Rewards.
There is No any Charges to participate in the Game, It is Available for Every Airtel Users. Even if you wins then you will get or Dispatch your Rewards within 48 Hours.
The Contest is Valid from 10th October 2019 to 9th November 2019. I hope you Checked Indianoil Cricket Carnival & Jio Cricket Play Along quiz where you can Also Win.
Rewards :
How to Win in Airtel Cricket Bonanza Contest ?
1. First of all , Download Airtel Thanks App or Update Already Installed [ Click Here ]
2. Open and Use Airtel internet or Automatic login or Sign in using Airtel number.
3. On Homepage, Navigate to Only for you Section
4. Here Find This Cricket Contest Banner and Click on It.
5. Click on Play Now and Make Good runs. Top 10 Winners will be selected. Your gift will be Dispatched within 5 to 6 working days.
6. If you Wins then you Can Claim your Rewards From Homepage.
How to Play ?
Step 1: Hit it Out of the Perk (You get only 2 Overs to play Daily Like they say, Timing & Direction is everything'
Step 2: Run for Rewards Burn your runs to unlock & claim rewards.
Step 3: Let the Game Begin Share your Score to challenge Fans & family to beat your high Score.
Frequently Asked Questions
How can I Register for Airtel World Cup Campaign ?
You can Register in Airtel World Cup Campaign by visiting the Airtel Thanks App.
Who All can Participate in the Campaign ?
All Airtel Thanks app Customers Can participate in the Campaign.
How Much time I Can play ?
You can Play Everyday in the Campaign.
How can i Score Runs ?
You can Play a Maximum of 2 overs in a day and the runs you make in these overs will keep Accumulating across days. If you have claimed a reward the Corresponding number of runs will be reduced from your Cumulative score.
In the Match , You have to Tap at the right moment and direction to score maximum Runs, You can better at it with practice.