In this Winter Season I Hope you are Enjoying Cricket leagues , You can Watch the Live Matches of India on Your TV and on Mobile. If you are Reliance JIO User then you Can Watch it Free on Jio tv without any Single Extra Recharge. Also you Can Win Big Rewards by Playing jio Cricket Play Along Game in the App with watch ipl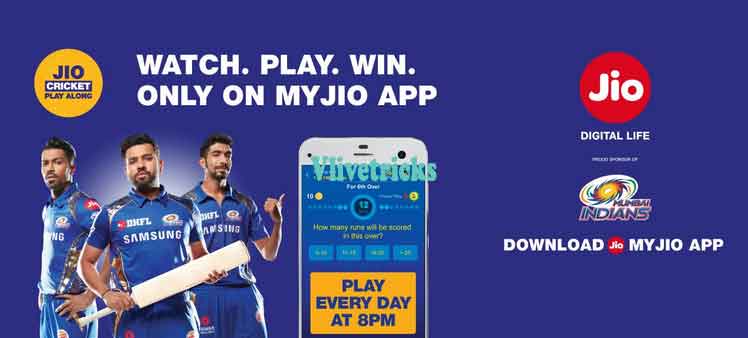 We celebrate cricket and are totally engrossed in it as soon as the IPL season begins. We all love to see our favorite teams play and try to predict the winner of each game; mostly just for fun, but now for rewards and points (read bragging rights). This is largely due to the rise of 'play and win' games on our mobile phones.
What is Jio Cricket Play Along ?
It is a Quiz Game where you have to Collect Points by Guess Correct Answers, Also you will ask only match and Cricket Related Questions like in next Ball What Will Happen ? You have to Select your Prediction from the Four Options. If your answer is Right then you will get Jio Cricket Play Points which you can Redeem into Jio Data , Paytm Voucher and Much more. In short Words it is Very Similar to Hotstar Ipl watch & Play Game
Predict And Win
Swiggy is offering a 6-minute window where you can get a 60% discount on orders after every six whereas Zomato allows you to predict the winner and then offers you a cashback offer. Jio and Hotstar are offering 'predict and win' live cricket game apps which can get you rewards and points, which you can use to redeem prizes. While the first two use gamification to drive transactions, the latter two are using the format to make the viewing experience better for their viewers. However, it is Jio Cricket Play Along that has us (and scores of others) hooked. You can start playing by going to your MyJio app and clicking on the banner 'Khelo Cricket JioCricket'. Make sure you have an active internet connection and a Jio subscription.
How to Play Jio Cricket Play Along & Win 100%
First of all , You need to Download Myjio app in your phone [ Android | Iphone ] (Already Installed then leave this Step)
Now use this Invite Code – SyXaZr0A to get Power play in which you will get 3x Points of every right Predictions
Now Login or sign up using jio Mobile Number
On homepage , You will see Jio Cricket Play along "Play now" Button. Click on it
You will get List of matches Schedule
Now Open the App During Match Time
You will see question on the Screen , Select the Right Answer and Win Points
If you will use Power Play Option then you will get 3X Points on Every right Answer , Suppose if you are getting 30 Points on Right Answer then on Power Play you will get 90 Points
How to Give Correct answers (Trick)
1. Profile Completion : Complete your profile and earn rewards. It will ask for your basic information like your name, state, gender and age. You will get an instant bonus of 50 points that can help you up your game. If you haven't already, complete your profile now.
2. Hat-trick Question : Play the hat-trick question to earn 50 points
3. Booster Cards : Booster cards will increase the probability of your winning and gathering more points if played during the first few and last few overs of the match
4. Trivia Questions : Play all trivia questions asked during Strategic Time Out to earn 60 points for three questions
5. 30 Ball Boost : After playing at least 30 balls in the match, you can get 50 points boost at the end of the match. It can be a benefit if you are playing it without a break
6. Third Empire Question : Look out for the third empire's turn, you can earn 50 points for attempting the question
7. 18 Ball Boost : Every 18 balls played in the match earns 30 points. With every 18th ball you play, you get a score boost of 30 points. Don't miss out on a single question and earn more points
8. Sixes and Fours Prediction : The best time to predict the fours and sixes is during the first few overs and last few overs. It will give you a better prediction success rate and offer you more chances to get it right. During this time, players are inclined towards scoring more runs that can turn out to be beneficial for you.
2019 Prizes List
A flat in Mumbai
A trip to Thailand
Ixigo's 1 Lakh voucher
BookMyShow's Rs. 6000 voucher
Match tickets
A chance to be with the captains during the toss
Tricks to Earn more and More Points
First of All Use Power Play if your Stuff has been End then Follow Below Tricks to earn Power Plays
On first time Login to Play the Jio Cricket Game
Complete your Profile and get Power Play
Give At least 1 Answer in 3 Matches
Refer your Friends and Get Free Power play
On Completing Levels
Collect a lot of points to unlock Newbie, Beginner, Amateur, etc.
Badges head over to the Achievement Tab to redeem offers
You will see various offers listed according to the number of points
Claim the Prizes/ Coupons etc. (If available)
Go to the coupon section from MyJio app to see the coupon details
How to Redeem your Jio Cricket Points into Grand Prizes
On top Right Corner , You can Check your Points
If you won Any Prize then Click on "my winnings" in Jiochat App
Here you will Get the Vouchers
If you wins Grand Prize then you will Receive Call on Registered Number
Conclusion
I hope you Understood everything About Jio cricket Play Along game Like how to Play and Earn Enough Points to Win Prizes.
I hope your Friends is also Uses Jio Sim so please Share the Offer with that Friends so they Can Also Participate and enjoy the Rewards. If you have any problem then Free to ask here