Hello Users, Airtel Rolled out New Ultra v-fiber Broadband Plan where users Can Enjoy Unlimited Internet Data with 1gbps Speed as they not Mentioned Any Speed Capped But According to Source you will get Full Speed Till 2.5TB Which we Can Say that Unlimited.
Recently You Seen Jio Introduced Gigafiber With Welcome Offer and They Revealed Plans in Past Months where You can Enjoy 2.5TB Data in Rs.3,999 & 5TB Data in Just Rs.8,499. Airtel Running V-fiber from Long Time and You Already Seen Airtel V-Fiber Broadband Plans in our website.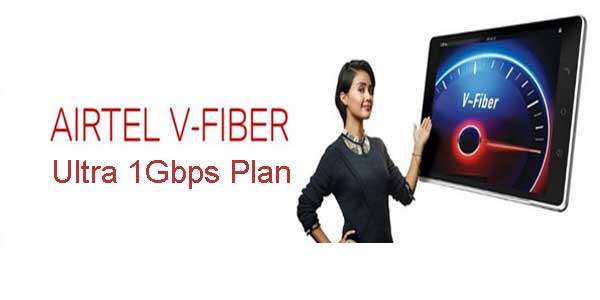 They Are Also Offering in Similar Price so Directly or Indirectly Competing with Jio Rs.3,999 1gbps Plan. Apart From this Airtel V-Fiber Ultra Plan Giving Free Amazon Prime, Netflix, X-stream, Zee5 Subscriptions.
You can Also Make Unlimited Broadband Calls without any Limit of Minutes, If you are Jio Lover then Here we Have Steps to Take Jio gigafiber Broadband Connection.
Airtel Ultra V-fiber Plan is Truly Unlimited or Not ?
Clearly Seen Airtel Launched this 1gbps Plan Compete with jio 1gbps Plan because In both You are getting Same Speed and Price but in jio your Speed Will be Capped after Using 2.5tb Data which is Almost Unlimited But Unlimited is Unlimited.
It is Also giving Some Other Benefits Worth Rs.4000 Absolutely Free, Airtel Didn't Mentioned Any Speed Capped about this Ultra Plan but Some News Sites Claimed 2.5TB while Some 3.3 TB Data.
Airtel Called This V-fiber Plan as "Truly Unlimited" so May be they Will Not Cap. Once this Thing Confirmed we will Update on this Page. Here we have Image Where Other Old Plans you will See, Some is Changed Due to Jio Effect.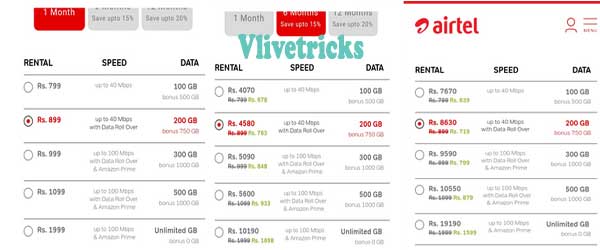 More Benefits :
Here is the List of Some Airtel Thanks Benefits which you will Ge Absolutely Free with this Fiber Plan worth Rs.4000+.
Amazon Prime 1 Year Subscription Worth Rs.999
Netflix 3 Months Subscription
Zee5 Premium Subscription
Airtel x-stream Premium Subscription
Unlimited Calling through Broadband
Compare Airtel Ultra V-Fiber Vs Jio Fiber 1gbps Plan
Both is Good For Heavy data Users
In both you will get 1gbps Speed ,Almost Same
In Jio Fiber , Your Speed Will be Capped after 2.5tb While Airtel Claimed Ultra plan as Truly Unlimited.
In both you will Cost around Rs.3,999, In Jio Rs.8,499 you can Increase 2.5Tb + 2.5 TB Data.
Jio Will Give You all Jio Apps Premium Access for Free While Airtel giving Thanks App benefits which is Costly and Useful for Every People.
Both is Valid for 30 Days or 1 Month
On Purchasing New jio Fiber Connection You will get Free 4K Tv, Smart Settop Box with Annual Plan.
Another Good Thing of Airtel is Time to Time They Given Offers Like Airtel Broadband Surprise Free Data & Airtel Free Internet Data in Prepaid
So guys Above we Compared With Similar Jio Fiber Plan, In Market there are Some more Providers in India which Are Offering Fiber Internet at Low Cost So take a look of that Plans Also.
Act Fibernet Giving 1gbps Speed Plan at Rs.5,999 with 2.5TB Data Capping, This is the First Fiber Launched Broadband Gives very Good Service and Customer Support.
If you are finding Lowest Fiber Broadband Plan with 1gbps speed then Spectra has only Rs.1,599 Plan which is Cheapest in all Providers of India.
Conclusion
So guys We hope you Got everything Which you're Finding about New Airtel Ultra V-fiber Broadband Plan if anything Missing then Please add it in Below Comments Section. We"ll Check and Update it with Your Name.
You can Share your Opinions like Is it Good or Not ?, Jio or Airtel Which is the Best like Questions Answers Below. It will Help other users of our website.