Are you students or Youth then under Amazon youth offer, Get Amazon prime subscription in just Rs.299 for one year. There is no pan card id required to get amazon student offer. The validity of amazon youth prime subscription is for one year including all prime benefits , Video benefits, Music etc.
Amazon is Giving Prime Membership for Youth at Half Rate, They are Giving Flat 50% Cashback for Youth it Means you're Getting Amazon 50% Pay Balance back Again. Amazon Come Back again for new users, if you are Youth / Student and Come in the age of 18 to 24 then you can Get the Prime Membership in Just Rs.299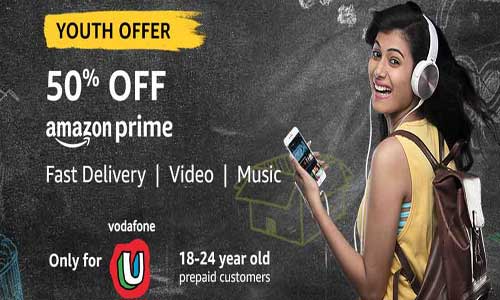 We All Know there is Lots of Benefits of Prime Membership like we Don't have to Pay Delivery charges even we are ordering Rs.10 Product, Another thing great offers for Prime users Like Amazon Rs.1000 Cashback on Rs.1000
Before proceeding further, Let me clear how the Amazon prime subscription will get in Rs.299 worth Rs.999 for youth students
Amazon officially giving this offer and no any promo code or particular bank payment requires under this youth offer. Every year Rs.500 cashback will be credited until you cross 24th age
Under amazon youth offer you need to proof , You are a student and your age between 18 to 24 so some kyc documents required which listed below. Only after verification you will get Rs.500 Cashback + Rs.200 (2 Add money cashback) will be provide.
If you didn't comply this terms and conditions then proceed with this offer, Otherwise cashback will not be credited to your account and you will be cost Rs.999 for Amazon prime subscription for 1 year.
---
Amazon youth offer Documents Verification :
1 ID Proof (Aadhar Card/ Pan Card / Voter ID Card/ Driver's License)
1 Selfie
Amazon account
---
How to Get Amazon Prime Subscription at 50% Cashback under youth offer ?
Update : Now Pan Card not required, You can Go with any Government issued ID card. With Amazon Prime you will also get Amazon Music , Gaming etc
1) Create New Account Or login to your Amazon Account but your Age Must be Come in Between 18 to 24 according to your entered DOB
2) If You are not a User then Subscribe amazon prime from here & Open Amazon Prime >> You will see youth Offer Banner  >> Follow The Steps and Instructions
3) If you are Already Prime User then Login to your account >> Your Account >> Amazon Prime >> Here you will see the Offer
4) In both cases you have to Purchase the yearly plan and Make the Payment of Rs.999
5) If you are following the Steps using Desktop then Come to Mobile and Install the App
6) Login >> Click on Amazon Pay >> Kyc >> Upload Pan Card , Aadhaar Card and One Selfie
7) If Already Done then Wait for 15 days , You will get Rs.500 Cashback in your account
8) To get remaining Rs.200 Cashback from amazon , Add Rs.500 in Pay balance using Rupay cards which you can create online also. You will get Rs.100 Cashback. One more time add using different rupay card and get Rs.100 Cashback one more time.
9) Every year Rs.500 Cashback will be credited to your pay balance account until your age above 24. So if you avail youth offer at age of 18 then you can enjoy the prime subscription for 7 years at half rate.
---
Benefits of Amazon Youth Prime Membership
Flat 50% Discount so you will get in just Rs.499
Free Amazon Prime Music
Same / One or Two Day Delivery
Exclusive and Early access of Offers / Deals / Sale for Prime Users
---
(Offer – 2) Get 50% Discount via Vodafone Youth ? (Expired)
In above you will get Cashback but if you are VI Customer then you can Get Flat 50% Discount but If you are Come in Youth Age (18 to 24)
This is Another Method but you must be Vodafone Customer and your Sim Card is Linked via Aadhaar Card and your Age must Be 18 years to 24 years
If you are Coming in Terms and Conditions then you are Eligible to Get Vodafone Youth Offer, In order to get here are the steps
Download my vodafone app
On Homepage, You will see Amazon Youth Banner
Click on it , Make the payment of Rs.499 >> Activate Now
Login to your Amazon account which you wants to Make Prime Subscribed within 2 days
Here are the Offer Source