In almost all big and small cities big bazaar stores is available where you can buy products at huge discounted rate. Now they started Exchange Program where they are taking old stuff at very Good Rate like old news papers at Rs.50 per kilo gram.
Every month on first of the month dates they conducts Smart search sale in which they give free coupons to drop the mrp price of the products.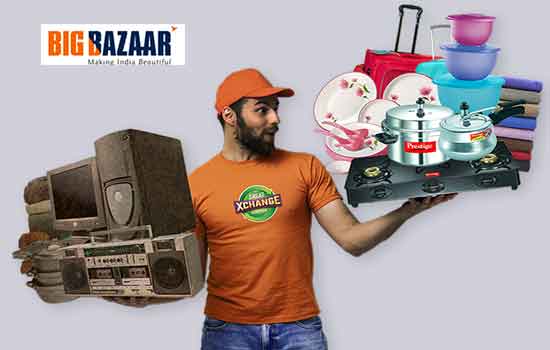 Now they Come with Amazing big Bazaar Great Xchange Offer of 2019 where you can Sell your Old and Used products at Great price. If you unable to Go the Store then You can also schedule your pick up.
In exchange they will give you Xchange Coupon which is valid to buy anything from their Store, So by Selling old Product you get new one. They are also giving 20% Discount on Selected Products during this sale
Under This Big Bazaar Exchange Offer Terms & Conditions,  They accepts Old Clothes , NewsPapers , TV , Refrigerator , Washing Machine , Oven, Computers , Mobile Phones, Bed , AC and Much More. Even you can Calculate your product Value Online also
Once they will give The Great Xchange sale Coupon you can use it on their own Stores , Nxt Stores , hypercity stores & Food bazaar. I hope you Checked Big Bazaar Free Shopping Voucher articles Where Claim and Redeem with this to get more discount
How to Register for Big Bazaar Exchange Offer ?
1) First of All , Register for Pick up Service [ Click here ]
2) Enter your Name , Mobile Number , Email id and City Name >> Submit it

3) Very soon, They will Contact you and Schedule your Pick up
4) In case Pick up Service is not available in your City then Normally visit to your nearest Big bazaar Store with your Old Stuff
5) There staff will calculate the price of your old products, Click Here to Calculate your Exchange Value online
How to Sell Old and buy New Products ?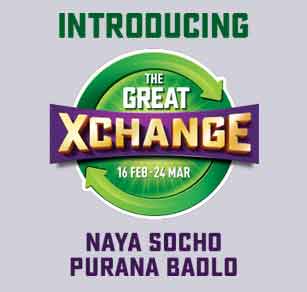 Once you are ready to Sell on their Calculated Price
They will give you Big bazaar Voucher named Xchange coupon of total value
Now Visit Big bazaar , NXT , Food Bazaar , Hypercity Stores
Purchase any Products
At the time of payment Give the Voucher
Your payment will be Done
Enjoy
Big bazaar Exchange Offer Date & Time
Date :- Between 11th February 2020 to 15th March 2020
Time :- 10:00AM to 10:00Pm
Coupon Redemption Date and time :- Between 11th February 2020 to 15th March 2020
Old Exchange Products Rate
Newspaper : Upto Rs.50 per kg
Old Clothes (Including Bedsheet ,Towels, soft toys, Mens Jacket) : Upto Rs.100 per kg
TV : Upto Rs.5000/Piece
Refrigerator : Upto Rs.5000 per Piece
AC : Upto Rs.5000 per Piece
Washing Machine : Get Upto Rs.3000 per Piece
Computer/Laptop : Get Upto Rs.4000/Piece
Microwave/Oven/OTG : Get Upto Rs.3000/Piece
Old Mobile Phones : Get Upto Rs.5000/Piece
Electronics/Small Appliances : Get Upto Rs.1000/Piece
Wooden Bed :Get Upto Rs.3000/Piece
Sofa : Get Upto Rs.1000/Piece
Furniture : Get Upto Rs.100/kg
Utensils :Get Upto Rs.300/kg
Plastics : Get Upto Rs.100/kg
Old Gas Stove : Get Upto Rs.500/Piece
carpet : Get Upto Rs.500/Piece
Doormat : Get Upto Rs.50/Piece
Old Mattress :Get Upto Rs.1000/Piece
Pillow : Get Upto Rs.50/Piece
Old Luggage : Get Upto Rs.200/Piece
Big Bazaar Exchange offer 2020 Details
The Great Xchange Program" is applicable from 11th February 2020 till 15th March 2020 (inclusive both days) (hereinafter referred to as "Scheme Period")
Discount Coupon will be issued during Scheme Period from 11th February to 10th March 2020 , at Big Bazaar, select Big Bazaar Gen-Nxt Stores, Hypercity stores and select Food Bazaar stores, except stores in the state of Madhya Pradesh (MP)
Redemption of Discount Coupons will be valid only during Scheme period at all Big Bazaar, fbb, select Big Bazaar Gen-Nxt, select Food Bazaar and select Hypercity stores
Only Discount Coupons to be issued against receipt of junk/scrap from the customer.
Once scrap is received and Discount Coupons are issued, customer cannot reclaim scrap under any circumstances
No cash/credit note/Gift Coupon / other mode of payment shall be issued on receipt of junk/ scrap/ old merchandise. Discount Coupons are non- transferable and cannot be exchanged in lieu of Cash/ Cheque/ GV or any other mode
Future Retail Limited (FRL) and/or representative at its own discretion can reject/ accept junk/scrap from customers at select stores and decide the value of Discount Coupon s. No dispute or correspondence in this regard shall be entertained.
The customer must ensure that s/he receives a Weight Measurement Coupon (hereinafter referred to as "WMC") with duly filled in details like their name & mobile/ telephone no., type & quantity of junk, discount value of junk, store stamp, staff name & signature and date against handover of scrap.
Customer must ensure that the WMC is preserved carefully for collection of Discount Coupon s. FRL shall not be responsible in case of any damage, loss, wear and tear, etc. to the WMC and will result in not issuing Discount Coupons in lieu of said WMC by FRL.
Photocopies of WMC shall not be accepted for issuance of Discount Coupon(s)  Discount Coupons shall be redeemed in full; partial redemption is not allowed
Discount Coupon cannot be clubbed with any other Coupon /coupons. No two Coupon s can be clubbed together
No two offers can be clubbed together.
Discount Coupons can be redeemed only when total bill payment is made by cash, card (except SBI Styleup Card), Future Pay or Big Bazaar Profit Club
Discount coupons cannot be redeemed while using Payback, Gift Card, SBI Styleup, Student Payback, Young Elders, Easyday, Future Privilege Card (FPC) and Employee Discount Card (EDC).
Read here Full Terms