In India Lots of Top Brands , Opened their Own Stores at Various Place in Small And big Cities. Big bazaar is one of them where you can go and make Shopping. This Brands connected via their app and site so you can also enjoy offers which you seen on their Official Platforms.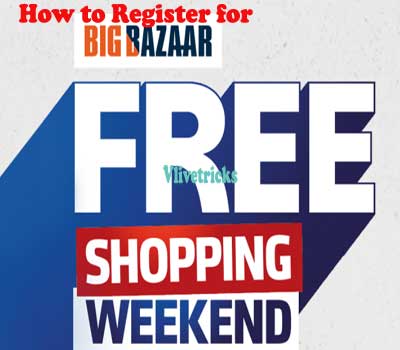 At this store, You will get almost all the Daily Essential , Clothing , Electronics , Grocery , Home Appliances products at one place with discount. I hope you Seen Big Bazaar Exchange Offer where you can Sell old Products and Buy new Products at unbelievable rate
Once again Big bazaar Free Shopping weekend sale of 2019 is Coming Live where shop more than Rs.3000 and Get Equal amount on Rs.3000 Cashback Vouchers For Free. Before participate you have to register also for sale
You will get Free Rs.100 X 10 Future pay Cash every month + Rs.1500 voucher + Rs.500 FBB Store Voucher
We also Shared here Big Bazaar Free shopping Vouchers Method by Miss call on toll free Number and Playing some Games during Offer period
Update : – Sale Details Updated

Get free Rs 150 Voucher by Playing Secret santa Game

Get Free Rs 150 Cashback Coupon by Giving MissCall on Toll Free Number
How to register for Big Bazaar Free Shopping Weekend sale
If you will Lucky then you can win Free 1 year Shopping also
First of All , Visit Big bazaar weekend sale page
Now Enter your Name , Mobile number and City and Submit for this Sale
You will get Successfully Registration Message "Thank You for registering! Details will be shared soon. Stay Tuned".
Now Download Future pay Wallet App and Sign up or Login if already have account
Use Same Mobile number which you Used for Deal Register
Big Bazaar Free Shopping weekend Date & Time
Date :- 29th Mar to 31st Mar 2019
Time :- 10:00 Am to 10:00 PM
If Big bazaar Stores is not available in your city then Don't be Upset you can also enjoy this Offers on their Other Brands
Food bazaar, Gen Nxt stores
How to Get Free Shopping Cashback vouchers worth Rs.3000
Now Go to Nearest Store on above Mentioned Date and time
Purchase anything worth Rs.3000
Done ! Now your Cashback will be Credited according to Below Offer Terms and Conditions
Weekend sale Cashback Details
Fashion Vouchers worth Rs.1500
Rs.500 Fbb voucher
Future Pay Wallet Cashback Worth Rs.1000 ( Rs.100 Will be Credit every 1st Date of Month for 10 Months)
So if we Count all the Cashback and discount then We are getting Rs.3000 Big Bazaar Free Shopping from this weekend Offer
Terms and Conditions
Customers shops for 3000 and gets 1000 FREE CASH in 10 installments as follows

1000 FREE CASH shall be given as 100 on 3rd April 2019 & on 1st of every month from May 2019 – January 2020

Offer valid only once per bill /mobile number
Unutilized Monthly Credit balance will expire at end of each month. The same will be deducted from the Future Pay's  Big Bazaar Wallet
FREE CASH in Future Pay's Big Bazaar Wallet will only be given on the mobile no. provided by Customer at the time of billing
Customer needs to download and register on the Future Pay App with the mobile number given at the time of billing to the cashier by 1st April 2019
FREE CASH  in Future Pay's  Big Bazaar Wallet can only be redeemed at Big Bazaar, Food Bazaar, ezone, Hypercity & FBB Stores
Redemption of Fashion voucher will be valid from 29th March to 30th April 2019
To use this voucher shop in Big Bazaar/fbb
This voucher is not valid on inner wear, infant wear, fashion accessories and footwear, as intimated by the company from time to time
This voucher partial redemption is not allowed & it cannot be exchanged for Cash/Cheque/GV or via any other mode. Fashion voucher is non-transferable
In case of loss or damage to Fashion voucher, no duplicate will be issued. Customer need to present original voucher in good condition for redemption
This voucher cannot be clubbed with any other voucher/coupon/offer. No two vouchers can be clubbed together.
How to Get Big Bazaar Free Cashback Coupon by Misscall Toll Free no.
Get Rs 150 Worth Voucher, Which will be applied on Above Rs 1000 Shopping
Dial the Big bazaar Misscall Number [ 18002706999 ]
Your Phone will be automatically Cut or wait till cut
In Reply you will get this Message – "Thank you for voting!Use code 

XXXXXXXXXXX

 & Get Extra Rs.200 off on Shopping of Rs.1000 at Big Bazaar/food bazaar/fbb stores.Valid till 27th Jan 2019.T&C apply"
Now Download Future Pay Wallet from Same Number & Get Rs 501 Cashback (Rs 101 Valid for 13 to 15 Oct 2018 and Next Rs 100 for 1st of the Every Month Till Feb 2019)
Now Use the Cashback Coupon & Enjoy Free Shopping Worth Rs 150
Repeat the Step from Alternate number and Get unlimited Big Bazaar Free Shopping Rs 150 Vouchers
Free Voucher by Miss Call Offer Summary
Actually Big bazaar is Giving Free Discount Vouchers on this Festive Season so to grab this offer you need to misscall on number from your mobile phone. Once you Done and Got Code from this Deal then you need to go your Nearest or favorite big Bazaar Store for Shopping where you can Use this Vouchers on above Rs 1000 Shopping.
We have Another Offer , Now if you are interesting to Get Big Bazaar Free Shopping then Follow Below Steps
How to Get big Bazaar Free Shopping Rs 150 Voucher by Play Secret Santa Game
Open the Link in any Internet Browser [ Click Here ]
Click on Start Button to Play
Now Click on Gift Box to Get Points, Click on other items will Deduct your Points
Score More than 100 Points which is Very Easy
At the end of game you will see your Score, Now enter your Name and Mobile Number >> Submit
That's it , You will Get Rs 150 Vouchers valid on above Rs 1000 Shopping via Sms.
Open the Link in Private / Incognito Window and Enter alternate number in Step -5  and Loot unlimited big bazaar Rs 150 Vouchers.