Got New Big Bazaar Free Fashion Shopping Offer In which you Can Loot Free Jeans Worth Rs.250, You will get Rs.100 off on Shirts & Buying Jeans on Offer Day so We Can say that it is Free Shopping by Big Bazaar on Fashion Products.
In this Free Shopping Offer, You have to Send Sms from your Mobile To Get Coupons of Big Bazaar which Valid on Above Rs 999 Fashion Products Shopping at Big Bazaar Offline Stores.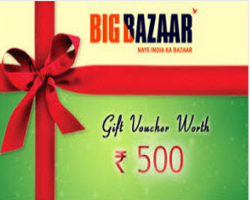 To grab this Offer , You don't Need to Do any special Things Just Follow our Simple steps and Enjoy Free Fashion Products. Offer valid only till 20th Nov 2018. I hope you Checked Other Offers of Big Bazaar in our website – Smart search , Gift Vouchers at Huge Discount.
How to Get Big Bazaar coupons via Miss Call ? (New)
Dial this Toll free Number 18008438811
You will get Fashion Shopping Voucher Worth Rs 100 on Rs 300
Below Offers is Expired
Offer Details
— Get Rs 250 Off Coupons , Valid on Above Rs 1499+ Men's Denim jeans
— Get Rs 100 Off Coupons, Valid on Above Rs 999+ Men's Chinos.
— Get Rs 100 Off Coupons, Valid on Above Rs 999+ Men's Shirts.
How to Get Coupons of big Bazaar Free Fashion Shopping via Sms
Compose New Message
Send Sms in this Way
SHIRT TO 9244092440
CHINOS TO 9244092440
DENIM TO 9244092440
You will get Coupons of Fashion Products.
Visit the Store and get Discount
How to buy Free Denim Jeans & Free T-shirt ? (Expired)
You have to buy Rs.999 Jeans From Store and pay by Future Pay Wallet to Get Rs.500 Cashback Vouchers + Free T-Shirts Worth Rs.499 so if you Calculate some of Cashback & T-shirt Value then we are getting Equal amount of Value
Firstly you have to Register For Deal
Register Now on Deal Page [ Click Here ]
Enter your Details & City from Which store you will buy Jeans
Done ! Now you are successfully Registered , Now you can Grab this Offer on Big Bazaar Stores
Visit your Nearest Big Bazaar Store [ Find your Nearest Store ]
Select Pair of Denim Jeans of More than Rs.999
Now Load money & Pay Full Amount by Future Pay Wallet
That's it you will get Free T-shirt and Rs.250 X 2 cashback Vouchers in Future wallet
Your Future Cashback will be Credited on 1st Jan 2018 & another Rs.250 Voucher on 1st Feb 2018
Total Spent – Rs.999
Products you will get – Denim Jeans Worth Rs.999 + Rs.250 X 2 Future pay Cashback Vouchers + Rs.499 T-shirt
Terms & Conditions
Offer Valid only for who will Register and Buy pair of Denim jeans Worth Rs.999 on 17th Dec 2017
To Get Cashback and Free t-shirt you have to Pay via Future pay Wallet
The details of the offer are as follows.
a. On shopping of a pair of jeans of Rs.999 onwards – Customer will receive Rs. 500 (Rs.250 × 2 months) as Cash in Future Pay's Big Bazaar Wallet
b. Rs.250 will be added monthly for 2 months on the 1st of every month starting Jan '18 to Feb '18
c. Additionally, each customer will get one FREE T-Shirt of upto MRP 499 for FREE
Offer valid is only valid on shopping of Jeans starting with MRP of Rs. 999 onwards
Cash in Big Bazaar Wallet will only be given on the mobile number provided by Customer at the time of billing
In case of multiple bills with the same mobile number provided, only the first bill will be considered for the offer
There is no minimum shopping required to redeem the FREE Cash in Future Pay's Big Bazaar Wallet
Check Full Terms from Here
Tags :- Big Bazaar Free fashion Shopping Offer , Loot , Coupon code, Free Jeans , free t-shirt Offers