Brand Factory Free Shopping 2019
(8-10 Feb) Brand Factory Flash Sale:Free Shopping Rs.3000 Weekend
Brand Factory Free Shopping Weekends 2019 , Brandfactory Loot , Brand factory Flash sale , Free Pass – I hope you are enjoying Free Recharge Tricks & Free paytm Cash from our Daily Shares, Today we Have Something Different For you of Brand Factory Stores where get Absolutely Free Products.
I hope you Checked our Previous Post of Brand Factory Free Gift Voucher where play simple Game and get Rewarded which you can also use on this Weekends
Brand Factory has own Stores in Most Cities of India where you can Buy Men's , Women's, Kid's Wears. You will get All Branded Brands Clothes only. You can Buy Sports Wear and All Other Fashion related Products at very Reasonable Rate. In Weekend days , They Sale their Products with Huge Discount. Like in Upcoming Brand Factory 2019 Flash Sale Days they Are giving Rs 3000 Products in Just Rs 0 with Paytm Cashback Vouchers , Future Pay Wallet Balance.
Note :- Sale will be Live From 8th February to 10th February 2019 from 8:00Am for Premium & 11:00am for Classic Pass users.
Brand Factory Free Shopping 2019 Offers
Shop Rs 3000 MRP & Get Rs 3000 Back
Get Paytm Vouchers Worth Rs 500 Free
Free Rs 2500 Future Pay cashback
Valid on all Cities Across India
The sale is happening in Mumbai, Bangalore, Hyderabad, Pune, Kolkata, Chennai, Guwahati, Bhubaneshwar, Nashik, Asansol, Ahmedabad, Ujjain, Raipur, Ghaziabad, Delhi, Kanpur, Vijaywada, Hubli, Mangalore, Mysore, Thiruvananthapuram, Calicut, Vadodara, surat, Indore, Jaipur, Lucknow, Patna, vizag, Agra, Allahabad, Amritsar, Aurangabad, Bhuj, Jammu, salem, zirakpur, Coimbatore
Future Pay Offer Terms and Conditions
Offer is only valid for 8th Feb to 10th Feb'19
Offer valid only if the shopping is over Rs.3000 in a single bill
It is not mandatory for a customer to pay by Future Pay to avail the Cash in Future Pay's Brand Factory Wallet Offer
The details of the offer are as follows: On shopping of Rs.3000 or more, Customer will receive Rs.2500 as Cash in Future Pay's Brand Factory Wallet
Rs.2500 Cash will be credited as Rs.250 for 10 Months on 1st of every month from Mar till Dec'19
Cash in Brand Factory Wallet will only be given on the mobile number provided by Customer at the time of billing
In case of multiple bills with the same mobile number provided, only the first bill will be considered for the offer
There is no minimum shopping required to redeem the Rs.250 Cash in Future Pay's Brand Factory Wallet
Unutilized promotional balance shall expire at the end of each month and will be deducted from the wallet
Rs.250 Credited as Cash in Future Pay Wallet will always be deducted first in case of spends with Brand Factory Wallet
Customer needs to download and register on the Future Pay App with the mobile number given at the time of billing to the cashier by 20th Feb'19 to receive the Cash in the Wallet
Cash in Wallet can only be redeemed at Brand Factory stores
In case the payment is done partially or fully by credit note, the offer will not be applicable
Offer is not applicable on loading your Future Pay Wallet or on purchase of Gift Vouchers
Customer needs to validate that the number provided to Cashier by him/ her is the same as the one printed on the bill
Brand Factory reserves the right to change, amend, modify, suspend, continue or terminate all or any part of the offer at any time without notice
Customer can download Future Pay App on mobile from Play Store / App Store or by giving a missed call on 8010-350-000
Any dispute should be referred to the Future Lifestyle & Fashion Limited & the decision of the Company shall be final
All legal disputes are subject to Mumbai Jurisdiction
The Cash in Future Pay Wallet cannot be transferred to another wallet (non-transferable)
Unlawful modification or abuse of the offer is prohibited
In addition, Future Pay terms and conditions shall also apply to the cash given in the Future Pay Wallet
For more detail customers can contact Call Centre number 1800 210 1818 or email at

[email protected]

In case of any discrepancy with offer or with non-receipt of Cash in Future Pay Wallet, it is mandatory for the Customer to present a physical bill
Expired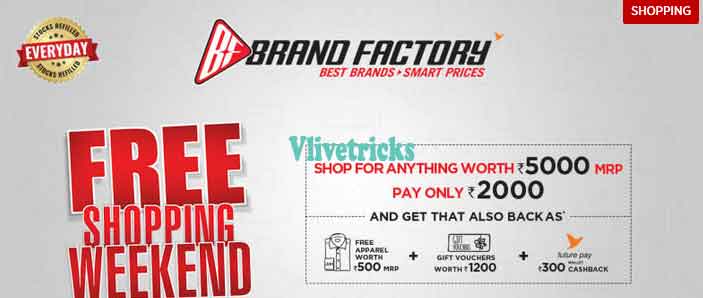 Get Free Passes using Paytm
Visit Masterlink
Buy the Voucher
Apply Code BF100 
You will get 100% Cashback
How to Get First Access for Booking Link ?
Visit the Free Registrations Link [ Click Here ]
Click on RSVP Blue Button
Now enter your Name , Email , Pass , Mobile Number, City
Complete the Registration Process, You will Notify via Sms on Successful.
Now you will get Booking Link very Soon
How to Get Brand Factory Free Passes ?
Purchase the Pass of Premium or Classic (Valid for 2 Persons)
If you Bought Premium then you can Get Entry 8:00 am & 11:00am for Classic Passes
Your Passes Will be Refunded to you in the Form of Vouchers
Terms and Conditions for Ticketing
Keep customer copy of entry pass with you which is redeemable for next month's shopping
Management reserve the rights to restrict or withdraw entry at any given point
No duplicate voucher will be issued if lost or misplaced
Free entry for kids below 12 years
Limited Premium passes
Pass amount is refundable in the form of gift vouchers
Entry Voucher valid only for 1 time entry and is non refundable
Admit two on single Entry Voucher
Entry Voucher cannot be exchanged for cash or cheque
The holder of the Entry Voucher deemed to be beneficiary
Any dispute should be referred to the company and the decision of the company shall be final
Pass is only valid for the store selecting while making purchase