Free Brand Factory Gift Voucher
Unlimited Brand Factory Free Rs 100 Gift Voucher by Play Game
---
Brand Factory Gift Vouchers Free , Unlimited Free Brand Factory Gift Cards , Brand Factory Free Cash – I hope you enjoyed our Previous Latest Deals. Today Sharing Very Good Offer Where you can Get Brand Factory Discount worth Rs 100 for Free and no minimum Order Required.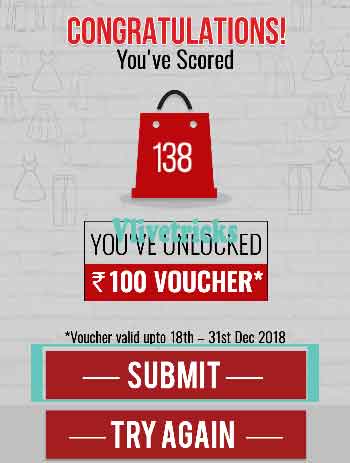 They are Running Very similar Deal to big Bazaar Free Shopping Where you have to Play Simple game to unlock Free Voucher. I hope you checked Brand factory Free Shopping Weekend Post where Shop Rs 5000 & Pay Rs 2000 with Exclusive Money Back in the Form of Rewards.
Brand Factory Crediting Free Cash Worth Rs.100 + Rs.222 Coupon Code and 60% Off Site Wide on Lots of Products Till 6th July 2021. This is User Specific so Check Your Account Fast and Enjoy the Loot Deal.
---
How to Check Credited Free Gift Voucher of Brand Factory ?
1. You will Get Sms of Cashback Credited worth Rs.101 + Rs.222 Coupon on your account
2. Or Login to your Brand Factory Account to See Free Cash
3. Redeem Before 6th July and Enjoy More than 60% Off on Lots of Products
How to Play & Win Rs 100 Discount ?
In this you have to Visit on Game Page where you have to Play Very Simple game without any Login and Register. You will get one Shopping Bag which you can adjust using your Arrow Keys or Mouse and You have to Fill this Bag by falling Brands icons.
Visit Brand Factory Free Gift Voucher page from here
Click on Begin Game
Your Game Will Play and in 30 seconds you have to Make at Least 100 Points
Move the Bag and collect as much as Brands logo
If you Crossed 100 Score , then you will be eligible for Free Discount Voucher code
Click on Submit >> Enter Name And Number
Instantly You will Receive Code via Sms
Terms & Conditions
Voucher will be Valid from 18th Dec to 31st Dec 2018
You will get flat Rs 100
No minimum order Required
You have to Score at least 100 Points to unlock Discount Voucher code
Proof of Code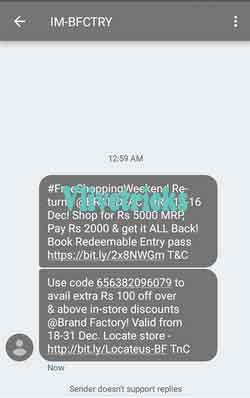 Unlimited Brand Factory Discount Voucher Trick
We Can Make this Offer unlimited by very Simple steps but every time you need new Mobile Number and Good News is No any Otp Required.
Open Game Link in Incognito / Private Window of Browser
Play the Game
Now Submit new Number Every time
You will get Unlimited Free Gift Vouchers