Purchasing Britannia marie gold biscuit packet from any where can win you free 1gm 24 carat gold coin on just sending printed lot number from Britannia marie gold wrapper. Daily total 9 winners will be selected who sends code between 9am to 6pm means every hour one winner will select.
This Britannia Marie Gold offer is completely similar like previous shared Maggi Super bonanza contest because both the contest is conducted by woohoo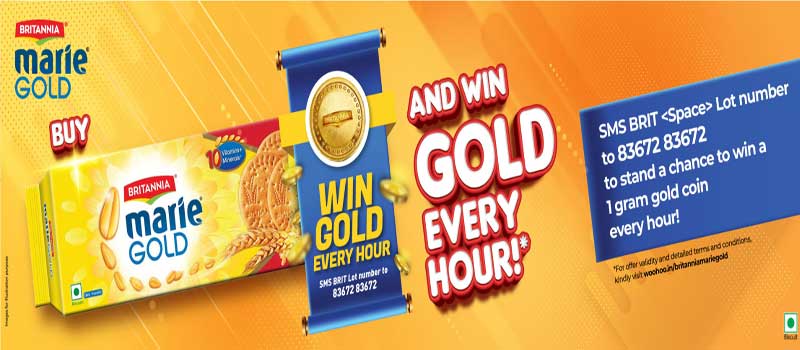 Britannia biscuits is too much tasty and good quality biscuits now britannia is come with free gold coin Offer with every britannia marie gold or Vita Marie 300gm pack.
You"ll get Unique Lot code which you have to send via sms in below mentioned manner to participate in contest. This is completely optional and free to participation contest of Britannia.
If you converts the price of 1gm gold coin in INR then It will be more than Rs.5000
---
Before going to participate in Brittannia gold contest you must live in this following states : Jharkhand, Orissa, Gujarat, Madhya Pradesh and Maharashtra
How to win 1gm gold coin from britannia biscuits packs ?
Every hour one random winner will be selected who send correct lot no. on offer number. If we sends message in morning then very low number of participants participate as compare to other hours then chances of win is more in morning so try to send sms in morning.
You don't need to do anything, Only follow below steps to participate in britannia marie gold contest.
1. First visit your nearest retailer / Super market to buy 300gm pack of britannia marie gold or Vita Marie gold. If already have then enjoy the taste.
2. One more thing, gold offer must be mentioned on britannia biscuit pack otherwise you can't participate and win free gold coin.
3. You need to find batch number on pack which is unique code and also require if you won so don't throw it.
Britannia marie gold contest sms number :
Now compose new message
Type "BRIT" without quote in capital letters. Press <Space> and enter batch no./Lot no.
Send it on "8367283672"
That's it ! If everything rights you will receive successful participation message.
One customer can participate unlimited times from one mobile number so if you have lots of britannia packs then try to send all in same hour so your chances of win will increase.
Britannia marie gold offer winners will be informed via sms, If wins with link to redeem their prizes.
This offer is valid from 20/12/2021 to 4/2/2022 including both days. Entries come between 9 am to 6pm will be valid entries only after 6 pm and/or before 9 am, will not be considered as valid entries.
---
Paytm Britannia Products Offer (Expired)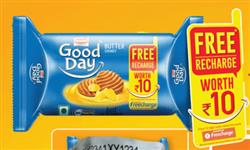 You can get this britannia good day pack from any retailer , Enjoy Tasty Biscuits & note Down Unique code and apply on Official site to get free Code.
Steps to get free Paytm Movie Tickets Voucher
Buy britannia goodday pack from any retailer Mentioned Paytm offer.
Now Visit Paytm Britannia Offer page.
Enter name , Email , Unique Code and Other Details.
Done ! You will get Authentication code within 24 Hours on above Entering Email/Mobile.
Now Claim Your Paytm movie Voucher by Visiting Claim Page and Enter Authentication code.
Within 24 Hours You will get Voucher Code via Sms.
Steps to redeem Paytm Movie Voucher code
Open Paytm App or Visit Paytm movie page.
Now Book tickets Don't Know Visit How to book Movie Tickets at Paytm.
Enter Voucher code , You will get Flat Rs. 100 Off.
That's it.