EasyDay Club Product of Future group private limited Giving Free Future Pay balance upto Rs.100 Instantly on playing Luck Azmao Jackpot Game. There is no need of any registration or to do any Shopping to avail this free stuff. You can also Use the Free Balance in Big Bazaar Exchange Offer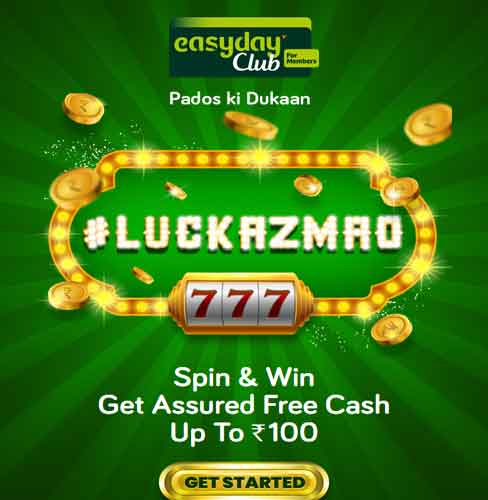 Only You have to enter your Mobile number to Get Free Credits. It will take upto 15 Days to Credit in your account Which you can use 100% at Big Bazaar Stores, Easy Day Stores or Where Future Pay is accepted but before 30 Days of the Credit
This EasyDay Club Game Offer to Get Free Future Pay Balance is Very Simple, Only you have to Spin the Objects and You will get Guarantee assured Cash in your Future Pay Wallet
The Offer is Valid for All users , It Doesn't Need of Membership and Stores Visit
EasyDay Club Luck Azmao game : How to Play & win Free Future Pay balance
1) Visit EasyDay club Play Game Page [ Click Here ]
2) Click on "Get Started" Button
3) Here you will get List of Rewards Which you can Win by Spin
If the user gets all 3 Easyday logo – they will get Rs.100 cashback in Future Pay Wallet
If the user gets all 3 Lays – they will get Rs.75 cashback in Future Pay wallet
If the user gets all 3 Amul Butter – they will get Rs.50 cashback in Future Pay Wallet
If the user gets 2 of the same kind – they will get Rs. 35 cashback in Future Pay wallet
4) Click on "Click to Play" Button and Again "Tap to win"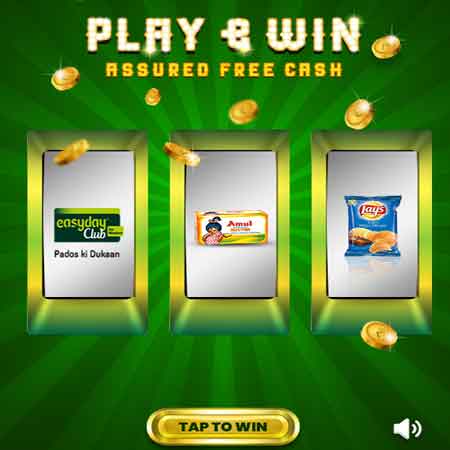 5) You can Try Four to Five Times in which you will Definitely Win
6) In Last, You will win Free Future Pay balance Between Rs.35 to Rs.100
7) Submit your name and mobile number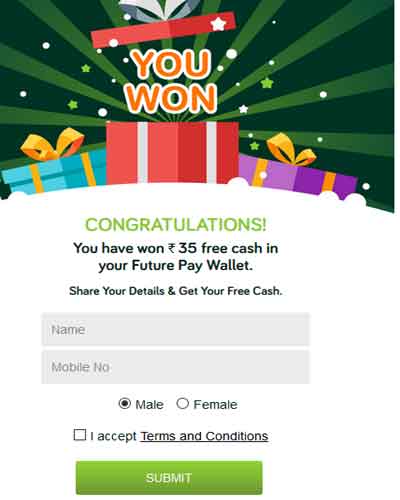 8) Within 15 Days your Future Pay account will be Credited by Free cash which will be valid for 30 Days
Terms & Conditions
This program is managed by Future Retail Limited (hereinafter referred to as FRL
This game will enable user to win Cashback upto Rs 100/- in the FuturePay Wallet for Easyday Club Members.
User can register only once with a valid mobile number and is eligible to receive only one cashback
Details entered if not valid will not be considered and the user will not receive any cashback and/or rewards.
The eligible mobile numbers will receive the cashback in the Future Pay Wallet Easyday Account within 15 working days of submitting the score, through an SMS.
Please ensure that the mobile number is not on DND, to receive the cashback details through SMS
The cashback will be valid for 30 days from the date of deposit.
Any data breaching and hacking is subject to strict and legal action against the user.
The customers can redeem the cashback at the nearest Easyday Club Stores.
FRL shall not be liable in the event it fails to fulfil any of its obligations under this terms and conditions due to flood, earthquake, storm, cyclone or any other acts of god of similar nature, war, strike, lockout, or governmental or judicial or quasi-judicial policies/intervention/direction /prohibition or change in law or for any technology/network failure or any other reasons beyond its control.
An entrant to this activity indicating his/her agreement to be bound by these terms and conditions.
If FRL finds out any illicit activities, fake profiles or bot users creating multiple accounts or tampering the gaming, those users will not be counted or gratified
In case of any dispute, the decision of FRL shall be final and binding on all concerned and Courts in Mumbai shall have exclusive Jurisdiction.
FRL reserves the right to modify these Terms and Conditions and such changes shall be deemed effective immediately.