Till Now We Seen Only websites which Gives US & Uk Virtual Numbers But Some of the Indian Apps Not Support that Country Code so here we Sharing Some Best Free Indian Virtual Number Sites which Works Same as Like and You will get 10 Digit Phone Number with +91 Code & Instant Activation.
You will Get Complete Dashboard to Check Sms and Calls Anytime in your Account. You can use it as your Second phone Number so you can avoid Spam Unwanted Calls and Sms to your Main Number.
Another Thing Some of the Indian Sites and Apps Only Gives Offers One time to Particular Number but Now You can Get Unlimited Free Indian Virtual Numbers by Just your Email id and bypass their OTP Verification on Both Call and Sms.
There is No Need of Credit card or any payment Details required in this Sites. Here We have One More Article on Bypass Otp Verification In Android where Lots of Tricks and Tips Posted.
Very Limited number of Sites Gives Free Virtual Numbers In India While if you need Bypass Otp of International Site then Text Now or Second Phone number App Will Work.
Best Free Indian Virtual numbers Sites 2019 (100% Working)
Some Times Ago We Share Tips to hack any earning Android App for Loot Purpose, You can Read that Article Also to create your Own Tricks of any App Offer.
In our Website You Seen Lots of Loot Offers and Free Recharge Tricks but Very Less you can loot because of Otp Restriction we Don't have too much Numbers and we can't Maintain Balance in All the Sims because according to new TRAI Rule we will have to Make Monthly Validity Recharge Plan on every sim to Continue their Services.
In this Situation you can use this Free Second Phone Number Websites and get New Numbers for Free. It is a Virtual where you can watch Activity in your Account Page. You can't Buy the Sim Card of that number. Only usable for Calls and Sms.
1. Notring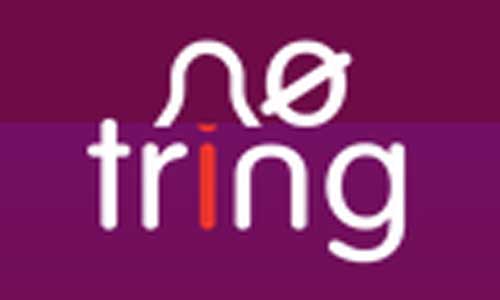 Notring is New website which Gives Free Indian Virtual 10 Digit Number Which Able to Receive Calls and Sms. It Helps to Save our Real Phone Number from Spam and unwanted calls. You can Use it for Create account on website where password comes to inbox. You can Use it to Checkout , Stores , Events etc so you will not Get Spamming on your Main Number.
Another thing it helps to Protect your Personal number and Identity. Currently it is in Beta Stage and Giving Virtual number Free for 1 Month. Here are the Steps to Get –
Visit the Sign up Page, No Need to Install App [ Click Here ]
You need Referral Code to make account on it. Enter your Real Phone Number and hit On Register.
On Next page, Enter Basic Details like Name , Number , Email id and Notring Referral Code as 49c2qp
Agree Terms and Conditions. Click on Sign up will Send Otp to your Main Number. Enter It and Create your password for Account Login.
Login to your Account. Congratulations ! On Homepage you will See new Indian Virtual 10 Digit Mobile Number. Now you are Able to receive Sms and Calls on this Number. You can also Forward Calls to your Main Number
It is Free for one Month Only, You can Pay and Get it for Long time. Another thing you can Refer your friends and Increase your Notring Phone Number Validity.
From Dashboard you Will get your Referral Link, Share and Get 1 Credit by which you can Redeem and Enjoy 1 Week for Free.
2. Doosra App
Download the Doosra App From Play store
Install and launch it, Enter your Phone Number and Complete the Otp Verification
On Next page , Enter you basic details and Complete the Sign up Process
Now Pay One time activation Fees using any Online Payment Method and get Free Indian 10 Digit Virtual Number Instantly
Use it for Otp Bypass , Save your Real Number from Spamming , Use it From making Calls also etc etc
How its different From Disposable & Temporary Phone Number
When you Search Online for Virtual Number then you will see List of Huge Websites, This Give Disposable and Temporary phone Number Which Receives Sms but this is Not Private. Any one Can View your Received Sms.
Another Thing it not Works for Unlimited earning Apps Because its Already used by Someone or Suppose if Created Account on any website on that Number then anyone Can Login by Forgot password or by Otp.
But this Sites is Completely Different they gives you Private Number Which only you can View by account Login. They Don't Give Same Number to one or More User.
3. IndianNumber.com (Free 7 days Trial)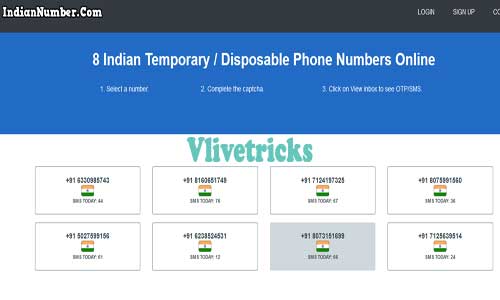 Another site where they Frequently changed Free Virtual numbers for Receive Sms but only they supports Indian and only some listed for free but if you Need Private for Some time only they offers Free Trial for 7 Days in which you can Receive 10 Sms Per Day which is Good for Bypass Otp Verification. You can Also buy it for More Days like Rs.499 for 1 Year.
Click Here to Visit Indiannumber.com
Keep this Points In Mind
Don't use this Free Virtual Phone number on Banking Platform.
Conclusion
Currently only we have one website Only, I hope More website will Launch soon and we Will Update it on this Page Until enjoy this Free Indian Virtual Number Sites and bypass Otp Verification. We you have More Websites Which not Listed Here then Free to Comment and Support our Website.
Its Time to Share with your Friends !