Best free workout apps 2022 without subscription
Are you still not comfortable hitting the gym for a workout? How about bringing the gym to home or workplace? Your pocket-size gadget is more than a camera, clock, texting or calling device. Checkout best free workout apps which suitable for both men and women.
Transform smartphone into a personalized workout gadget that not only tracks daily workout session. Also gives the flexibility and commitment of 24*7 training comfort.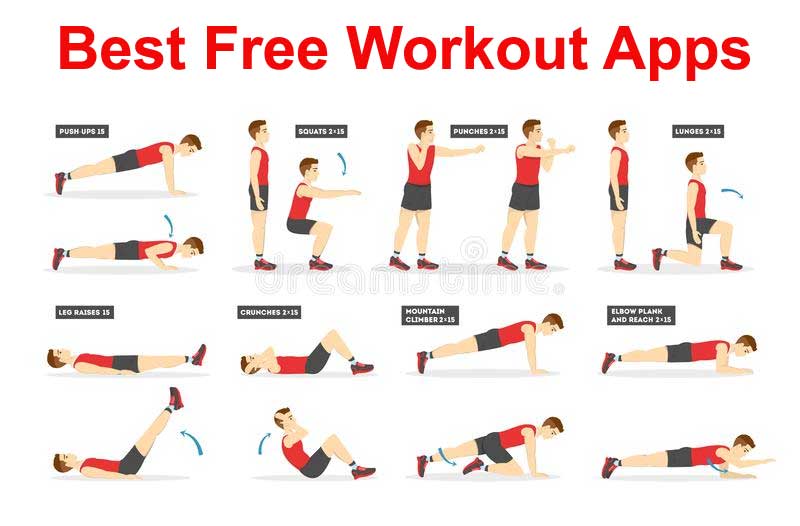 Several workout apps are available on digital platforms and with a few clicks. Download on phone, tablet or any other compatible electronic device. But now the question arises – How to identify the best app ? Let's start by exploring the features that make a fitness app suitable for your requirements.
Choice and utility requirement that shall decide the type of service. Always start with the limited free version and then move to a paid subscription or can directly get the app on your device. As an example, WellTech Workout Apps can bring the most exemplary fitness applications.
To start with, Must know that there are three types of services providers of digital fitness apps:
Free version
Paid subscription
In-app purchase
Best free workout apps
Best free workout apps without subscription for men and women. Install apps and enjoy free workout lessons. There is no subscription requires.
Features of workout apps
User-friendly interface : The most important criterion of a good mobile application is the user interface. Look for the extent of user-friendly options viz. ease of downloading the app, navigations and tool extensions. A good app must cater to the average person who has very basic know-how of gadgets. If the user interface is complicated then it will not grab the attention of more users.
Flexi utility: Remember that the mobile apps give you the flexibility to work out from anywhere. But, further important is that it offers customized fitness sessions. Everybody is unique and therefore, the fitness goals are also unique. With the current scenario, you cannot opt for one-size-fits-all workout sessions.
Exciting platform: Exercise may sound boring and strenuous for many, and therefore the app must offer programs that are bespoke and exciting. Try to explore the features of the app while on free trial period. This helps in making decisions about whether the app is suitable or not.
Level of interaction: It is imperative to look for the audio/video interactive feature on app. When you have an audio, video or AV guide feature then it is similar to having an instructor by your side. The process of reaching workout goals turns interesting and encouraging when you have a two-way interaction. Share weekly updates, seek help during injuries and guide diet plans.
Text/chat features: Staying in touch with the fitness gurus is a great way of staying active and achieving the goals. With the texting or chat feature on the fitness app, you can interact with the health experts. This is one of the essential features that convert monitoring or tracking apps into a proper fitness platform. Workouts need constant push and encouragement and this feature enables you with continuous inspiration.
Compatibility level: So, friends speak hugely about this fitness app but when try to download it on mobile it has many glitches. Well, this is a major turn-off if you are a workout lover and want to extend the sessions during holidays too by subscribing to a fitness app. Several fitness apps have compatibility issues with certain devices.
Additional features: Fitness goals are incomplete without a proper and healthy diet. Look for features that can guide with suitable diet plans and monitor daily intake. This is one of the most underrated features of a digital workout app. No amount of workout and online gym sessions will turn fruitful if you are on the wrong diet plan.
Top workout apps
1. 8Fit
One of the top picks for getting basic free workout sessions on device. Also move to period plans that cater to custom workout programs and diet assistance. Why: Best fitness and diet plan app ?
Compatible: Android and iOS
Pros
More than 350 exercise options
Professional help
Reminders and diet plans
Cons
Premium fitness app
Calls for subscription to access all features
2. Google Fit
One of the best apps to track workout goals using various records like speed of walking/jogging, heartbeat, number of steps and much more.
Compatible: Android and iOS
Pros
Free application with a user-friendly interface
Real-time statistics of activities
Compatible with other apps
Cons
No diet guide
No interactive workout session
3. FitCoach
Finest combination of HIIT, yoga, Pilates and boxing sessions that suit everyone. It is a comprehensive digital platform with personalized training plans and even customized diet plans.
Pros
User-friendly interface
Suitable for HIIT and low-intensity workouts
Personal meal planner
Cons
4. Home Workout No Equipment
Want zero equipment workout sessions that can navigate through gadget then this is a great workout app. Combination of strength, stamina and agility activities in the form of videos and animations.
Pros
Achievable short fitness goals
No equipment or exclusive space requirement
Free basic version and monthly subscription
Cons
5. Jefit
An excellent digital platform for intense workout sessions that is a combination of weightlifting and strength-building activities. There is a free basic, monthly and annual subscription model.
Pros
Smart power training sessions
Led by experts that guide and give tips
User-friendly interface and active support team
Cons
Subscription to access most features
Not suitable for low-intensity training
6. Glo
When Yoga is kind of workout then need an app that is compatible with low-intensity workout sessions. Yoga, meditation and Pilates that makes it perfect for elderly age groups.
  Why: Best low-intensity workout app

  Pros
Suitable for all skill levels
Integrates with iOS watch
Wi-Fi not needed
Top-notch instructors
  Cons
Not great with Android users
Limited workout styles
Final verdict
Choose from the gamut of features that pour on digital fitness sessions. But, ascertain what you need and what the app is offering. This small analysis will help you make informed decisions. All the best! Happy workouts!