Google owned Google Opinion Rewards App in India to share opinions, completing surveys and in exchange get free rewards in form of play store credits free. There is no limit to earn free play store credits from opinion rewards app.
It will give you Instantly Play Store Credits Which you can Use for Purchase paid android Apps & Games on Play Store. The credits can by use renew subscription of play store apps, In-game purchase and much more.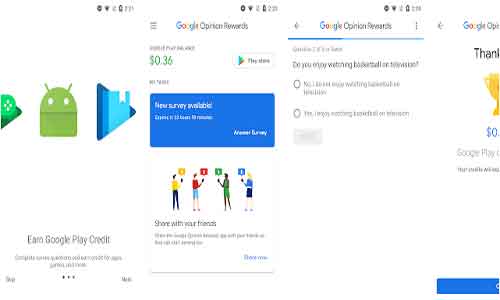 This is genuine way to grab free credits of play store by completing simple and short surveys. On completing just one short survey will reward upto $1.
Also here we shared some tips to get more and more Surveys on google opinions app and by this Earn Unlimited Play Store Credits free.
If you're thinking, When it will pay and how much time it will take for my first payout then don't worry, Within first week you will get your first payout if you read this article correctly.
If you are already user and searching for Google Opinion Rewards Unlimited Surveys to Get More and More Free Play store Credits then you are come on Right Place Because Here we Shared Every Best Tips to Get More Free Stuff.
Now you are thinking why this app provides free rewards to the users, So here we shared a brief description about it. How its works ?
---
How google opinion rewards app works ?
Let Me explain Every thing About Google Opinion Survey Reward , This app is Launched For Indian states before this it is available on Only Some selected Countries.
The app is Developed by Google Surveys Team where Peoples Can Participate in Quick Surveys in replace they will give Credits. You will receive Up to 1$ Worth Rs. 75 in India per Survey.
Google uses this app data to improve their services like Maps, advertisements and other google products. When you visit any stores or anywhere then google knows about it when turn on internet.
They will ask for opinion of that places and something like this, To improve their google products.
How you can Earn free play store credits ? :- When you complete Surveys on this Application then it will give you Instantly Play Store Credits Which you can Use for Purchase paid android Apps & Games on Play Store.
Even some of the apps available on play store which exchange play store credits into real cash like paytm wallet or bank account but may charge some fees.
Like other earning Apps, You can Also Loot Unlimited Money by Installing Some Apps in your Mobile from this application.
If you will Purchase Play Store Credits Online then You have to Pay Equal Money Which also Shared How to Purchase Google Play gift Card in India so guys you should save your money by following just some small steps.
---
How to get Free Sign Up Bonus in Google Opinion Reward app ?
If you're new on google opinion app then you will get some bonus on first time installing. Even you will get 2-3 surveys instantly after making account.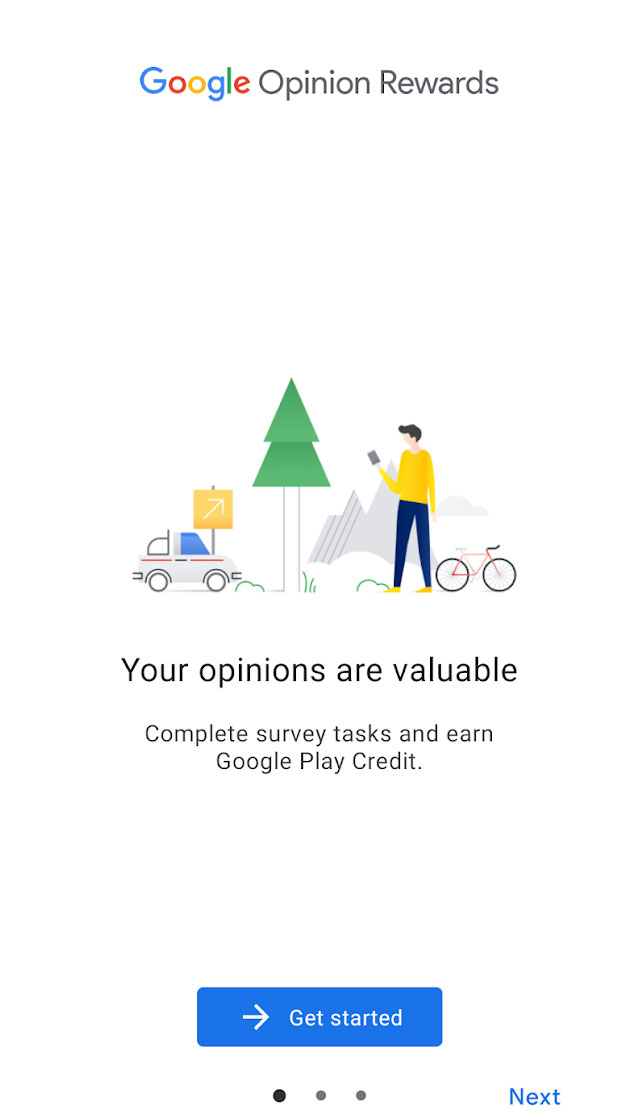 Here is simple steps to get started with google opinion rewards app.
First of All Download Official App From Play Store.
Simply , Install & Open it.
Now Skip the Introduction And Enter Your Details.
Complete Simple Welcome Survey , & You will be become Member.
You will get Typical Survey Notification to your dashboard , Complete it before expire.
Once You Approved , You will get Lots of Surveys in Your dashboard.
Also If you turn on Your Notifications then They will inform You in Notification bar when they sends you New Survey. I recommend to turn on this option so you will never miss any survey.
How to Get unlimited Surveys on google opinion rewards app
Some Peoples Saying There are not Getting Surveys From Past 3 Months or more, Google says they will guarantee sends you 1 survey every week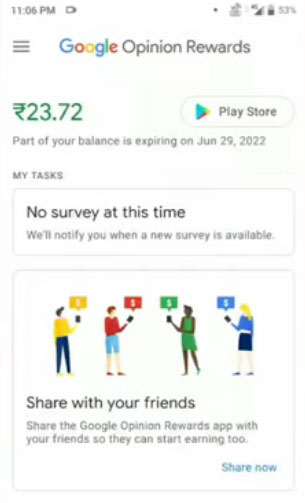 Here is the some tips to Get More and More Surveys on Google Opinion Survey App, You should follow even you are getting regular surveys to increase your earnings.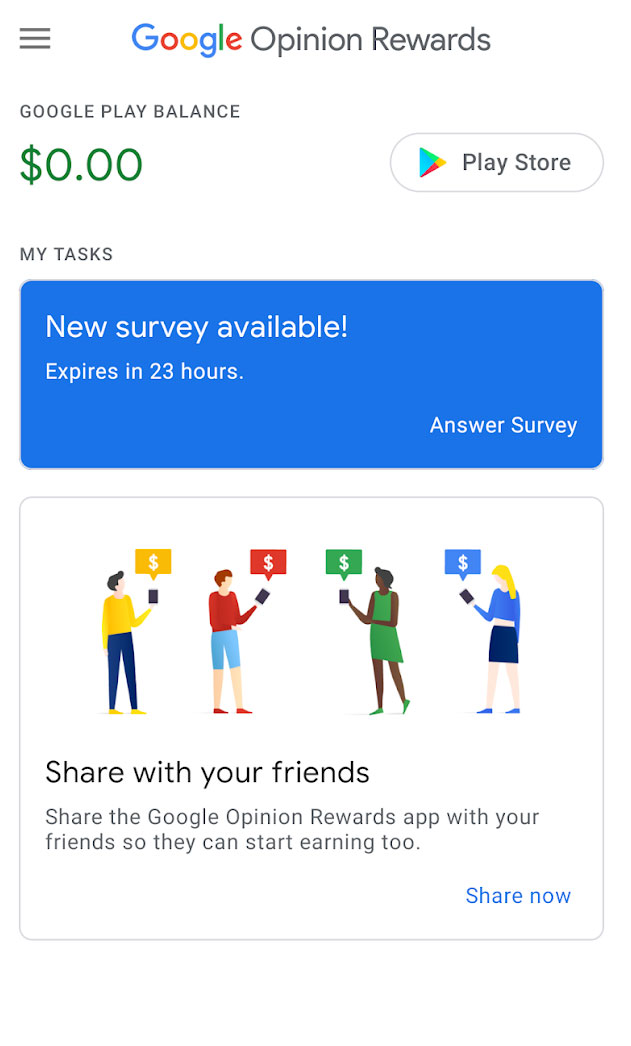 Google Opinion rewards App Gives you Unlimited Surveys About Stores and Business which you Visited but how Google Will Know about this Which you Visited.
Actually There is one Configuration check it You have Forgotten, That's why you are not getting regular surveys on app.
1. Turn on your Gps and internet
Scroll Down your Notification bar
Turn on your GPS & Internet Always
Now Move Some Places, Leave your GPS On Always when You out from the Home
That's It , You will get Definitely Huge SI urveys
2. Google location history
Under settings of google opinion rewards app, Must enable google location history so it will know where you are visiting and visited. On related you will not miss any survey.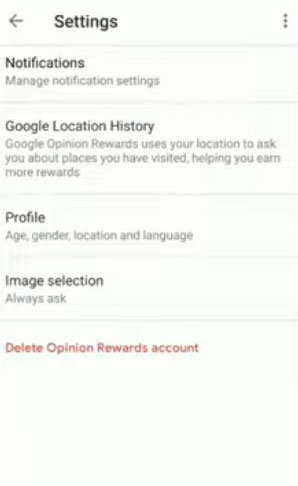 3. Profile Details
It is a very Smart software which offering Surveys on based of Your Profile Details So Use Genuine Details Only to get More Surveys and update it time to time.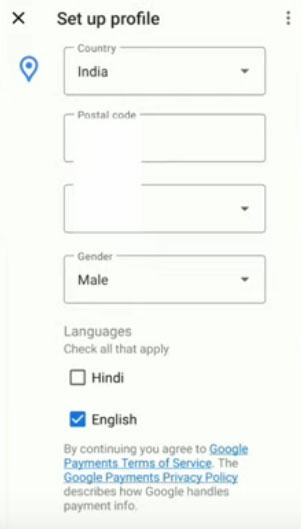 4. Update app
Sometimes , some surveys they doesn't send to old version so keep updated google opinion rewards app from play store so you will get more surveys.
---
How to Redeem earnings in play store credits ?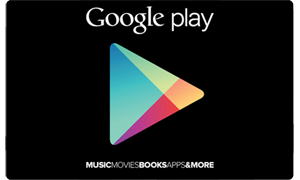 Once you earns enough money by completing surveys, Here is
the steps to redeem this earnings in to play store account.
Actually, There is no option available on app to redeem earnings when you wants. Once you reach at minimum payout.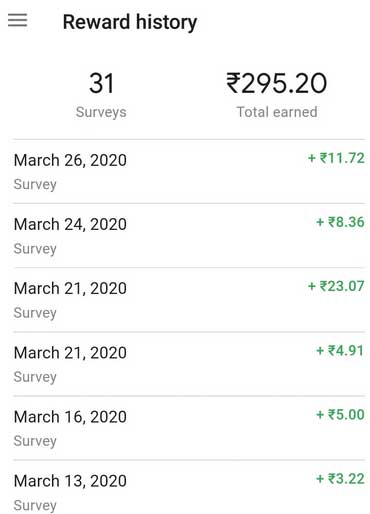 Your Earning will be automatically added in Your Logged in Google account as Credits after completing Surveys. So always use google account in which you wants to redeem earnings.
---
Some Best Alternative Apps
I know, Your earnings will not enough on just using google opinion rewards app so you can use more alternatives with this app to increase your earnings.
This all apps also pays in play store credits and works similar like google opinion rewards app.
Visit this links to know more about this apps.
Mobilexpression app is Also Offering Redeem Option of Play Store Credits.
---
Conclusion
So guys above is the genuine way to earn free play store credits using google official opinion rewards app. There is no issue on payments because its google products.
Surveys will depend on profile details, your location also so i recommend to turn on gps location when you visit market.
You know occasionally google offers Paid Play Store Android Apps & Games For Free which listed on our another article.
I hope you like this article, now this is your time to share opinion on below comments section about this app and don't forget to share with your friends.