Reliance Jio is Introducing Attractive Offers on Jio phone to Attract more and More Customers with giving Unlimited plans at very Cheap Rate, Now Introduced Festive Gift card by Which you can buy jiophone at Just Rs.501 Which also refundable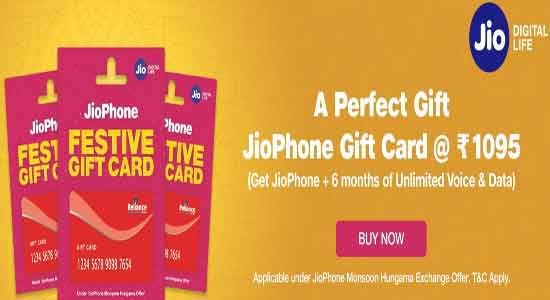 In title We Mentioned at Rs.1095 Because in which you will also get jiophone Rs.99 Plan for 6 Months worth Rs.594 in which you can enjoy unlimited Calling and Data. Also if your Friends birthday , Wedding any is Upcoming then you can Gift to your Friends
Here we Shared How to buy jio phone Festive Gift Card promo code at just Rs.1095 online and Where you have to Redeem with Free 6 Months Unlimited Plan
There is no any Charges to use this Gift Card, Also it is Valid for 12 Months from the Date of Purchase
How to Buy Jio phone festive Gift Card online ?
1) Visit jio phone festive Gift Card Offer page [ Click Here ]
2) Click on Buy Now Button
3) Enter your City Pin code and Check its Available or not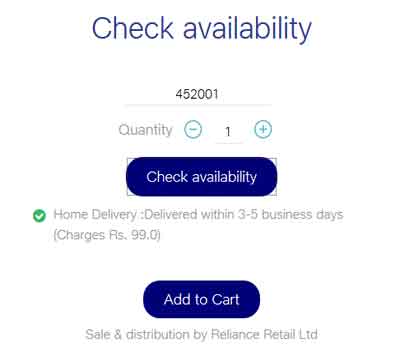 4) Add to Cart it, Shipping Charges Rs.99 Will be Charged you
5) Click on Checkout , If you are Gifting then Enter your Friends Details otherwise Your Details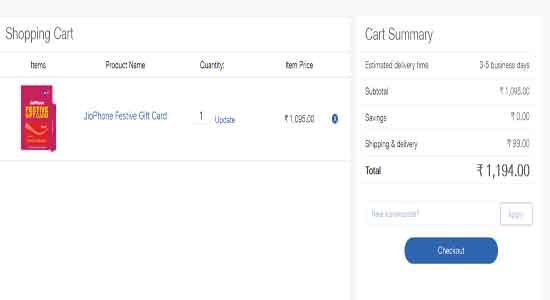 6) Now Enter your Shipping Details and Proceed to payment Method
7) Complete it Using Any Online Method , Freecharge and Paytm Also Available
8) Jio Phone Gift Card Will be Delivered at your address within 4 to 5 Days
How to Redeem ?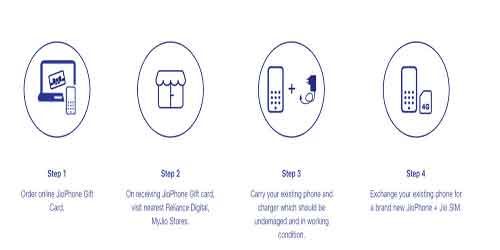 Once you get Card details
Visit your Nearest Reliance Digital Store or Myjio Store
Carry your Existing Phone Which you are Using with Charger and Working Condition
Exchange your old Phone with new jio phone + Jio Sim Recharge with Rs.99 Plan for 6 months
Benefits of Jio Phone Festive Promo Code
100% Secured , Can be Redeemed only at Stores
Deliver direct at your Home Address
You can pickup also at your nearest Stores
12 Months Validity
No any extra Charges
Terms & Conditions
These terms and conditions ("Terms") apply to this gift card issued by Reliance Retail Limited ("Company") ("Gift Card"). By purchasing or using the Gift Card, you are agreeing to and accept these Terms:
The Gift Card may be used for the purposes of the JioPhone Monsoon Hungama Offer by redemption of its value against: (i) the interest-free refundable security deposit of Rs. 501/-(Rupees Five Hundred and One only); and (ii) an amount of Rs. 495/- (Rupees Four Hundred and Ninety Five only) for electronic vouchers; and (iii) Rs. 99/- (Rupees Ninety Nine only) for the first month of usage of the JioPhone; as required under the JioPhone Monsoon Hungama Offer. For any such use, the terms and conditions applicable to JioPhone Monsoon Hungama Offer, shall be read into and shall form an integral part of the Terms.
The value of the Gift Card may also be redeemed against purchase of eligible products sold by the Company ("Eligible Products") at its authorised stores ("Authorised Stores"). The Company shall have the right to notify Eligible Products, Authorised Stores and the process of redemption through appropriate means, from time to time..
The Gift Card can be loaded once and for a maximum value of Rs. 1095/-.
No partial redemption against the value of the Gift Card is acceptable in the case of JioPhone Monsoon Hungama Offer. The Gift Card may however be redeemed against more than one purchase of Eligible Products at Authorised Stores..
The Gift Card is valid only for a period of 12 months from the date of its loading ("Validity Period"). Any unused amount in the Gift Card will be forfeited at end of the Validity Period.
You cannot transfer funds from one Gift Card to another Gift Card.
There is no charge levied on the usage of the Gift Card.
Lost, stolen or damaged Gift Cards cannot be blocked, replaced or reissued and the balance, if any, cannot be refunded under any such circumstances.
This Gift Card can only be redeemed physically at such stores designated by the Company from time to time.
No refunds in cash or credit will be offered against this Gift Card. Once cash is loaded on the Gift Card, it is non- refundable.
The Gift Card cannot be redeemed in cash.
The Validity Period of the Gift Card cannot be extended under any circumstances.
Gift Card is non-transferable.
You hereby consent to the Company collecting, processing and storing the information that the Company may collect for the purposes of enabling you to avail and use the Gift Card.
The Company is not liable for any claims arising from and/or relating to and/or in connection with any use of the Gift Card, including but not limited to any delay, defect, deficiency of such Gift Card and/or any transaction performed using the same, howsoever arising, in any manner whatsoever.
The Company may change, modify, amend or update the Terms from time to time. The Company may publish the same from time to time on jio.com.
All disputes shall be governed under the laws of India and are subject to the jurisdiction of the Courts of Mumbai only.