According to Government New rule, It's Compulsory to Link Aadhaar Card Number With Sim Card Mobile Phone Number online in Idea,Vodafone,Airtel,Bsnl,Docomo,Reliance to keep it active or continue Sim Services for Lifetime. Due to Fake Sim cards , Government of India Taken New action where Users of all networks have to Link Aadhaar Card Number With Mobile No. to Continue Activation of their Sim Card.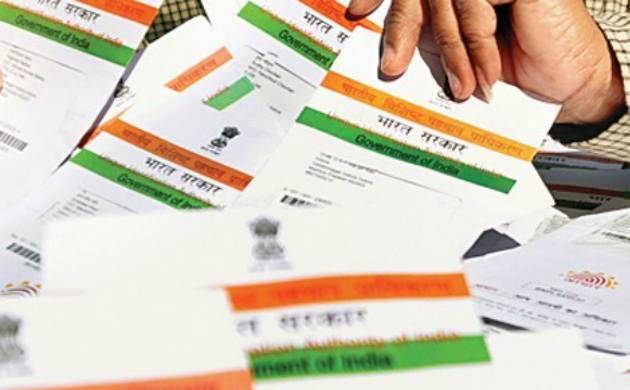 Here we Share a very Easy Steps to Link Aadhaar Card Number With Mobile Number online , Using this Your Mobile number will not Discontinue in Future It's Not matter You are Using this Sim or Not. Currently No any date is Confirmed but Very Soon Sim Services will be Discontinue who Will Not Link Their aadhar Card to Mobile Number.
Only Reliance jio Sim Users Will not Have to Follow This Process Because they already Done Biometric Verification at the time of Sim Purchase. Airtel , Idea , Vodafone & other networks already Sent Messages to their Users to Link Aadhaar Card Number With Mobile No. to Keep Continue Their Services.
Update :- Otp Method Full Guide added

Note :- This same method will work on all Indian Operators Idea , Airtel , Reliance , Vodafone to Link aadhar card Number with mobile number. If your Getting Problem to get OTP on Aadhaar Card Registered Number Then Visit Our Article Update aadhar Card Details Online.
How to link Aadhaar Card with Mobile Number via OTP Online Method
Yes, Now you can Do Link Without Going Retailer & Any Store. You can Easily Link Your Number to aadhaar Itself from your Home & Mobile. No need of any pc & laptops, Also you Don't need to pay Any charges for this While in Offline Many Retailers Taking Some Small Amount
The method Will work After 1st Dec 2017 in which you can Link your aadhaar Card Details Online Via Otp method.
Toll free UID Recipient Number is 14546 for All Operators
Network Operators will be Provide UID recipient Number in which you have to Call
Now you Have to Follow Ivr Instructions , Select Your language
Now enter Your 12 Digit aadhaar Card Number From that Number
Wait for Seconds , Operator will Do demographic Verification
Now Operator will send you otp on your aadhar card registered number
Now you have to Enter this otp number Manually to Verify
That's It , You Successfully Linked Your Aadhaar Card with Mobile number via OTP Online, This is the Full Guide of this Method No any Other Requirements Required for this Verification
Steps to Link Aadhaar Card Number With Mobile Number to Enjoy Continue Sim Services
Process is very simple, But only Offline No any Online Method to Link aadhaar card to Mobile Number. You have to go your nearest retailer with below Mentioned Documents.
Aadhaar Card photocopy.
To receive Otp at the time Verification you have to Turn on your Sim card.
Now the Process is Come , which you have to Follow after Reach at Retailer.
Visit Your Mobile Network Operator Nearest Retailer.
Now give your Mobile Number & Copy of aadhar Card.
Now they will Send Otp to your Number , Just Give it.
Now complete Finger Print Verification on Biometric Machine.
Within 24 Hours , you will get Confirmation Sms for final Verification.
Just Reply with "Y".
Done ! Your Aadhar Card is Successfully Linked to your Mobile Number.
How to Link your Airtel Mobile Number with aadhaar Card
If you are Airtel Users then Follow this Steps to Link Aadhaar Card Number With Mobile no. & Keep Active your Sim Services, Otherwise Airtel Will be Deactivate your Sim card on or Before 31st Dec 2017 So Follow this Simple steps to for Airtel Aadhar Link.
If you Got Message to Link Aadhar Card then Go or Check your Verify Status by Below Method.
Visit Airtel retailer / Store / Outlets / Care.
Ask Retailer to Link your Aadhar Card to Airtel number, They will Ask your Mobile Number & Aadhar Card 12 Digit Number.
They will Enter your Number in Their Device For Verify, At that Time you will Get 4 Digit OTP Pin.
You have to Give This Pin to the Retailer to Proceed Next Step.
Now Verify Your Finger Print on Scanner, Done ! Almost You Linked Your Airtel Number.
You will get One Confirmation Message From Airtel Company, You have to Type "Y" & Reply on Same Number (Toll Free number So you don't have to Pay any charges)
That's It , Your Airtel Mobile Number is Successfully Linked with Your aadhar Card number. Now your Sim Service will not Be Deactivate , Also you will not Get Airtel Aadhar linking Message.
How to link Aadhaar Card With Your Vodafone Phone Number
Vodafone Also Sending Messages to their Users to Link their Number , because they Don't wants to Loose Their Customers so if you are Vodafone User then you Follow below Simple Steps to Complete Vodafone aadhar Link.
Visit your Nearest Vodafone Store or Care , Find Using Locator (You can Also Go on Nearest Mobile Retailer).
Don't Forget to Carry Aadhar Card Photocopy & Insert Vodafone Sim Card in Mobile Phone to Receive Sms.
Tell them to You are getting this Warning Sms from Vodafone Company so I wants to Link Vodafone Mobile Number to Aadhar Card.
They Will Enter your aadhaar Card & Mobile Number in Their Mobile Phone.
You will get Otp on your mobile Phone.
Give this 4 Digit Verification Code to the agent Otherwise they Will not Proceed to Further Step.
Once you Otp Verification Complete , You have to Complete bio-metric verification by Putting your Finger on Scanner.
Done ! Your Vodafone Sim Card Successfully Linked to your Aadhar Card Number.
Last Date
31st March 2018, After this Your Service Will be Discontinued if you will not Link.
How To Check Status your Mobile number is Linked or Not ?
Before Going to the Retailer , Check Your Jio or Other Network Sim Card is Already Verified or not by below Steps. If not then Follow above Steps –
Method 1 – Call on 198 Customer Care & ask them your Aadhar Card is Linked or not via your mobile Number then they will Give You Details About this.
Method 2 – Keep Checking your Sms Inbox, Because If you are not Verified Customer then they Sends Notification to All the Customers in Every 10 – 15 Days.
How to Link Customers Mobile Number With aadhar Card & earn Money
If you are Shopkeeper then You can Earn Huge Money by Linking People's Aadhar card with mobile Number. This Service Offering by All the Operators Just you have to Follow Below steps to get Approved.
First you must be Store agent or Retailer, Because this Service is for Only those Peoples.
Now Contact your Agent or Email or Contact to particular Operator & tell them you Can Do Aadhar Card Linking With mobile Number.
They will Reply you & Give You Some Instructions. They will Give you Id which you Can login via your Finger Print. (For this Whole Process , You need Good Android Mobile Which Support Finger Print Scanner )
You have to Give Some Documents, You will be ready to earn Money.
Now Purchase
Now on Every Aadhar Card With Mobile Number Linking , You will get money From the Operator.
Frequently asked questions
Its 's Compulsory for All Users ?
No , Those users who will get Sms on their Number to Continue Their Services only Those Users Have to Follow this KYC Verification Process.
What happen if you will not Link Mobile Number & aadhar Card ?
Your Sim will Be deactivated & You Lost Network Signals , If you wants to Continue their services then you have to Give aadhar Number.
Why only some of the users is getting This sms ?
Those users who purchased Sim by Other Documents Like License , Voter id etc they again Have to verify their sim using only aadhar Card number. If you already Done this Bio-metric Verification Activity at the Time of Taking New Connection then No need to Do this again.
Is it possible to Link via Other Aadhar Card Number ?
It's not Possible to Link your Mobile Number With other person Aadhar Card because at the Time of Verification your Finger print Must be Matched Via aadhar Card Finger Print.
Is there any Charges or Fees ?
No , Currently its Free to link mobile number & aadhar card Process Free & Charges. If any Retailer Ask you To pay then Complain on 198 Toll Free Number.
Where you have to Go ?
You have to go Your Nearest Network Retailer For ex : for airtel Sim You have to go Nearest airtel Retailer or Airtel Store.
Why government taken this action ?
Due to Crime & fake Sim's , Its Compulsory to Link aadhar card number to mobile for all new and old users.
How to Link Using Online Method ?
Now Government Introduced One Otp online Method in which you can Link Online via sending Sms & Otp Verification.
Tags :- Link Aadhaar Card Number With Mobile Number , Link mobile number & aadhar card to continue sim services , Process , Otp online method