Every Windows Pc Need Antivirus to Fight Against Viruses so Use Free 6 months Trial of Mcafee Antivirus 2020 for Android, Ios, Windows, mac. McAfee Antivirus Saves your Device from Spyware and Malware and Give Long Life to your pc.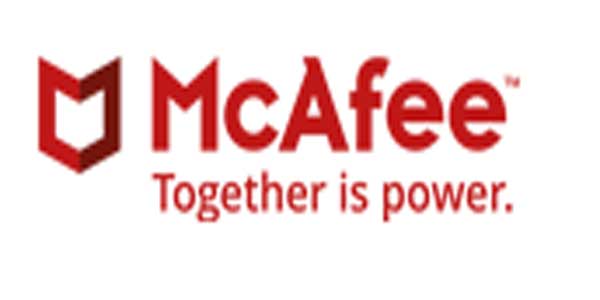 Mcafee is the Award winning Premium Antivirus, It is Very light Weight and Protect your Pc From Internet Virus. It gives you Best Wifi Protection, Prevent from Unauthorized access and Free Web Safety Tools.
As a promotion, Mcafee Providing Internet Security Free antivirus 2020 trial Subscription for 6 Months. There is no need of Promo code or any payment Details Like Credit card.
The Offer is Giving on Official Site, Also they Claimed Virus Protection Pledge where if any virus comes to your windows Pc then there Customer Support team will Return your 100% Money Back.
Check One More Bitdefender Total security Free trial and Trick to use it for Lifetime.
How to Get Free trial of Mcafee Antivirus 2020 ?
Mcafee Live Safe Free 6 Months
There is No need of any Credit card to Get Mcafee Antivirus 2020 Free for 6 Months, Just you have to Visit the Link and Enter your Email ID , Also You will get 2 Months Trial of TRUE KEY which is another Product of Mcafee.
Visit the Mcafee Live Safe 60 Days Free Trial Page [ Click Here ]
Enter your Email Id and Click on Get Free Trial Button
Internet Security Free for 6 Months
1. Visit Mcafee Internet Security Offer page from Here.
2. I Added Direct Link, There is No need of Promo code or any Special Step.
3. Now You will See total Price is $0, Scroll below and enter your Email Address and Confirm it.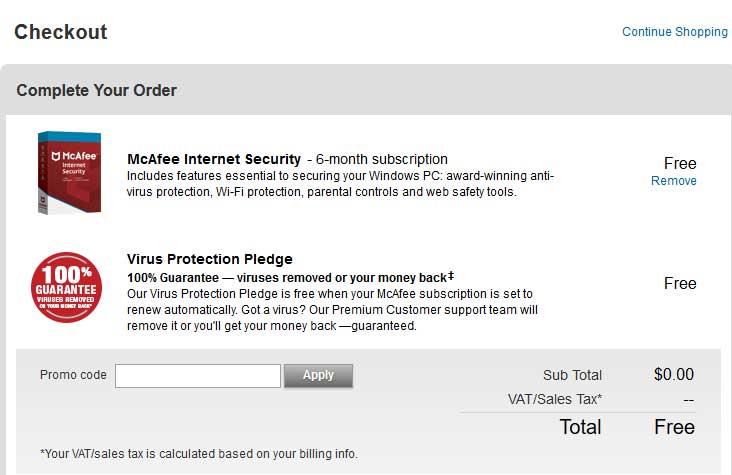 4. You will get Option to enter Password, You have to 8 Character with 1 Numeric, 1 Upper Case and 1 Lower Case with Symbol.

5. Click on Confirm Button Will See you this Message " We'll get you up and running with your free trial in a second."
6. Click on Place My order , Your Purchase will Complete without any Payment. Open Your Email id where you will get One activation Link. Click on it to confirm your email id.
7. Login to your Account >> My Products >> You will Show Download Button Link under My apps Section with 6 Months validity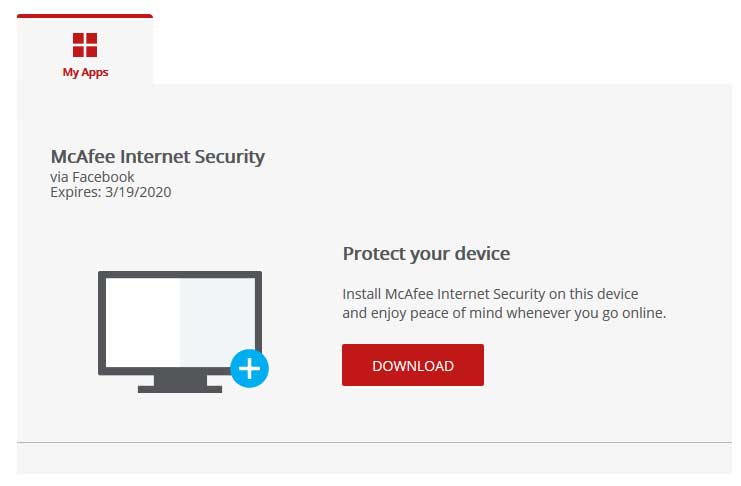 8. Enjoy !
Features :
Detects, quarantines, and blocks viruses, and malware
Deploys real-time protection from the latest threats collected from more than 100 million mcafee users by an aggregator that combines and categorize threat data into actionable intelligence
Two-way firewall system monitors and stops traffic in and out of your pc trying to connect to suspicious servers and known botnets
Monitor your home wifi network even when you're not home
Identifies urls as safe, potentially risky, or known to be risky to visit
Identifies software in need of updating by checking the version on your pc against our database
Deletes unnecessary cookies and temporary internet files that slow down your pc
Securely destroy sensitive electronic files
Set time limits on internet usage, and restrict access to sites
Filters and quarantines unwanted and suspicious emails
Conclusion
I hope you Successfully Grabbed Mcafee Internet Security and Live Safe 2020 Antivirus Free trial using Official offer. Now it will Protect your pc In Background when Virus will Come Automatic Remove from your Hard disk.
If you Like the Post then Share it with your friends by Clicking Below Social Icon and Support our Website.