Some companies before selling the product test in market. They tied up with free samples websites and deliver the product for free or in cheap rate. In exchange they takes the feedback from peoples and make the product better.
Mojobox is a website which delivers the box. Box is a combination of different products. Products delivers direct at home. Apart it is a website to buy product upto 99% off.

Every order gives cashback and mojocash. The mojocash again provides free products redeem. In this way at very cheap rate get free products box from mojobox.
In this article we will share how you can order first mojobox and earn mojocash points for order more free products. The website is similar like thewowbox.
Mojobox online
Mojobox.online for free products box. Earn 13 mojocash free, refer friends & earn 5 mojocash. Redeem into free products box at mojobox online.
How To Get A Free products box From mojobox ?
1. Sign up on mojobox.online website. [ Click Here ]
2. Enter mobile number , get otp , enter otp and other details like email , password and complete sign up process.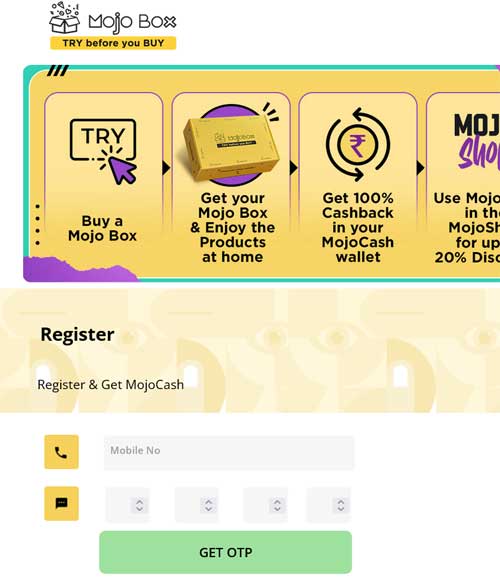 3. According to need, Select any product box and click on buy now. Add family box because it contains 11 products worth Rs.650. It will cost you Rs.159. You can create own box also by selecting products manually.
4. Enter address details and Complete the payment of Rs.159. 100% cashback will be reflected to mojocash. (20% usable on orders or free products).
5. Click on profile name and pending feedback >> fill the form and get another 2 cash.
6. After order deliver 5 more mojocash added to account. Again fill the feedback form and get 5 mojocash this time.
7. Redeem 10 mojocash into one more free mojobox.
8. Visit Profile icon >> My account and scroll down. Copy the mojobox referral link and share with friends. Earn 5 mojocash when they sign up and order products.