Once again we comes up with new Free Realme Phone Offer in which you can Easily Win because you have to Play Catch the Diamond Game and If you Score High points then you will win Free Smartphone Like Realme yo Days
I hope you checked Big Bazaar Gift Voucher Post in which you have to Play Similar game and Score more points to Win. Similar realme Started in which who will score more can win free Products
Under Realme catch the Diamond Contest you have to Play Simple Game and you will free Realme c2 Smartphone and Other Coupons. Great thing of the Contest is if you are not comes in High Ranks then still your Points will give you Coupons
3 Points = ₹1 which you can Fully redeem to Realme Coupons & Get Discount to buy other Products, So this is win win Condition. Another thing you will share your Refer link then you will get More Lives which helps to play more and more
The Realme Catch the Diamond Game is Too Simple you will get Free 3 Lives to Play Firstly where you have to Collect the Diamonds from fall down. Big Diamond will give you 50 Points while Small will give you 10 Points and you have to Save it from Bomb otherwise over
How to Play Realme Catch the Diamond Game in Contest ?
1) Visit the Play Link on mobile browser only [ Click Here ]
2) Click on "Help your Friend" Blue button
3) It will ask to Login , Use FB Login or Realme Account or Register new one
4) Again Click on "Help your Friend to Win Realme C2" Button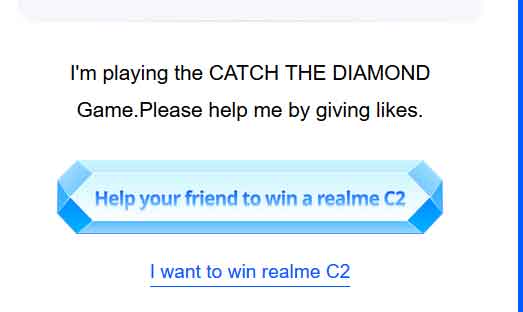 5) Now Click on "I Want to Win C2" >> On Next Page Click on Start/Play
6) Collect more and more Diamonds by save from Bombs in 60 Seconds
How to Win Free Realme C2 & Coupons ?
15 highest Scores Will get Free Realme c2 Smartphone
15 Highest Likers will also get Free C2
If you Didn't Get anything then your Points will be Converted in Coupons which redeemable to buy Products
Terms & Conditions
This realme catch the diamond game shall be valid for a period of 6 [six] days, i.e. commencing from [17th May 8:00:00 AM – 23rd May 11:59:59 AM.
Every customer who has registered on our website can participate in the game. During the event period, every participant has 3 chances to play during a natural day. When a participant shares the game and gets "help" from his/her friend, the participant will get one extra chance to play. Every friend can only press "help" once for the same participant. There is no limit to the total number of playing chance.
Every round of the game is within 60 seconds. When the game starts, participants need to collect the diamonds falling from the top.

One big diamond fetches 50 points
One small diamond fetches 10 points
A bomb ends the game immediately
Only the highest points scored by any player is recorded. There is a point ranking of every participant's highest points in one round. After the event period, we will send prizes to the participants according to their highest points. If two or more participants achieve the same number of point or like, the one who has reached such number first will win the prize.
Free realme C2 winners will receive R-pass of a free realme C2, but shipping fee will be charged. The winners need to use the R-pass to place an order from 23rd May 12:00:00 noon to 31st May 23:59:59. Not placing orders during the above-mentioned period will be considered as waiving the chance. The realme C2 R-pass is valid from 23rd May 12:00:00 noon to 31st May 23:59:59. All the R-passes and coupons of the prizes will be sent before 23rd May 16:00:00. realme reserves the right to disqualify participants who do not respect the rules of the event.
Prize list:
1) Top 15 in Points Ranking: Free realme C2.
2) Top 15 in Likes Ranking: Free realme C2.
3) Coupon covered by points
Every participant who gets points in the game will receive a coupon. The coupon's discount amount is subject to their highest points in history. Every 3 points can be converted into ₹ 1 discount. The discount amount limit for every coupon is up to ₹ 1000. For example, a participant who gets 300 points will receive a coupon worth ₹ 100 off. The coupon is valid from 23rd May 12:00:00 noon to 31st May 23:59:59. The coupon can be used only on phones, except realme 3 Pro.