Free Bhagavad Gita book
Srimad Bhagavad Gita :Order Free Book from Yatharth Geeta [18+ Languages]
---
Free Srimad Bhagavad Gita Book , Yatharth Geeta book Free product –  After Sharing Lots of Freebies Deals on Free Sample Post, Today we Come up with New Offer Where Order Free Srimad Bhagavad Geeta Book Without Shipping Charges at anywhere in the World. Only you Need Otp Verification to avail the Offer.
Some Days ago We shared Free Zandu StriVeda Lactation & Endura Mass Gainer Free Sample. If you Ordered Before 10-15 Days then till now it has Delivered at your Home.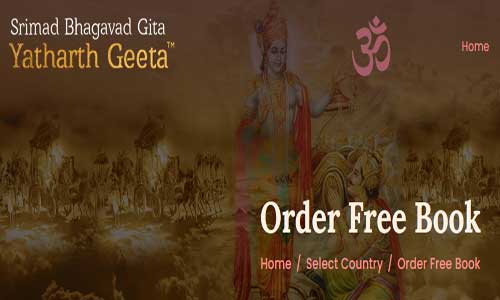 In Hindu Religion, Bhagavad Gita is Considered Very Venerable so Only Order If you Can Take Care. It enhances well-being in the House. Gita is Book of Theology Which Clears the sins of the mind, Every Line is a Message which relevant for Humans of All Religions.
The Book name is "Yatharth Geeta" which Written by Swami Adgadanand Ji (Great Saint of India). It is available in 18+ Languages Including Hindi , English.
---
---
Proof :
Here is the Photo which we Received after 25 Days