Companies finding very very Easy Ways to transfer Money with Secure, Amazon Roles Out New option to pay at Merchants Near you Like Paytm by Scan and pay Option and Now Running Great Offer on it where you can avail cashback on Transactions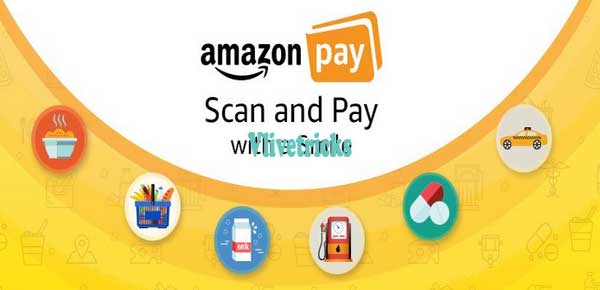 You can use this Option where You have to Scan Smile code for Payment on Merchants Store. On this Payment Option, Amazon is Running Very good Option Where you will get Cashback on your payments on No minimum Purchase
Under Amazon Scan and Pay Offer you will get upto Assured Rs.100 Cashback Daily transactions till 21st May 2020 Month, If Merchants Near me not available then Don't Worry we have one Trick also
If you are Merchant then you can Also Earn Free Cashback Daily. Check Amazon Merchant Offer, So this Time Forgot all other Wallet Apps and Use Amazon. Currently the Option is Available on Very Select Stores but they are Increasing it Very Fast all over India. So if you visited any Store and you Sees Amazon Pay Option then Pay and get Cashback
---
How to Avail Amazon Scan and Pay Offer ?
Offer is Updated now valid for all users who are getting Banner will get Cashback Rs.100 on above Rs.1 Till 31st May 2020. Valid once Daily for all users. Check Offer Eligibility Here , You will See in your Rewards Section. Daily you have to Collect to avail the Cashback
1. First of All , Download latest Amazon App for Scan and Pay Option [ Click Here ]
2. Register or Login >> Setup Upi Option
3. You will get New Option Scan
4. Click on it, Now Scan the Smile code of your nearest Merchant store on your mobile Camera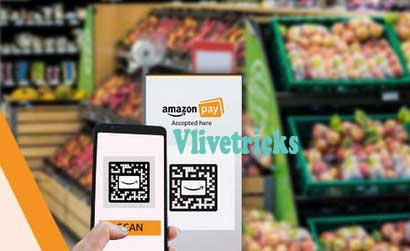 5. Confirm the Merchant name and enter the Minimum Rs.1 Amount for full cashback
6. Pay and get Cashback assured cashback upto Rs.100 within 3 days
Trick : If you Don't have Merchants Near then Don't Worry Take the ScreenShot of Phonepe Code, Bharat qr code and Send to other Phone and Scan from that. Don't Use Same Bank account on Both , Otherwise you will get Error.
---
Terms & Conditions
1. What is the offer duration?
Offer is valid from 11:00 AM, 1st May, 2020 and 11:59 PM, 31st May, 2020
2. Can I avail the offer on multiple transactions?
Yes the offer can be availed Daily on one time transaction
3. Is there any minimum transaction value to avail cashback?
Yes there is Rs.1 minimum transaction value to avail the cashback
4. How do I avail the offer?
You can now scan any 3P UPI QR code at your nearby stores & make payment using Amazon Pay UPI.
5. Will I get instant cashback?
You Will not get Instant Cashback, It will Take max to max 3 days
6. What is Amazon Pay UPI?
Amazon Pay UPI is an easy, fast & secure way to make your everyday payments. You can now register for UPI through Amazon.in Android App on the version 18.5 or above and create your own UPI ID (e.g. phonenumber@apl). You can link your savings bank account to it and start making payments by scanning any UPI QR code at nearby stores, make payments on Amazon.in app and other third party apps/websites that accept UPI.
7. How can I create my Amazon Pay UPI ID?
There are 2 ways to create Amazon Pay UPI ID:
(i) On this page, you can click on "Link bank account" to create your Amazon Pay UPI ID.
(ii) Alternatively on Amazon home page, tap Amazon Pay to open Amazon Pay dashboard. Tap Payment Options. On the Manage Payment Options page, tap Manage Bank Account and proceed to add a new bank account.
8. Which all UPI QR code can I scan?
You can now scan any UPI QR code using Amazon app at your nearby stores and make hassle-free cashless payments.
9. I scanned a QR code at store but got an error message which said, "we do not recognize this code, please try another one." Why will this happen?
This will happen if you scan a non UPI QR code. Check out for UPI logo on the QR code thumbnail
10. How do I pay using Amazon Pay UPI?
Paying for your order at store is easy. Open Amazon app & click on Scan icon, then scan the UPI QR code and enter the desired amount to be paid. Enter your UPI pin and your payment is complete.
11. I do not see Amazon Pay UPI, what should I do?
Amazon Pay UPI is only available on mobile app for Android customers. You must have the latest version of the Amazon app downloaded from the Google Play store in order to access Amazon Pay UPI.
Amazon Scan Payment Option Features and benefits
Amazon Pay Balance 100% Usable
Free Cashback
One click Payments
Secure and Fast Payment
24 X 7 Customer Support
No Separate App and Account Required
If you are Merchant then you can Earn Daily Rs 50 Cashback using Amazon Scan & Pay Payments. If you wants to Apply it for Then Click Here