Recently Updated Details of Aadhaar Card and Got 8 Digits Update Request Number then Definitely Facing URN Number Wrong Problem. Or Not Able to Submit the Form then need some Help to Complete the 14 Digits URN from 8 Digits.
When We make Request to Update Aadhaar Card Online and After Making Payment we Receives 14 Digits number which Helps to Check our Update Status online. But in Some Case Only 8 Digits Received. In this Situation the Form Doesn't Accept it and Proceed Further or Give Wrong number Error.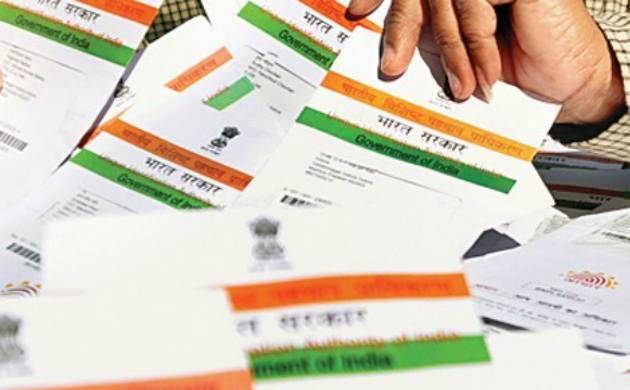 Now A Days All the Aadhaar Card Work can be Done Online Without Going to Nearest Center. Details of Aadhaar Card is Wrong then you can Update it Online by paying Fee Charge of Rs.50 from Net Banking or Credit/Debit Cards.
So guys In this Article We Will guide you How to Check Aadhaar Card update Status if you Received only 8 Digits URN Number via Sms.
Worried About Where you Given Aadhaar data then Read the Process How to Unlink Aadhaar Card Number Where you Given.
What is Update Request Number on Aadhaar Card ?
Mistake can be Done from anybody on entering data from Computer, Lots of Peoples Facing Wrong Details problem in Aadhaar Card So UIDAI Gives Two Options Online & Offline to update aadhaar card details. In Both the Process you will get URN number after Make the Payment to Change your Details.
This Update Request Number (URN) is the Unique 14 Digits Number Auto Generated by System which Send via Sms and Shows on Screen or From Downloaded PDF file after Complete Rs.50 Charges. It helps to Check Status of Updation at UIDAI Portal. Without This Number You can't Check Status of Aadhar Card Update.
If you Forgot or Lost this URN Number then Don't Worry Its Not Important. Its Only Required to Track Status. In this Case Download Aadhaar Card After 15 Days you will get Updated Copy.
Why you Received 8 Digits URN Number ?
I Already Told in Above Paragraph , Its Automatically Generated by System. Sometimes Due to Low Load Its Send Only 8 Digits Number. Mostly on Latest Update Queries 8 Digits is Receiving. In that Condition When you Will go to Check Aadhaar Card Updated Status using 8 Digits Number then the Form Will not accept and Proceed Further Because its Accepts Fixed 14 Digits.
For Resolving this Issues or Error we Have one Method to Know aadhaar Card Update Status with the Help of 8 Digits. Your Query Will be Instantly Proceed.
How to Check Aadhaar card Status using 8 Digits URN Number ?
Check aadhaar card status by 8 digits urn number. To make it 14 digits add "" six times and check aadhaar card status. It will 100% work.
Requirements :
Aadhaar Card Number
8 or 14 Digits URN Number
How to Check Aadhaar card Status online through urn number ?
Step – 1 : First Step is Completely Optional If you Have Physical Aadhaar Card and Entering number by Directly See otherwise Visit Aadhaar Card number Validator check your Number is Valid or Not.
Step – 2 : Visit the Official Aadhaar Self Service Update Portal Page the Click on "Check Enrolment & Update Status" (Second Section)

Step – 3 : Enter yur 12 Digit Aadhaar Card number Without need of Slash. Its Mentioned in Example but Doesn't Need to Enter in Textbox.
Step – 4 : Next Field is Come to Enter 14 Digit URN Number if you have Full 14 Digit then Enter It But only 8 Digit Urn Number Received then To Track Aadhaar Card Update Status. You Need to Enter First 6 Digits As "" then After 8 Digits URN to Make it Full 14.
Step – 5 : For Example : You have Received "78547878" This 8 Digit Number then Enter As "00000085285278". In this Field Also no need to Enter Slash After 4 or 5 Digits.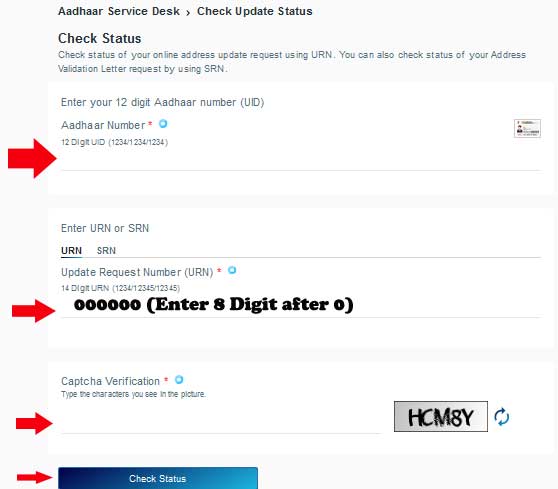 Step – 6 : In Next Field Enter Captcha Code as Same as Like Shown in Image. If Letter is Small then Enter in Small. If the Captcha Code is not Showing then Reload the page or again Start from Step – 1
Step – 7 : Finally Click on "Check Status" Button, Immediately you will See What is Current Status Process in Updating Aadhaar Card Details.
Step – 8 : After One Day when I was Checked , I got this Message "Your details are yet to be verified by UIDAI. Please check after a few days".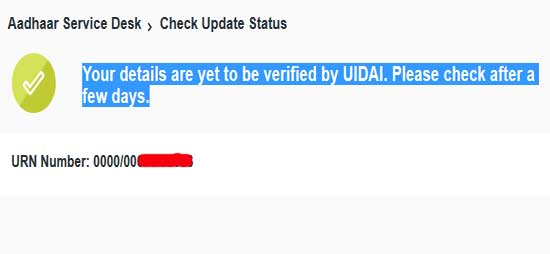 Conclusion
Finally this Tutorial is over and We Hope you Successfully Checked Aadhaar Card Updated Status in Case of Received only 8 Digits update request number. Only You have to Add Six times 0 Digits Before the URN Number to Make it 14 Digits.
If you Liked the article the Please Share it with your Friends and Need Some Help the Leave your Query in Below Comment Box.