Hello Users , I hope you are Enjoying your Free Time in Playing Pubg Which is Still in Number one Position in World Because of Time to Time new updates, Here Today we Comes with Vpn Hack and Tricks to get Free Crates & Silver Fragments Offer which you can grab in your account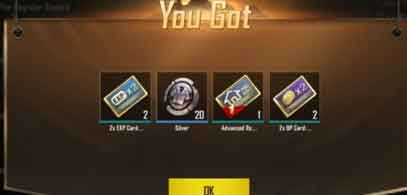 You can play this Game by Connecting your Facebook Id, You can Make your Own Group by Adding your Friends or Play alone with World Players. If you wants only Win Condition then you should have more and More Premium items in your cart
Today We"ll help how you can get Pubg Free Things like Crates, Silver Fragments, Skins, Rp points, Coupon Scraps, 666 Coins by vpn (No hack ) so your account will also be Safe. Actually this is Official offer for Taiwan user where they are celebrating 6 lac pre-registered Users
Once you access Internet using Taiwan Server then you unlocks the Free weapons. I hope you checked our Previous Pubg uc Free & Paytm pubg Offer where you looted uc
If you are Searching Pubg Vpn Tricks or Way to get Free Parachute Skin , shark mask then you are on Right Place here you will get Detailed Steps to avail the offer even if you are not from Taiwan
How to Get Pubg Free Things like Crates , Silver Fragments , Skins?
Get Halloween Party, count bag, shiny team shirt & Much More
1. Go to Pubg Official Facebook Page, Find Giveaway Post from Here.
2. Like that Post and Like Facebook page, If you already Liked then Leave it.
Get legendary Items Free Pubg Trick
Open the App , Visit Mission Tab
Here Watch 3 videos then you will get 3 Scrapes
Open your Mail box and Collect all the Rewards
Mostly users are getting Free Gun Skins and Silver Fragments
Get 1 Premium Crate + Vector Gun Skin
1) Navigate to Events Option >> Select Time Limited 2nd Tab
2) Select last "Go on Gold Rush adventure" Tab , Click on Cactus Icon in Right Corner
3) You will Get Surprise , Open it to get 1 Free Premium Crate
4) To get Vector Gun Skin, Find 6 Golden Compass (Take help of Erangle Map)
5) Now Goto Events tab and Collect it
Free Temporary head Item
Download any Free or Paid Vpn Which supports Israel Server
Connect and Route your Internet Connection from That server (Vpn Will Do this)
Click on Events Tab and Collect Free Temporary Head item from Eid Al Adha Option
Offer – 1 Get Free 30 Rp Points, 2 Premium Coupon Scraps, 2 Parachute Green Trails & 2 T-shirts
1) Connect vpn to Taiwan Server and Open Pubg Game App [ Use any Free vpn ]
2) Goto Events Tab >> Valentine Login Rewards Tab
3) Now Continuously Login for 7 days and Collect All Rewards
4) That's it , You will get Free 30 Rp points , 2 Classic Coupon Scraps , 3 Parachute Green trails
Get Free parachute Skin, 4 Royale pass Card, 9 Premium Creates
1) Download Tunnel Bear Vpn and Connect it using Russia Server
2) Open pubg Mobile >> Events Tab >> Click on Themed >> Summer Login Streak Reward
3) You will get Free Things, You can enjoy this for 7 Days
Get Alan Walker DJ Emote Redeem Silver Fragments
Open the app, Navigate to Shop >> Redeem >> emote Option
Select and Buy Permanently in-exchange of Silver Coins
Get Free Goodies & Gun Skins for Reliance Jio Users
Jio Partnered with Pubg lite Launch Due to Who will Open through jio Internet Connectivity will get Free Gun Skins , Goodies and Much more
Visit Jio Games Arena [ Click Here ], Its Official Site of jio
Click on Register Now and Submit your Details
Offer – 1 Free Lobster Suit, 1 Rp Card & 3 Crates
Connect using Taiwan Server by taking help of any vpn like Express , Tunnelbear, Nord etc
Navigate to events Tab >> Select Themed Tab first Option >> Login Consecutively & Earn Rewards
Now login for 7 Days and collect this Rewards
Offer – 2 Get Free Rp points , Kar98 & Scarl Skin
Download Any Vpn which have mexico Server ip address
Connect it >> Open pubg Mobile app
Navigate to Events Tab >> Time Limited >> Here click on summer challenge & Rewards
Here you will get Free 500 Rp points and Skins
Enjoy
Offer – 3
1) Open Play Store in your Mobile Phone
2) Search Flyvpn >> Download and Install it [ Click Here ]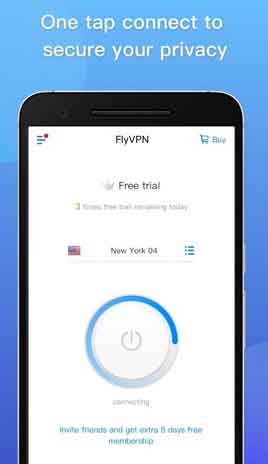 3) Launch and Connect it via Taiwan Server
4) Now Open Pubg Mobile, You will Get Message Notification. Check it
5) You will get below things Free
Pre-Registered offer rewards
Premium Parachute Skin
Premium Pan Skin
Premium Shark Mask
1 Premium Create
2 Exp Cards
2 BP Cards
1 Advance Room Card
20 Silver Fragments
Get More Pubg Free Crates, Parachute, Shark Mask, Skin
1) Download Express or Panda vpn pro
2) Register free account and Connect it via taiwan server
3) Now Open pubg Mobile and Check your Message box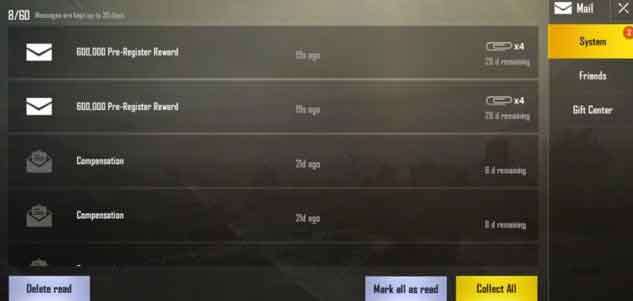 4) You will get Two Mail , Open one by one and Collect all the Rewards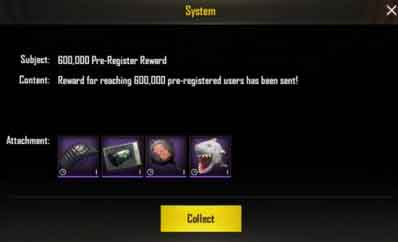 5) Enjoy
Once you Get the Free Items you can Disconnect and Play normally