Now No More any Bore and Stay Fit With Experts by watching Tata Sky Fitness Service on your DTH. This offer is For all New and Existing Users Which they can Activate Tatasky Fitness Channel Number 110 Free for One Month by 3 Methods.
This Service Costs Rs.2 Per Day If you Will not Follow the Steps, You can Enjoy from 25th March to 24th April 2020 with no any Additional Cost and Charges.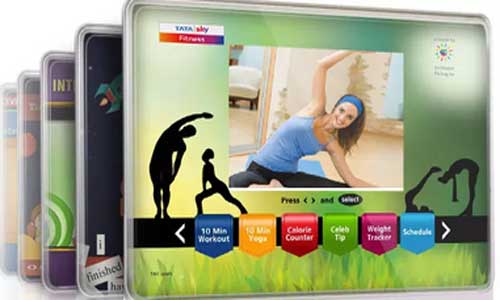 On Tatasky Fitness App, You Can Learn hands on training in pilates, power yoga, kick-boxing and more. You Will Get Best Trainers of the Industry which Guide Bollywood Stars. Each Day You will Do Different Workout to Stay Fit Different part of the Body. It is Available on Both Hindi and English Languages.
How to Watch & Activate Tatasky Fitness Service for Free ?
You Can Watch it on your DTH at Channel Number 110 , You can Also Watch Tatasky Fitness Online on App or Click on www.watch.tatasky.com
1. First of All , You Must Have Active Tatasky Customer in order to avail this Offer
Method – 1
Give the Misscall on this Toll Free Number : 080 – 68580110 from your Registered Mobile Number
Method – 2
Send SMS ADD 110 to 56633 from Registered Mobile number
Method – 3
Download and Install TataSky Mobile App and you will See Banner , Click on it to activate Service
If your Pack has been Expired then you can Also take Free 3 Days Loan balance by Misscall or Sms. You Can Also Get Shorts tv Free Trial Subscription on your dth
Terms & Conditions
Tata Sky Fitness One Month Free Offer ('Offer') is a promotional scheme which is being offered by Tata Sky Limited ('Tata Sky') to its Eligible Subscribers. Eligible Subscriber shall mean a Tata Sky Subscriber who has an Active Account Status.
Under this Offer, Tata Sky will offer the platform service Tata Sky Fitness ('Platform Service'), to its Eligible Subscribers at no additional cost from 25th March, 2020 till 24th April, 2020 23:59:50 hours (IST) ('Offer Period').
During the Offer Period Eligible Subscriber will be able to view the Platform Service on the Tata Sky DTH Platform on 110, Tata Sky Mobile App (Live TV and VOD) and www.watch.tatasky.com
All Tata Sky Subscribers will be able to view Tata Sky Fitness during the period as mentioned in Point 2, at no additional cost.
Post the expiry of the Offer Period:

Existing Subscribers of the Platform Service (those who were paying for availing the Platform Service as on 24th March 2020 23:59:50 hours) will be charged the regular price of Rs 2 per day for as long as they remain subscribed to the Platform Service.
All other Eligible Subscribers (who were not subscribed to Tata Sky Fitness as on 24th March 2020 23:59:50 hours), who wish to continue availing the Platform Service beyond the Offer Period, can subscribe to the Platform Service, in the below mentioned manner and they will be charged the regular price of Rs 2 per day for as long as they remain subscribed to the Platform Service:

giving a missed call on 080 – 68580110  or
Logging on to Tata Sky Mobile app and subscribing to this service or
Sending an SMS ADD 110 to 56633