With Watching World Cup 2019 Get Some Exciting Stuff Free via Timespoints is a website where you can surf , sign up and earn Points by which you can buy deal like gameofpoints quiz ticket and by playing you can get Big Prizes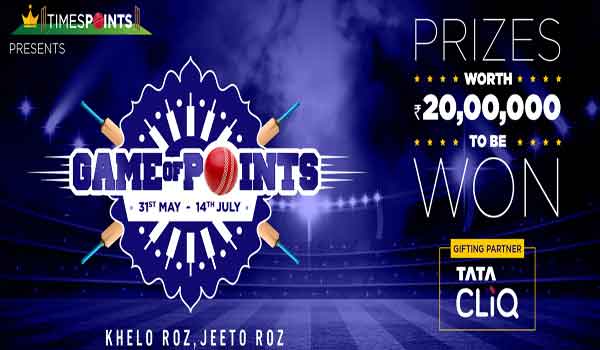 As you already Seen Timespoints App in our Website where you can get Sign up Bonus worth 120 which is Sufficient to play this Quiz but if you have high points which you can earn by completing task on it then you can win big
Here we Shared About Timespoints Gameofpoints Quiz and Their Answers so you can get chance to win Free Tatacliq Vouchers worth Rs.40,000 Every day by giving Simple Cricket related quiz answers. We Can Say that is Similar Like Amazon Quiz but for entry you have to redeem Points
Prizes also Depend on Cost suppose you bought 10 Points ticket then you can win Rs.100 but if you bought 1000 Points then you can win Rs.9,500
In Timespoints India Vs Sri lanka Cricket Quiz answers is already shared in Our post, For Upcoming World Cup Matches we will Update the Answers in this Page so you will Definitely Win
How to Buy Timespoints Gameofpoints Quiz Ticket ?
1) First of All , Sign new Account on Timespoints if you don't have points
2) If you already Have Account but no points then Watch some Videos , Read News and Collect at least 10 points
3) On Creating new account , You will get 100 + 20 Points which is sufficient to Play Quiz
4) Now Visit Ticket page and Purchase it by Redeeming Points [ Click Here ]
5) There are 4 Types of Tickets is Available, On Purchasing high Points Tickets will give more chance of win
6) Click on Redeem button, Instantly you will get your Unique Ticket id to Play the Game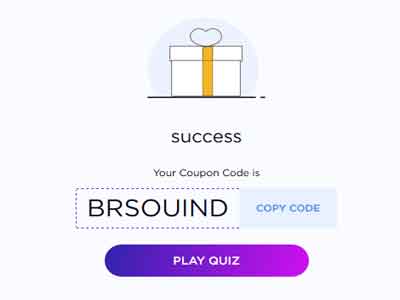 How to Play & Win Free Tatacliq Vouchers worth Rs.40K ?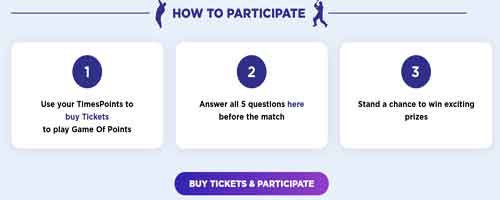 Visit Timespoints Gameofpoints Quiz Page [ Click Here ]
Enter your Ticket Id Which you bought above
Now Give Correct Answers, You will get in last on this Post
That's it , You are Eligible to win Free Tatacliq vouchers
Timespoints 6th July India Vs Sri Lanka Quiz Answers
Q.1 : Which Indian batsman started his international cricketing career at the age of 16?
Answer : Sachin Tendulkar
Q.2 : Who is the youngest captain to lift a World Cup trophy?
Answer : Kapil Dev
Q.3 : Which Sri Lankan won the Player of the Series award in the 1996 ICC World Cup?
Answer : Sanath Jayasuriya
Q.4 : Guess how many runs team India will score in India vs Srilanka Match ?
Answer – 250-300 (Predict your own Answer)
Q.5 : Which team will win the match?
Answer – India or Sri Lanka (Predict your own Answer)
You will Successfully Joined than Game and you are now Eligible to win Free Vouchers
Timespoints Gameofpoints Quiz Prizes
10 TimesPoints – Bronze Ticket – Rs.100 Tata CLiQ Gift Voucher – 100 Winners per match
100 TimesPoints – Silver Ticket – Rs.200 Tata CLiQ Gift Voucher – 50 Winners per match
500 TimesPoints – Gold Ticket – Rs.1,000 Tata CLiQ Gift Voucher – 10 Winners per match
1,000 TimesPoints – Platinum Ticket – Rs.9,500 Tata CLiQ Gift Voucher – 1 Winner per match
Terms & Conditions
Offer Period : 31st May to 14th July 2019
To play the quiz , It is Compulsory to buy ticket
Only users who will give Correct answers will be eligible
Validity of voucher is till September 2019 end
In the End of Game , User who will give maximum Correct Answers will win Bumper prize worth Rs.25,000