Diwali is the Biggest Festival of India, Peoples Purchase New Things Before this Days so Big Bazaar Celebrating with Extraawali Diwali Offer With Tag Iss diwali India ko Milega extraa. There are Giving Free Discount Coupons on Just Selecting your Favorite Deals.
This Time no Any game Playing or Miss call Like Big Bazaar Free Fashion Shopping & Free Shopping Weekend. You can Avail 3 coupons from this Offer. Suppose you adds (Rs.400 Off + Rs.200 Off + Rs.1000 Off on Gas Stoves) then you can Avail Rs.1600 Discount.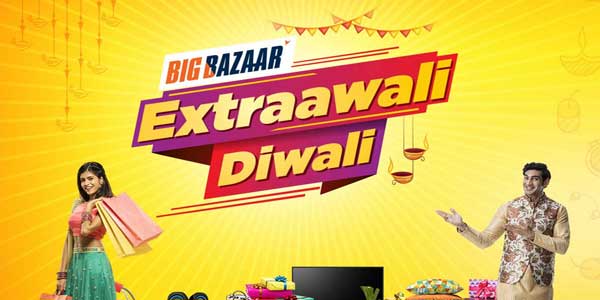 This is the Biggest Ever Big Bazaar Diwali Sale of 2019 Where they are Already Giving Huge Discount on Products With Chance to Save Extra by Grabbing Free Discount Coupons on Selecting Just 3 Deals.
The Coupons will be Sms to you Which you have to give at Payment Counter to get Flat Off. If you Select Product Mentioned Deal then that Coupon will be Valid only on that product Purchase.
Let's Come how to get it ?
How to Select Deals in Big Bazaar Diwali Sale 2019 ?
1. First of All , Visit Big Bazaar Diwali Offer page [ Click Here ]
2. Scroll Below you will See Lots of Deals.
Recommend : First of all Add First Two deals from Best Offers Section Because this Discount Is Applied On All Products Except Some of Them

3. Scroll Bottom or Click on Proceed, You will see your Select Offers List and Enter your 10 Digit Mobile Number Which Is active because they will Sms the Coupons.

4. Click on Register. That's it you will See Confirmed Message "Thank you for registering. You will receive your coupon/s via sms shortly."
How to Redeem Big Bazaar Coupons ?
Open Store Locator
Find and Visit your Nearest Store
Purchase the Product
At Payment Counter , Give your Coupon or Show your Mobile Sms
They will Apply and Give Discount on your Total bill
Terms & Conditions
This program is managed by Future Retail Limited (hereinafter referred to as "FRL")
The coupon is only valid on products as mentioned in the SMS
Coupons are NOT VALID ON FOOD
The coupons can be redeemed only during specified mentioned date as per the SMS across all Big Bazaar/fbb stores
The customer shall receive a coupon code after successful registration via SMS within 48 hours
The customer is eligible only for maximum 3 offer coupons per mobile number
Offer Coupons can used only once in a single transaction in full value.
M-coupon cannot be validated / used post the last date of redemption.
Two bills cannot be clubbed to avail for this offer.
No cash/credit note/GV/ other mode of payment shall be issued in exchange of the offer.
Offer is subject to availability of stocks.
Only 1 m-coupon can be applied in a single bill at a time.
User can register with a unique and valid name and mobile number.
Details entered if not valid will not be considered and the user will not receive any coupons and rewards. Please ensure that the mobile number is not on DND, to receive the coupon through SMS
Any data breaching and hacking is subject to strict and legal action against the user.
The customers can redeem the coupons at the nearest Big Bazaar, hypercity stores across India
FRL shall not be liable in the event it fails to fulfil any of its obligations under this terms and conditions due to flood, earthquake, storm, cyclone or any other acts of god of similar nature, war, strike, lockout, or governmental or judicial or quasi-judicial policies/intervention/direction /prohibition or change in law or for any technology/network failure or any other reasons beyond its control.
An entrant to this activity indicating his/her agreement to be bound by these terms and conditions.
If FRL finds out any illicit activities, fake profiles or bot users creating multiple accounts or tampering the gaming, those users will not be counted or gratified
In case of any dispute, the decision of FRL shall be final and binding on all concerned and Courts in Mumbai shall have exclusive Jurisdiction.
FRL reserves the right to modify these Terms and Conditions and such changes shall be deemed effective immediately.
Not Valid on Baby Food, Cigarettes, Patanjali and SIS Products.